is a senior researcher at SBA Research.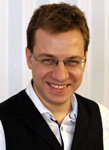 Phone: +43 (1) 505 36 88
Fax: +43 (1) 505 88 88
PGP ID: 0xDB1E4E76
PGP Fingerprint: 43EC 0F2B 8881 E26F 62A5 013F 7959 474F DB1E 4E76
Research Interest
His research interests cover RFID, cyberphysical security, hardware security and privacy enhancing technologies.
Bio
Adrian Dabrowski received his PhD from TU Wien. He participated and later organized the Viennese iCTF team, winning two times. He received the IEEE Austria Diploma Thesis Award and was nominated for the Distinguished Young Alumnus Award of the Faculty of Informatics, UT Vienna. His ACSAC 2014 paper won the Best Student Paper Award.
Before that, he made several media appearances concerning security of systems in public use and taught part-time at a technical high school.
He has been speaker at several Computer Chaos Club (CCC) conferences, as well as SIGINT, B-Sides, PrivacyOS and Forum Alpbach. During his PhD, he visited the Echizen Group at the National Institute of Informatics in Tokyo multiple times.
Top Publications:
Framework based on Privacy Policy Hiding for Preventing Unauthorized Face Image Processing (

2013

)

INPROCEEDINGS

-

Proceedings of the 2013 IEEE International Conference on Systems, Man, and Cybernetics (SMC2013)

@INPROCEEDINGS{Dabrowski2013Framework,
author = {Adrian Dabrowski and {Edgar R.} Weippl and Isao Echizen},
title = {Framework based on Privacy Policy Hiding for Preventing Unauthorized Face Image Processing},
booktitle = {Proceedings of the 2013 IEEE International Conference on Systems,
Man,
and Cybernetics (SMC2013)},
year = {2013},
month = {10},
}

IMSI-Catch Me If You Can: IMSI-Catcher-Catchers (

2014

)

INPROCEEDINGS

true

Annual Computer Security Applications Conference (ACSAC)

@INPROCEEDINGS{Dabrowski2014IMSICatch,
author = {Adrian Dabrowski and Nicola Pianta and Thomas Klepp and Martin Schmiedecker and {Edgar R.} Weippl},
authorhotlist = {true},
sbahotlist = {true},
title = {IMSI-Catch Me If You Can: IMSI-Catcher-Catchers},
booktitle = {Annual Computer Security Applications Conference (ACSAC)},
year = {2014},
month = {12},
pdf = {https://www.sba-research.org/wp-content/uploads/publications/DabrowskiEtAl-IMSI-Catcher-Catcher-ACSAC2014.pdf},
link_source = {http://sourceforge.net/p/icc/},
}

QR - Inception: Barcode in Barcode Attacks (

2014

)

INPROCEEDINGS

-

4th Annual ACM CCS Workshop on Security and Privacy in Smartphones and Mobile Devices (SPSM)

@INPROCEEDINGS{Dabrowski2014Inception,
author = {Adrian Dabrowski and Katharina Krombholz and Johanna Ullrich and {Edgar R.} Weippl},
authorhotlist = {true},
title = {QR - Inception: Barcode in Barcode Attacks},
booktitle = {4th Annual ACM CCS Workshop on Security and Privacy in Smartphones and Mobile Devices (SPSM)},
year = {2014},
month = {11},
pdf = {https://www.sba-research.org/wp-content/uploads/publications/qrinception.pdf},
link_slides = {http://www.slideshare.net/SBAResearch/qrinception-barcode-in-barcode-attacks},
}

Poster NDSS 2014: Hardware Trojans--Detect and React? (

2014

)

ARTICLE

-

Network and Distributed System Security (NDSS) Symposium 2014

@ARTICLE{Dabrowski2014Poster,
author = {Adrian Dabrowski and Peter Fejes and Johanna Ullrich and Katharina Krombholz and Heidelinde Hobel and {Edgar R.} Weippl},
title = {Poster NDSS 2014: Hardware Trojans--Detect and React?},
journal = {Network and Distributed System Security (NDSS) Symposium 2014},
year = {2014},
month = {2},
}

Towards a Hardware Trojan Detection Cycle (

2014

)

INPROCEEDINGS

true

Second International Workshop on Emerging Cyberthreats and Countermeasures, ARES ECTCM 2014

@INPROCEEDINGS{Dabrowski2014Towards,
author = {Adrian Dabrowski and Heidelinde Hobel and Johanna Ullrich and Katharina Krombholz and {Edgar R.} Weippl},
sbahotlist = {true},
title = {Towards a Hardware Trojan Detection Cycle},
booktitle = {Second International Workshop on Emerging Cyberthreats and Countermeasures,
ARES ECTCM 2014},
year = {2014},
month = {9},
pdf = {https://www.sba-research.org/wp-content/uploads/publications/towards a hardware trojan _paper.pdf},
}

Error-Correcting Codes as Source for Decoding Ambiguity (

2015

)

INPROCEEDINGS

-

LangSec Workshop at IEEE Security & Privacy

@INPROCEEDINGS{Dabrowski2015ErrorCorrecting,
author = {Adrian Dabrowski and Isao Echizen and {Edgar R.} Weippl},
title = {Error-Correcting Codes as Source for Decoding Ambiguity},
booktitle = {LangSec Workshop at IEEE Security & Privacy},
year = {2015},
month = {21},
pdf = {https://www.sba-research.org/wp-content/uploads/publications/ecc.pdf},
volume = {10},
}

Leveraging Competitive Gamification for Sustainable Fun and Profit in Security Education (

2015

)

INPROCEEDINGS

-

USENIX Summit on Gaming, Games and Gamification in Security Education (3GSE 2015) at USENIX Security Symposiom 2015

@INPROCEEDINGS{Dabrowski2015Leveraging,
author = {Adrian Dabrowski and Markus Kammerstetter and Eduard Thamm and {Edgar R.} Weippl and Wolfgang Kastner},
title = {Leveraging Competitive Gamification for Sustainable Fun and Profit in Security Education},
booktitle = {USENIX Summit on Gaming,
Games and Gamification in Security Education (3GSE 2015) at USENIX Security Symposiom 2015},
year = {2015},
month = {8},
pdf = {https://www.usenix.org/system/files/conference/3gse15/3gse15-dabrowski.pdf},
}

Smart Privacy Visor: Bridging the Privacy Gap (

2015

)

INPROCEEDINGS

-

Workshop on Privacy by Transparency in Data-Centric Services (BIS 2015)

@INPROCEEDINGS{Dabrowski2015Smart,
author = {Adrian Dabrowski and Katharina Krombholz and {Edgar R.} Weippl and Isao Echizen},
title = {Smart Privacy Visor: Bridging the Privacy Gap},
booktitle = {Workshop on Privacy by Transparency in Data-Centric Services (BIS 2015)},
year = {2015},
month = {6},
pdf = {http://link.springer.com/chapter/10.1007/978-3-319-26762-3_21},
}

Browser History Stealing with Captive Wi-Fi Portals (

2016

)

INPROCEEDINGS

-

Proceedings of Workshops at IEEE Security & Privacy 2016, Mobile Security Technologies (MoST)

@INPROCEEDINGS{Dabrowski2016Browser,
author = {Adrian Dabrowski and Georg Merzdovnik and Nikolaus Kommenda and {Edgar R.} Weippl},
title = {Browser History Stealing with Captive Wi-Fi Portals},
booktitle = {Proceedings of Workshops at IEEE Security & Privacy 2016,
Mobile Security Technologies (MoST)},
year = {2016},
month = {5},
pdf = {https://www.sba-research.org/wp-content/uploads/publications/Dabrowski2016Browser.pdf},
}

The Messenger Shoots Back: Network Operator Based IMSI Catcher Detection (

2016

)

INPROCEEDINGS

true

19th International Symposium on Research in Attacks, Intrusions and Defenses (RAID 2016)

@INPROCEEDINGS{Dabrowski2016Messenger,
author = {Adrian Dabrowski and Georg Petzl and {Edgar R.} Weippl},
authorhotlist = {true},
sbahotlist = {true},
title = {The Messenger Shoots Back: Network Operator Based IMSI Catcher Detection},
booktitle = {19th International Symposium on Research in Attacks,
Intrusions and Defenses (RAID 2016)},
year = {2016},
month = {9},
pdf = {https://www.sba-research.org/wp-content/uploads/publications/providerICdetection.pdf},
}

Mobile Phone's Wi-Fi Presence for Continuous Implicit Secondary Deauthentication (

2016

)

INPROCEEDINGS

-

11th International Conference on Passwords

@INPROCEEDINGS{Dabrowski2016Mobile,
author = {Adrian Dabrowski and {Edgar R.} Weippl},
title = {Mobile Phone's Wi-Fi Presence for Continuous Implicit Secondary Deauthentication},
booktitle = {11th International Conference on Passwords},
year = {2016},
month = {12},
pdf = {https://www.sba-research.org/wp-content/uploads/publications/wifipresence.pdf},
link_video = {https://www.youtube.com/watch?v=6fC58E1XAAw&list=PLdIqs92nsIzT2ao_wAJ2GCRKl_3zaebgb&index=2},
}

Grid Shock: Coordinated Load-Changing Attacks on Power Grids (

2017

)

INPROCEEDINGS

true

Annual Computer Security Applications Conference (ACSAC) 2017

@INPROCEEDINGS{Dabrowski2017Grid,
author = {Adrian Dabrowski and Johanna Ullrich and {Edgar R.} Weippl},
authorhotlist = {true},
sbahotlist = {true},
title = {Grid Shock: Coordinated Load-Changing Attacks on Power Grids},
booktitle = {Annual Computer Security Applications Conference (ACSAC) 2017},
year = {2017},
month = {12},
pdf = {https://www.sba-research.org/wp-content/uploads/publications/201712 - ADabrowski - Grid Shock.pdf},
link_data = {https://www.sba-research.org/wp-content/uploads/publications/Simulink.zip},
}

Botnets causing blackouts: how coordinated load attacks can destabilize the power grid (

2018

)

ARTICLE

-

e & i Elektrotechnik und Informationstechnik

@ARTICLE{Dabrowski2018Botnets,
author = {Adrian Dabrowski and Johanna Ullrich and {Edgar R.} Weippl},
title = {Botnets causing blackouts: how coordinated load attacks can destabilize the power grid},
journal = {e & i Elektrotechnik und Informationstechnik},
year = {2018},
month = {6},
pdf = {https://www.sba-research.org/wp-content/uploads/publications/201806-Dabrowski-BotnetsCausingBlackoutsHowCoor.pdf},
}

Measuring Cookies and Web Privacy in a Post-GDPR World (

2019

)

INPROCEEDINGS

-

Passive and Active Measurement Conference 2019

@INPROCEEDINGS{Dabrowski2019Measuring,
author = {Adrian Dabrowski and Georg Merzdovnik and Johanna Ullrich and Gerald Sendera and {Edgar R.} Weippl},
title = {Measuring Cookies and Web Privacy in a Post-GDPR World},
booktitle = {Passive and Active Measurement Conference 2019},
year = {2019},
month = {3},
pdf = {https://www.sba-research.org/wp-content/uploads/publications/201903 - ADabrowski - Measuring Cookies.pdf},
}

Tag Detection for Preventing Unauthorized Face Image Processing (

2014

)

INPROCEEDINGS

-

Proceedings of the 13th International Workshop on Digital-Forensics and Watermarking (IWDW 2014)

@INPROCEEDINGS{Jimenez2014Detection,
author = {{Alberto Escalada} Jimenez and Adrian Dabrowski and {Juan M.} {Montero Martinez} and Isao Echizen},
title = {Tag Detection for Preventing Unauthorized Face Image Processing},
booktitle = {Proceedings of the 13th International Workshop on Digital-Forensics and Watermarking (IWDW 2014)},
year = {2014},
month = {10},
pdf = {https://www.sba-research.org/wp-content/uploads/publications/judmayer_KNX_wfcs2014.pdf},
}

ARTICLE

-

Synthesis Lectures on Information Security, Privacy, and Trust

@ARTICLE{Krieg2013Hardware,
author = {Christian Krieg and Adrian Dabrowski and Heidelinde Hobel and Katharina Krombholz and {Edgar R.} Weippl},
title = {Hardware Malware},
journal = {Synthesis Lectures on Information Security,
Privacy,
and Trust},
year = {2013},
month = {11},
volume = {4},
pages = {1-115},
}

Ok Glass, Leave me Alone: Towards a Systematization of Privacy Enhancing Technologies for Wearable Computing (

2015

)

INPROCEEDINGS

-

1st Workshop on Wearable Security and Privacy

@INPROCEEDINGS{Krombholz2015Glass,
author = {Katharina Krombholz and Adrian Dabrowski and Matthew Smith and {Edgar R.} Weippl},
title = {Ok Glass,
Leave me Alone: Towards a Systematization of Privacy Enhancing Technologies for Wearable Computing},
booktitle = {1st Workshop on Wearable Security and Privacy},
year = {2015},
month = {1},
pdf = {https://www.sba-research.org/wp-content/uploads/publications/Ok Glass.pdf},
}

Exploring Design Directions for Wearable Privacy (

2017

)

INPROCEEDINGS

-

Usable Security

@INPROCEEDINGS{Krombholz2017Exploring,
author = {Katharina Krombholz and Adrian Dabrowski and Matthew Smith and {Edgar R.} Weippl},
title = {Exploring Design Directions for Wearable Privacy},
booktitle = {Usable Security},
year = {2017},
month = {1},
pdf = {https://www.internetsociety.org/sites/default/files/usec2017_03_2_Krombholz_paper.pdf},
}

PrivacyTag: A Community-Based Method for Protecting Privacy of Photographed Subjects in Online Social Networks (

2017

)

INPROCEEDINGS

-

16th IFIP Conference on e-Business, e-Services and e-Society (I3E 2017)

@INPROCEEDINGS{Machida2017PrivacyTag,
author = {Shimon Machida and Adrian Dabrowski and {Edgar R.} Weippl and Isao Echizen},
title = {PrivacyTag: A Community-Based Method for Protecting Privacy of Photographed Subjects in Online Social Networks},
booktitle = {16th IFIP Conference on e-Business,
e-Services and e-Society (I3E 2017)},
year = {2017},
month = {11},
pdf = {https://link.springer.com/chapter/10.1007/978-3-319-68557-1_24},
}

On security research towards future mobile network generations (

2018

)

ARTICLE

-

IEEE Communications Surveys & Tutorial

@ARTICLE{Rupprecht2018IEEE,
author = {David Rupprecht and Adrian Dabrowski and Thorsten Holz and {Edgar R.} Weippl and Christina Pöpper},
title = {On security research towards future mobile network generations},
journal = {IEEE Communications Surveys & Tutorial},
year = {2018},
month = {3},
pdf = {https://www.sba-research.org/wp-content/uploads/publications/2018-03 On security Research towards future mobile Generations.pdf},
}

IPv6 Security: Attacks and Countermeasures in a Nutshell (

2014

)

INPROCEEDINGS

-

8th USENIX Workshop on Offensive Technologies (WOOT)

@INPROCEEDINGS{Ullrich2014IPv6,
author = {Johanna Ullrich and Katharina Krombholz and Heidelinde Hobel and Adrian Dabrowski and {Edgar R.} Weippl},
authorhotlist = {true},
title = {IPv6 Security: Attacks and Countermeasures in a Nutshell},
booktitle = {8th USENIX Workshop on Offensive Technologies (WOOT)},
year = {2014},
month = {8},
pdf = {https://www.sba-research.org/wp-content/uploads/publications/Johanna IPv6.pdf},
link_slides = {http://de.slideshare.net/SBAResearch/ipv6-security-attacks-and-countermeasures-in-a-nutshell},
}

IPv6 Security: Attacks and Countermeasures in a Nutshell (

2015

)

ARTICLE

-

Magdeburger Journal zur Sicherheitsforschung

@ARTICLE{Ullrich2015IPv6,
author = {Johanna Ullrich and Katharina Krombholz and Heidelinde Hobel and Adrian Dabrowski and {Edgar R.} Weippl},
title = {IPv6 Security: Attacks and Countermeasures in a Nutshell},
journal = {Magdeburger Journal zur Sicherheitsforschung},
year = {2015},
month = {3},
pdf = {http://www.sicherheitsforschung-magdeburg.de/uploads/journal/MJS_035_Ullrich_IPv6.pdf},
volume = {1},
}

Proof-of-Blackouts? How Proof-of-Work Cryptocurrencies Could Affect Power Grids (

2018

)

INPROCEEDINGS

true

International Symposium on Research in Attacks, Intrusions and Defenses (RAID)

@INPROCEEDINGS{Ullrich2018ProofofBlackouts,
author = {Johanna Ullrich and Nicholas Stifter and Aljosha Judmayer and Adrian Dabrowski and {Edgar R.} Weippl},
authorhotlist = {true},
sbahotlist = {true},
title = {Proof-of-Blackouts? How Proof-of-Work Cryptocurrencies Could Affect Power Grids},
booktitle = {International Symposium on Research in Attacks,
Intrusions and Defenses (RAID)},
year = {2018},
month = {9},
pdf = {https://www.sqi.at/resources/RAID2018.pdf},
}
Further website
See also http://www.seclab.tuwien.ac.at/people/atrox/