was researcher at SBA Research.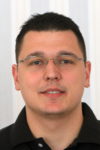 Research Interest
His main interests lie in cloud computing, hypervisor and distributed database systems.
Bio
He received his bachelor's degree in Computer Engineering and his master's degree in Telecommunication and Informatics at the Faculty of Electrical Engineering and Computing, University of Zagreb. Before joining SBA Research he was working at MBU ERSTE Bank, mainly in the field of database management systems and network security.
A Generation Method of Cryptographic Keys for Enterprise Communication Systems (

2013

)

INPROCEEDINGS

-

Proceedings of the 8th International Workshop on Frontiers in Availability, Reliability, and Security (FARES 2013), held in conjuction with ARES 2013: 8th International Conference on Availability, Reliability and Security

@INPROCEEDINGS{Hudic2013Generation,
author = {Aleksandar Hudic and E. Revell and Dimitris Simos},
title = {A Generation Method of Cryptographic Keys for Enterprise Communication Systems},
booktitle = {Proceedings of the 8th International Workshop on Frontiers in Availability,
Reliability,
and Security (FARES 2013),
held in conjuction with ARES 2013: 8th International Conference on Availability,
Reliability and Security},
year = {2013},
month = {9},
}

Automated Analysis of Underground Marketplaces (

2014

)

INPROCEEDINGS

-

Tenth Annual IFIP WG 11.9 International Conference on Digital Forensics

@INPROCEEDINGS{Hudic2014Automated,
author = {Aleksandar Hudic and Katharina Krombholz and Thomas Otterbein and Christian Platzer and {Edgar R.} Weippl},
title = {Automated Analysis of Underground Marketplaces},
booktitle = {Tenth Annual IFIP WG 11.9 International Conference on Digital Forensics},
year = {2014},
month = {1},
pdf = {https://www.sba-research.org/wp-content/uploads/publications/undergroundmarketplaces.pdf},
link_slides = {http://de.slideshare.net/SBAResearch/automated-analysis-of-underground-marketplaces-42099600},
}

Book Review: Private Cloud Computing: Consolidation, Virtualization, and Service Oriented Infrastructure by Stephen R Smoot, Nam K Tan (

2012

)

@TECHREPORT{_Book_Review_Private_Cloud_Comp_2012,
author = {Aleksandar Hudic and {Edgar R.} Weippl},
title = {Book Review: Private Cloud Computing: Consolidation,
Virtualization,
and Service Oriented Infrastructure by Stephen R Smoot,
Nam K Tan},
booktitle = {Computers & Security},
year = {2012},
month = {5},
}

Model Based Process to Support Security and Privacy Requirements Engineering (

2012

)

ARTICLE

-

International Journal of Secure Software Engineering (IJSSE)

@ARTICLE{_Model_Based_Process_to_Support_2012,
author = {Shareeful Islam and Haralambos Mouratidis and Christos Kalloniatis and Aleksandar Hudic and Lorenz Zechner},
title = {Model Based Process to Support Security and Privacy Requirements Engineering},
journal = {International Journal of Secure Software Engineering (IJSSE)},
year = {2012},
month = {7},
volume = {3},
number = {3},
pages = {1-22},
publisher = {Information Resources Management Association},
}

Towards a Unified Penetration Testing Taxonomy (

2012

)

INPROCEEDINGS

-

International Conference on Information Privacy, Security, Risk and Trust (PASSAT 2012)

@INPROCEEDINGS{_Towards_a_Unified_Penetration__2012,
author = {Aleksandar Hudic and Shareeful Islam and Lorenz Zechner and Christian Krieg and Severin Winkler and Richard Hable and {Edgar R.} Weippl},
title = {Towards a Unified Penetration Testing Taxonomy},
booktitle = {International Conference on Information Privacy,
Security,
Risk and Trust (PASSAT 2012)},
year = {2012},
month = {9},
}