is researcher at SBA Research.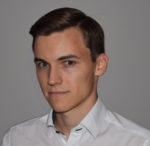 Phone: +43 (1) 505 36 88
Fax: +43 (1) 505 88 88
PGP ID: 0x5485B999
PGP Fingerprint: 2F5F E92D CDAC 15B0 84A6  9FE9 9018 A958 5485 B999
Research Interest
His research focuses on the security, sustainability and scalability of proof-of-work blockchains, as well as on cross-blockchain information and asset exchange. Recent work also includes empirical analysis of blockchain data, evaluation of fairness in mining pools and modeling of miner behavior.
Bio
Alexei received a master's degree in Software Engineering and Internet Computing and a bachelor's degree in Software and Information Engineering at the Vienna University of Technology. He is currently working towards his Ph.D. degree on the analysis, modeling and extension of proof-of-work blockchain protocols at the Imperial College London.
Top Publications:
Merged Mining: Curse or Cure? (

2017

)

INPROCEEDINGS

-

International Workshop on Cryptocurrencies and Blockchain Technology (CBT 17)

@INPROCEEDINGS{Judmayer2017Merged,
author = {Aljosha Judmayer and Alexei Zamyatin and Nicholas Stifter and {Artemios G.} Voyiatzis and {Edgar R.} Weippl},
title = {Merged Mining: Curse or Cure?},
booktitle = {International Workshop on Cryptocurrencies and Blockchain Technology (CBT 17)},
year = {2017},
month = {9},
pdf = {https://www.sba-research.org/wp-content/uploads/publications/201709 - AJudmayer - CBT_Merged_Mining_camera_ready_final.pdf},
}

A Deep Dive into Bitcoin Mining Pools: An Empirical Analysis of Mining Shares (

2019

)

INPROCEEDINGS

true

2019 Workshop on the Economics of Information Security

@INPROCEEDINGS{Romiti2019Deep,
author = {Matteo Romiti and Aljosha Judmayer and Alexei Zamyatin and Bernhard Haslhofer},
sbahotlist = {true},
title = {A Deep Dive into Bitcoin Mining Pools: An Empirical Analysis of Mining Shares},
booktitle = {2019 Workshop on the Economics of Information Security},
year = {2019},
month = {6},
pdf = {https://weis2019.econinfosec.org/wp-content/uploads/sites/6/2019/05/WEIS_2019_paper_30.pdf},
}

Committing to quantum resistance: a slow defence for Bitcoin against a fast quantum computing attack (

2018

)

ARTICLE

-

Royal Society Open Science

@ARTICLE{Stewart2018Committing,
author = {I. Stewart and D.Ilie and Alexei Zamyatin and S. Werner and {M. F.} Torshizi and {W.J.} Knottenbelt},
authorhotlist = {true},
title = {Committing to quantum resistance: a slow defence for Bitcoin against a fast quantum computing attack},
journal = {Royal Society Open Science},
year = {2018},
month = {6},
pdf = {http://rsos.royalsocietypublishing.org/content/royopensci/5/6/180410.full.pdf},
}

Swimming with Fishes and Sharks: Beneath the Surface of Queue-based Ethereum Mining Pools (

2017

)

INPROCEEDINGS

true

25th IEEE International Symposium on the Modeling, Analysis, and Simulation of Computer and Telecommunication Systems (MASCOTS 2017)

@INPROCEEDINGS{Zamyatin2017Swimming,
author = {Alexei Zamyatin and K. Wolter and S. Werner and {C.E.A.} Mulligan and {P.G.} Harrison and {W.J.} Knottenbelt},
authorhotlist = {true},
sbahotlist = {true},
title = {Swimming with Fishes and Sharks: Beneath the Surface of Queue-based Ethereum Mining Pools},
booktitle = {25th IEEE International Symposium on the Modeling,
Analysis,
and Simulation of Computer and Telecommunication Systems (MASCOTS 2017)},
year = {2017},
month = {9},
pdf = {https://www.sba-research.org/wp-content/uploads/publications/201709- AZAMYATIN - mascots-crc.pdf},
}

(Short Paper) A Wild Velvet Fork Appears! Inclusive Blockchain Protocol Changes in Practice (

2018

)

INPROCEEDINGS

-

5th Workshop on Bitcoin and Blockchain Research, Financial Cryptography and Data Security 2018

@INPROCEEDINGS{Zamyatin2018Short,
author = {Alexei Zamyatin and Nicholas Stifter and Aljosha Judmayer and Philipp Schindler and {Edgar R.} Weippl and {W.J.} Knottenbelt},
title = {(Short Paper) A Wild Velvet Fork Appears! Inclusive Blockchain Protocol Changes in Practice},
booktitle = {5th Workshop on Bitcoin and Blockchain Research,
Financial Cryptography and Data Security 2018},
year = {2018},
month = {2},
pdf = {https://eprint.iacr.org/2018/087.pdf},
}