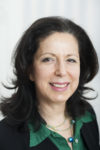 was key researcher and project manager at SBA Research and Associate Professor at the University of Vienna.
Phone: +43 (1) 505 36 88
Fax: +43 (1) 505 88 88
Research Interests
Her research currently focuses on economic aspects in security, security portfolios, security strategies, integration of security into business strategies, security and controlling, sustainable security, evaluation of risk scenarios, efficiency and sustainability in security, quantitative models in security, decision support.
Bio
Christine is head of the electronic business group at the University of Vienna. She received a diploma degree from the University of Vienna in 1987 in Business Informatics. She continued with a Kurt-Gödel grant from the Austrian Ministry of Science her studies at the University of Zurich at the department of computer science (supervisor: Prof. Kurt Bauknecht), where she received 1991 her Ph.D. While her diploma thesis focused on security standards, she developed an evaluation method for security scenarios in her doctoral work. Since 1991 she was an Assistant Professor at the Department of Business Studies until she got her professorship (habilitation) in business economics in 2000. 2007-2010 she was head of a research group at "ec3 – electronic commerce competence center".
For more information, please see: https://bwl.univie.ac.at/ebusiness/team/strauss/ 
Publications
See http://bwl.univie.ac.at/ebusiness/forschung/publikationen-strauss/