was senior developer and team lead at SBA Research.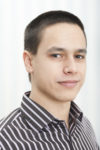 Research Interest
His main focus lies on designing secure web applications. Daniel is interested in software architecture patterns (SOA, REST, MVC, CQRS), agile software development and secure coding. Formerly his research focused on pseudonymization of medical images.
Bio
He received a master's degree in Software Engineering from the TU Wien in 2009. Currently he studies Business Informatics at the TU Wien. Daniel holds several industry certificates (MCTS, MCPD, MCSD, Certified Scrum Master) in various technologies.
Top Publications:
Data Models for the Pseudonymization of DICOM Data (

2011

)

INPROCEEDINGS

-

Proceedings of the 44nd Hawaii International Conference on System Sciences

@INPROCEEDINGS{Abouakil_Data_Models_for_the_Pseudonymi_2011,
author = {Daniel Abouakil and Johannes Heurix and Thomas Neubauer},
authorhotlist = {true},
title = {Data Models for the Pseudonymization of DICOM Data},
booktitle = {Proceedings of the 44nd Hawaii International Conference on System Sciences},
year = {2011},
month = {1},
pages = {157},
}