was software tester and software developer at SBA Research.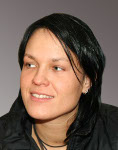 Research Interest
Her work focuses on finding ways to develop secure applications and to provide suitable test structures.
Bio
Daniela completed her education as MCPD 4.0 Software Developer / C # developers in ITCC Vienna. Since 2013 she has been working mainly as softwaretesterin and complete successfully the certification of ISTQB Certified Tester. 2014 she absolved an upgrade from MCPD 4.0 to  MCSD: Web Applications. In 2015 she has begun to support the system engineering team.