was research coordinator and researcher at SBA Research.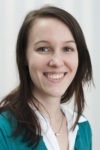 PGP ID: 0xD63EF750
PGP Fingerprint: 6908 F855 5E6D E407 69DA BEE6 8695 1F03 D63E F750
Research Interests
Her current research focuses on digital preservation, particularly on the technical aspects of software escrow.
Bio
Elisabeth Weigl received a bachelor's degree in Software & Information Engineering and a master's degree in Information & Knowledge Management from the TU Wien. At the same university she is currently enrolled in a doctoral programme in Computer Sciences with a focus on Digital Preservation. From February 2012 on she has been working for SBA Research where she did research for the TIMBUS and APARSEN projects.
A Framework for Automated Verification in Software Escrow (

2013

)

INPROCEEDINGS

-

Proceedings of the 10th International Conference on Preservation of Digital Objects (IPRES 2013)

@INPROCEEDINGS{Weigl_A_Framework_for_Automated_Veri_2013,
author = {Elisabeth Weigl and Johannes Binder and Stephan Strodl and D. Draws and Andreas Rauber},
title = {A Framework for Automated Verification in Software Escrow },
booktitle = {Proceedings of the 10th International Conference on Preservation of Digital Objects (IPRES 2013)},
year = {2013},
month = {9},
}