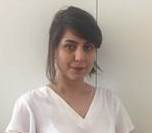 is a junior researcher at SBA.
Phone: +43 (1) 505 36 88
Fax: +43 (1) 505 88 88
Research Interests

Her research interests include privacy -preserving data analysis, specifically focusing on secure computation on sensitive data with secure-multiparty computation and remote and non disclosive analysis.
BIO
She is currently finishing her master´s degree in Computational Intelligence at the TU Wien.