was software developer and researcher at SBA Research.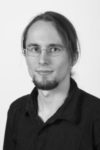 PGP ID: 0x650BFFA5
PGP Fingerprint: 3CE5 694E 8116 DA2B E0FC 17D4 AEF1 7FC5 650B FFA5
Research Interest
His research focused mainly on code quality, virtualization and digital preservation.
Bio
He received a bachelor's degree in Software and Information Engineering and his master's degree in Software Engineering and Internet Computing at the TU Wien. He has many years of experience in industrial software development.
Process Migration Framework - Virtualising and Documenting Business Processes (

2014

)

INPROCEEDINGS

-

18th IEEE International Enterprise Distributed Object Computing Conference Workshops and Demonstrations, (EDOCW 2014)

@INPROCEEDINGS{Binder2014Process,
author = {Johannes Binder and Stephan Strodl and Andreas Rauber},
title = {Process Migration Framework - Virtualising and Documenting Business Processes},
booktitle = {18th IEEE International Enterprise Distributed Object Computing Conference Workshops and Demonstrations,
(EDOCW 2014)},
year = {2014},
month = {9},
pdf = {http://ieeexplore.ieee.org/xpl/articleDetails.jsp?arnumber=6975390},
}

Automatic discovery of preservation alternatives supported by community maintained knowledge bases (

2014

)

INPROCEEDINGS

-

11th International Conference on Digital Preservation (iPres 2014)

@INPROCEEDINGS{Mayer2014Automatic,
author = {Rudolf Mayer and Johannes Binder and Stephan Strodl and Andreas Rauber},
title = {Automatic discovery of preservation alternatives supported by community maintained knowledge bases},
booktitle = {11th International Conference on Digital Preservation (iPres 2014)},
year = {2014},
month = {10},
pdf = {http://www.ifs.tuwien.ac.at/%7Emayer/publications/pdf/may_ipres14-preservationAlternatives.pdf},
}

A Framework for Automated Verification in Software Escrow (

2013

)

INPROCEEDINGS

-

Proceedings of the 10th International Conference on Preservation of Digital Objects (IPRES 2013)

@INPROCEEDINGS{Weigl_A_Framework_for_Automated_Veri_2013,
author = {Elisabeth Weigl and Johannes Binder and Stephan Strodl and D. Draws and Andreas Rauber},
title = {A Framework for Automated Verification in Software Escrow },
booktitle = {Proceedings of the 10th International Conference on Preservation of Digital Objects (IPRES 2013)},
year = {2013},
month = {9},
}