is researcher at SBA Research.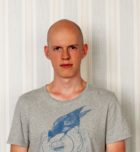 Phone: +43 (1) 505 36 88
Fax: +43 (1) 505 88 88

Research Interest
His research focuses on security testing of software and protocols. He is especially interested in the application of combinatorial methods to those domains.
BIO
Kristoffer is currently working towards his bachelor's degree for Software and Information Engineering at the TU Wien.
Planning-based Security Testing of the SSL/TLS Protocol (

2017

)

INPROCEEDINGS

-

Workshop on Advances in Model Based Testing (A-MOST)

@INPROCEEDINGS{Bozic2017Planningbased,
author = {Josip Bozic and K. Kleine and Dimitris Simos and Franz Wotawa},
title = {Planning-based Security Testing of the SSL/TLS Protocol},
booktitle = {Workshop on Advances in Model Based Testing (A-MOST)},
year = {2017},
month = {3},
}

Coveringcerts: Combinatorial Methods for X.509 Certificate Testing (

2017

)

INPROCEEDINGS

-

International Conference on Software Testing, Verification and Validation (ICST)

@INPROCEEDINGS{Kleine2017Coveringcerts,
author = {K. Kleine and Dimitris Simos},
title = {Coveringcerts: Combinatorial Methods for X.509 Certificate Testing},
booktitle = {International Conference on Software Testing,
Verification and Validation (ICST)},
year = {2017},
month = {3},
}

An Efficient Design and Implementation of the in-parameter-order-algorithm (

2017

)

ARTICLE

true

Mathematics in Computer Science

@ARTICLE{Kleine2017Efficient,
author = {K. Kleine and Dimitris Simos},
sbahotlist = {true},
title = {An Efficient Design and Implementation of the in-parameter-order-algorithm},
journal = {Mathematics in Computer Science},
year = {2017},
month = {12},
pdf = {https://link.springer.com/article/10.1007/s11786-017-0326-0},
}

TLS Cipher Suites Recommendations: A Combinatorial Coverage Measurement Approach (

2016

)

INPROCEEDINGS

-

2016 IEEE International Conference on Software Quality, Reliability and Security (QRS 2016)

@INPROCEEDINGS{Simos2016Cipher,
author = {Dimitris Simos and K. Kleine and {Artemios G.} Voyiatzis and R. Kuhn and R. Kacker},
title = {TLS Cipher Suites Recommendations: A Combinatorial Coverage Measurement Approach},
booktitle = {2016 IEEE International Conference on Software Quality,
Reliability and Security (QRS 2016)},
year = {2016},
month = {8},
pdf = {https://www.sba-research.org/wp-content/uploads/publications/TLS-CCM-QRS2016.pdf},
}

A Combinatorial Approach to Analyzing Cross-Site Scripting (XSS) Vulnerabilities in Web Application Security Testing (

2016

)

INPROCEEDINGS

-

International Conference on Testing Software and Systems (ICTSS)

@INPROCEEDINGS{Simos2016Combinatorial,
author = {Dimitris Simos and K. Kleine and {Laleh Shikh Gholamhossein} Ghandehari and Bernhard Garn and Yu Lei},
title = {A Combinatorial Approach to Analyzing Cross-Site Scripting (XSS) Vulnerabilities in Web Application Security Testing},
booktitle = {International Conference on Testing Software and Systems (ICTSS)},
year = {2016},
month = {10},
pdf = {http://link.springer.com/chapter/10.1007/978-3-319-47443-4_5},
}

Testing TLS using planning-based combinatorial methods and execution framework (

2019

)

ARTICLE

-

Software Quality Journal

@ARTICLE{Simos2019Testing,
author = {Dimitris Simos and Josip Bozic and Bernhard Garn and Manuel Leithner and Feng Duan and K. Kleine and Yu Lei and Franz Wotawa},
title = {Testing TLS using planning-based combinatorial methods and execution framework},
journal = {Software Quality Journal},
year = {2019},
month = {6},
pdf = {https://link.springer.com/article/10.1007%2Fs11219-018-9412-z},
}