is a researcher at SBA Research.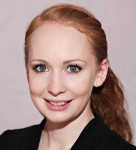 Phone: +43 (1) 505 36 88
Fax: +43 (1) 505 88 88
Research Interests
Her research interests include role-based access control models and security aspects in dynamic, distributed systems.
Bio
Letitia Kernschmidt (BSc.) is currently pursuing her Master's degree in Information Systems at the Vienna University of Economics and Business. After successfully passing a competitive application process, she is spending a semester abroad at Carnegie Mellon University (January to June 2017). During this time, she will continue to work on the diverse aspects of the development and security of software systems.