was security analyst at SBA Research.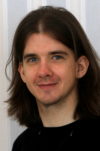 Phone: +43 (1) 505 36 88
Fax:

+43 (1) 505 88 88
Research Interest
His research lies mainly in web application security and penetration testing techniques.
Bio
He received a bachelor's degree in Software Engineering at the TU Wien and wrote his bachelor thesis in cooperation with SBA Research. As of March 2014 he's finished his master studies in Software Engineering and Internet Computing at the TU Wien. The topic of his diploma thesis is "Security Challenges in Mobile Middleware", supervised by Dr. Edgar Weippl.
Plugin in the Middle - Minimising Security Risks in Mobile Middleware Implementations (

2014

)

INPROCEEDINGS

true

SINCONF 2014 (Conference on Security of Information and Networks)

@INPROCEEDINGS{Aufner2014Plugin,
author = {Peter Aufner and Georg Merzdovnik and Markus Huber and {Edgar R.} Weippl},
sbahotlist = {true},
title = {Plugin in the Middle - Minimising Security Risks in Mobile Middleware Implementations},
booktitle = {SINCONF 2014 (Conference on Security of Information and Networks)},
year = {2014},
month = {9},
pdf = {https://www.sba-research.org/wp-content/uploads/publications/secperv.pdf},
}