was researcher at SBA Research.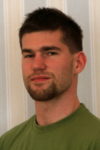 Research Interest
Peter Fejes is interested in application of real-time parallel hardware-systems with digital signal processing, such as digital filtering with FPGA.
Bio
He received a bachelor's degree in Electrical Engineering and Information Technology in 2013 from the Budapest University of Technology and Economics. The thesis was on implementation of multicarrier modulation using FPGAs.
Poster NDSS 2014: Hardware Trojans--Detect and React? (

2014

)

ARTICLE

-

Network and Distributed System Security (NDSS) Symposium 2014

@ARTICLE{Dabrowski2014Poster,
author = {Adrian Dabrowski and Peter Fejes and Johanna Ullrich and Katharina Krombholz and Heidelinde Hobel and {Edgar R.} Weippl},
title = {Poster NDSS 2014: Hardware Trojans--Detect and React?},
journal = {Network and Distributed System Security (NDSS) Symposium 2014},
year = {2014},
month = {2},
}