was a researcher at SBA Research.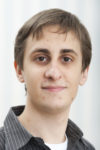 PGP: 0x7389E0B7
PGP Fingerprint: 7025 6878 A1DF AC7E 222D B0DC 0EA2 F2C9 7389 E0B7
Research Interest
His research focuses mainly on database forensic, mobile security and applied security.
Bio
Peter Frühwirt received a bachelor's degree in Software and Information Engineering in 2010 and a bachelor's degree in Business Informatics in 2011 from the TU Wien. He is currently working towards the master's degree in Software Engineering and Internet Computing.
The Role and Security of Firewall in IaaS Cloud Computing (

2015

)

INPROCEEDINGS

-

Tenth International Conference on Availability, Reliability and Security (ARES)

@INPROCEEDINGS{Cropper2015Role,
author = {Jordan Cropper and Johanna Ullrich and Peter Fruehwirt and {Edgar R.} Weippl},
title = {The Role and Security of Firewall in IaaS Cloud Computing},
booktitle = {Tenth International Conference on Availability,
Reliability and Security (ARES)},
year = {2015},
month = {8},
pdf = {https://www.sba-research.org/wp-content/uploads/publications/PID3762737.pdf},
}

InnoDB Datenbank Forensik Rekonstruktion von Abfragen über Datenbank-interne Logfiles (

2014

)

INPROCEEDINGS

-

GI Sicherheit 2014

@INPROCEEDINGS{Fruehwirt2014InnoDB,
author = {Peter Fruehwirt and Peter Kieseberg and Christoph Hochreiner and Sebastian Schrittwieser and {Edgar R.} Weippl},
title = {InnoDB Datenbank Forensik Rekonstruktion von Abfragen über Datenbank-interne Logfiles },
booktitle = {GI Sicherheit 2014 },
year = {2014},
month = {3},
pdf = {https://www.sba-research.org/wp-content/uploads/publications/FRUEHWIRT-InnoDB Datenbank Forensik-Rekonstruktion.pdf},
}

Testen der Integrität von Datenbanken mit Hilfe von Transaction-Logs (

2014

)

@INPROCEEDINGS{Fruehwirt2014Testen,
author = {Peter Fruehwirt and Peter Kieseberg and {Edgar R.} Weippl},
title = {Testen der Integrität von Datenbanken mit Hilfe von Transaction-Logs},
booktitle = {ASQT},
year = {2014},
month = {9},
}

Towards a forensic-aware database solution: Using a secured database replication protocol and transaction management for digital investigations (

2014

)

ARTICLE

-

Digital Investigation

@ARTICLE{Fruehwirt2014Towards,
author = {Peter Fruehwirt and Peter Kieseberg and Katharina Krombholz and {Edgar R.} Weippl},
title = {Towards a forensic-aware database solution: Using a secured database replication protocol and transaction management for digital investigations},
journal = {Digital Investigation},
year = {2014},
pdf = {https://www.sba-research.org/wp-content/uploads/publications/towards a forensic aware_paper.pdf},
volume = {11},
pages = {336-348},
}

Using machine learning techniques for traffic classification and preliminary surveying of an attackers profile (

2014

)

INPROCEEDINGS

-

International Conference on Privacy, Security, Risk and Trust

@INPROCEEDINGS{Fruehwirt2014Using,
author = {Peter Fruehwirt and Sebastian Schrittwieser and {Edgar R.} Weippl},
title = {Using machine learning techniques for traffic classification and preliminary surveying of an attackers profile},
booktitle = {International Conference on Privacy,
Security,
Risk and Trust},
year = {2014},
month = {12},
pdf = {https://www.sba-research.org/wp-content/uploads/publications/using machine learning_paper.pdf},
}

Sicherheit in sozialen Netzwerken: Quo Vadis (

2010

)

INPROCEEDINGS

-

8th Information Security Konferenz in Krems

@INPROCEEDINGS{Fruewirt_Sicherheit_in_sozialen_Netzwer_2010,
author = {Peter Fruehwirt and Markus Huber and Martin Schmiedecker and {Edgar R.} Weippl},
title = {Sicherheit in sozialen Netzwerken: Quo Vadis},
booktitle = {8th Information Security Konferenz in Krems},
year = {2010},
month = {11},
}

Genie in a Model? Why Model Driven Security will not secure your Web Application (

2014

)

ARTICLE

-

Journal of Wireless Mobile Networks, Ubiquitous Computing, and Dependable Applications (JoWUA)

@ARTICLE{Hochreiner2014Genie,
author = {Christoph Hochreiner and Peter Fruehwirt and Zhendong Ma and Peter Kieseberg and Sebastian Schrittwieser and {Edgar R.} Weippl},
title = {Genie in a Model? Why Model Driven Security will not secure your Web Application},
journal = {Journal of Wireless Mobile Networks,
Ubiquitous Computing,
and Dependable Applications (JoWUA)},
year = {2014},
month = {9},
pdf = {https://www.sba-research.org/wp-content/uploads/publications/jowua-v5n3-4.pdf},
volume = {5},
pages = {44-62},
}

InnoDB Database Forensics (

2010

)

INPROCEEDINGS

-

Proceedings of the 24th International Conference on Advanced Information Networking and Applications

@INPROCEEDINGS{Huber_InnoDB_Database_Forensics_2010,
author = {Peter Fruehwirt and Markus Huber and Martin Schmiedecker and {Edgar R.} Weippl},
title = {InnoDB Database Forensics},
booktitle = {Proceedings of the 24th International Conference on Advanced Information Networking and Applications},
year = {2010},
month = {4},
pdf = {https://www.sba-research.org/wp-content/uploads/publications/AINA2010-InnoDBforensics_preprint.pdf},
}

Security tests for mobile applications - Why using TLS SSL is not enough (

2015

)

INPROCEEDINGS

-

2015 IEEE Eighth International Conference on Software Testing, Verification and Validation Workshops (ICSTW)

@INPROCEEDINGS{Kieseberg2015Security,
author = {Peter Kieseberg and Peter Fruehwirt and Sebastian Schrittwieser and {Edgar R.} Weippl},
title = {Security tests for mobile applications - Why using TLS SSL is not enough},
booktitle = {2015 IEEE Eighth International Conference on Software Testing,
Verification and Validation Workshops (ICSTW)},
year = {2015},
month = {4},
pdf = {https://www.sba-research.org/wp-content/uploads/publications/ASQT2015_cameraready_wo1stpage.pdf},
}

Witnesses for the Doctor in the Loop (

2015

)

INPROCEEDINGS

-

2015 International Conference on Brain Informatics & Health (BIH)

@INPROCEEDINGS{Kieseberg2015Witnesses,
author = {Peter Kieseberg and Johannes Schantl and Peter Fruehwirt and {Edgar R.} Weippl and Andreas Holzinger},
title = {Witnesses for the Doctor in the Loop},
booktitle = {2015 International Conference on Brain Informatics & Health (BIH)},
year = {2015},
month = {9},
pdf = {https://online.tugraz.at/tug_online/voe_main2.getVollText?pDocumentNr=1151817&pCurrPk=85962},
}

Security Testing for Mobile Applications (

2017

)

@ARTICLE{Kieseberg2017Security,
author = {Peter Kieseberg and Peter Fruehwirt and Sebastian Schrittwieser},
title = {Security Testing for Mobile Applications},
journal = {ERCIM News},
year = {2017},
month = {4},
pdf = {https://www.sba-research.org/wp-content/uploads/publications/201704 - KIESEBERG - Pages from EN109-web.pdf},
volume = {109},
pages = {52--53},
}

A tamper-proof audit and control system for the doctor in the loop (

2016

)

ARTICLE

-

Brain Informatics

@ARTICLE{Kiesebergtamperproof,
author = {Peter Kieseberg and Bernd Malle and Peter Fruehwirt and {Edgar R.} Weippl and Andreas Holzinger},
title = {A tamper-proof audit and control system for the doctor in the loop},
journal = {Brain Informatics},
year = {2016},
month = {3},
pdf = {http://link.springer.com/article/10.1007/s40708-016-0046-2},
pages = {1--11},
}

QR Code Security: A Survey of Attacks and Challenges for Usable Security (

2014

)

@INBOOK{Krombholz2014Code,
author = {Katharina Krombholz and Peter Fruehwirt and Peter Kieseberg and Ioannis Kapsalis and Markus Huber and {Edgar R.} Weippl},
title = {QR Code Security: A Survey of Attacks and Challenges for Usable Security},
booktitle = {Human Aspects of Information Security,
Privacy,
and Trust},
year = {2014},
pdf = {https://www.sba-research.org/wp-content/uploads/publications/llncs.pdf},
pages = {79--90},
publisher = {Springer},
link_slides = {http://de.slideshare.net/SBAResearch/qr-code-security-a-survey-of-attacks-and-challenges-for-usable-security},
}

QR Code Security - How Secure and Usable Apps Can Protect Users Against Malicious QR Codes (

2015

)

INPROCEEDINGS

-

2015 International Conference on Availability, Reliability and Security (ARES)

@INPROCEEDINGS{Krombholz2015Code,
author = {Katharina Krombholz and Peter Fruehwirt and Thomas Rieder and Ioannis Kapsalis and Johanna Ullrich and {Edgar R.} Weippl},
title = {QR Code Security - How Secure and Usable Apps Can Protect Users Against Malicious QR Codes},
booktitle = {2015 International Conference on Availability,
Reliability and Security (ARES)},
year = {2015},
month = {8},
pdf = {http://ieeexplore.ieee.org/document/7299920/},
}

What is new with whatsapp & co.? Revisiting the security of smartphone messaging applications (

2014

)

INPROCEEDINGS

-

iiWas 2014

@INPROCEEDINGS{Mueller2014Whats,
author = {Robin Mueller and Sebastian Schrittwieser and Peter Fruehwirt and Peter Kieseberg and {Edgar R.} Weippl},
title = {What is new with whatsapp & co.? Revisiting the security of smartphone messaging applications},
booktitle = {iiWas 2014},
year = {2014},
month = {12},
pdf = {https://www.sba-research.org/wp-content/uploads/publications/WhatsApp-iiwas-paper_cameraready.pdf},
}

Security and privacy of smartphone messaging applications (

2015

)

ARTICLE

-

International Journal of Pervasive Computing and Communications

@ARTICLE{Mueller2015Security,
author = {Robin Mueller and Sebastian Schrittwieser and Peter Fruehwirt and Peter Kieseberg and {Edgar R.} Weippl},
title = {Security and privacy of smartphone messaging applications},
journal = {International Journal of Pervasive Computing and Communications},
year = {2015},
month = {6},
pdf = {https://www.sba-research.org/wp-content/uploads/publications/Draft.pdf},
volume = {11},
}

Guess Who Is Texting You? Evaluating the Security of Smartphone Messaging Applications (

2012

)

INPROCEEDINGS

-

Network and Distributed System Security Symposium (NDSS 2012)

@INPROCEEDINGS{Schrittwieser_Guess_Who_s_Texting_You_Evalua_2012,
author = {Sebastian Schrittwieser and Peter Fruehwirt and Peter Kieseberg and Manuel Leithner and Martin Schmiedecker and Markus Huber and {Edgar R.} Weippl},
authorhotlist = {true},
title = {Guess Who Is Texting You? Evaluating the Security of Smartphone Messaging Applications},
booktitle = {Network and Distributed System Security Symposium (NDSS 2012)},
year = {2012},
month = {2},
pdf = {https://www.sba-research.org/wp-content/uploads/publications/ndss2012_final.pdf},
}

Secure Software in der Cloud (

2012

)

INPROCEEDINGS

-

Tagungsband Cloud und Klein: IT im Spannungsfeld zwischen Servercluster und Sensornetz

@INPROCEEDINGS{Schrittwieser_Secure_Software_in_der_Cloud_2012,
author = {Sebastian Schrittwieser and Peter Fruehwirt and Peter Kieseberg and Manuel Leithner and Martin Schmiedecker and Markus Huber and Gilbert Wondracek and Sylvi Rennert and {Edgar R.} Weippl},
title = {Secure Software in der Cloud},
booktitle = {Tagungsband Cloud und Klein: IT im Spannungsfeld zwischen Servercluster und Sensornetz},
year = {2012},
month = {4},
}

The role and security of firewalls in cyber-physical cloud computing (

2016

)

ARTICLE

-

EURASIP Journal on Information Security

@ARTICLE{Ullrich2016role,
author = {Johanna Ullrich and Jordan Cropper and Peter Fruehwirt and {Edgar R.} Weippl},
title = {The role and security of firewalls in cyber-physical cloud computing},
journal = {EURASIP Journal on Information Security},
year = {2016},
month = {8},
pdf = {http://jis.eurasipjournals.springeropen.com/articles/10.1186/s13635-016-0042-3},
}

InnoDB Database Forensics: Enhanced Reconstruction of Data Manipulation Queries from Redo Logs (

2013

)

ARTICLE

-

Information Security Technical Report (ISTR), Special Issue: ARES

@ARTICLE{_InnoDB_Database_Forensics_Enha_2013,
author = {Peter Fruehwirt and Peter Kieseberg and Sebastian Schrittwieser and Markus Huber and {Edgar R.} Weippl},
title = {InnoDB Database Forensics: Enhanced Reconstruction of Data Manipulation Queries from Redo Logs},
journal = {Information Security Technical Report (ISTR),
Special Issue: ARES},
year = {2013},
month = {4},
pdf = {https://www.sba-research.org/wp-content/uploads/publications/ARES2012_Journal.pdf},
}

InnoDB Database Forensics: Reconstructing Data Manipulation Queries from Redo Logs (

2012

)

INPROCEEDINGS

-

The Fifth International Workshop on Digital Forensics (WSDF)

@INPROCEEDINGS{_InnoDB_Database_Forensics_Reco_2012,
author = {Peter Fruehwirt and Peter Kieseberg and Sebastian Schrittwieser and Markus Huber and {Edgar R.} Weippl},
title = {InnoDB Database Forensics: Reconstructing Data Manipulation Queries from Redo Logs},
booktitle = {The Fifth International Workshop on Digital Forensics (WSDF)},
year = {2012},
month = {8},
pdf = {https://www.sba-research.org/wp-content/uploads/publications/WSDF2012_InnoDB.pdf},
}