was security analyst and researcher at SBA Research.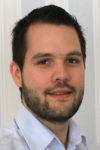 Phone: +43 (1) 505 36 88
Fax: +43 (1) 505 88 88
PGP: 0x5E82F701
PGP Fingerprint: 997F 6AD1 885C 7001 AFCC 0980 BE52 7B5D 5E82 F701
Research Interests
The main research fields of Sebastian are USB security, fuzzing and digital forensics.
Bio
Sebastian received a bachelor's degree in Secure Information Systems at the University of Applied Sciences in Hagenberg. His bachelor's thesis was about Coordinative Improvements of Capture the Flag Teams. He is currently working towards his master's degree for Software Engineering and Internet Computing at TU Wien.
While working on his master's thesis on USB security, he was invited by Prof. Engin Kirda in 2014, to work with him and his systems security group at Northeastern University in Boston.
Datasets
Our dataset of the paper "Time is on my side: Steganography in filesystem metadata" (DFRWS USA 2016) can be found here.
Our dataset of the paper "PeekaTorrent: Leveraging P2P Hash Values for Digital Forensics" (DFRWS USA 2016) can be found here.
Professional Activities
Publicity and Web Chair at the International Conference on Digital Forensics & Cyber Crime, 2017
PC member at the International Conference on Availability, Reliability and Security (ARES), 2016, 2017
PC member at the International Workshop on Cyber Crime (IWCC), 2016
Top Publications:
Windows Installer Security (

2014

)

INPROCEEDINGS

-

Sixth ASE International Conference on Privacy, Security, Risk and Trust (PASSAT 2014)

@INPROCEEDINGS{Kadluba2014Windows,
author = {Christian Kadluba and Martin Schmiedecker and Lorenz Zechner and Sebastian Neuner and {Edgar R.} Weippl},
title = {Windows Installer Security},
booktitle = {Sixth ASE International Conference on Privacy,
Security,
Risk and Trust (PASSAT 2014)},
year = {2014},
month = {12},
pdf = {https://www.sba-research.org/wp-content/uploads/publications/Sebastian Neuner msiInstaller.pdf},
}

Real-time Forensics through Endpoint Visibility (

2017

)

INPROCEEDINGS

-

International Conference on Digital Forensics & Cyber Crime (ICDF2C)

@INPROCEEDINGS{Kieseberg2017Realtime,
author = {Peter Kieseberg and Sebastian Neuner and Sebastian Schrittwieser and Martin Schmiedecker and {Edgar R.} Weippl},
title = {Real-time Forensics through Endpoint Visibility},
booktitle = {International Conference on Digital Forensics & Cyber Crime (ICDF2C)},
year = {2017},
pdf = {https://www.sba-research.org/wp-content/uploads/publications/fleetForensics.pdf},
link_slides = {https://www.slideshare.net/SBAResearch/realtime-forensics-through-endpoint-visibility-80707652},
}

Block Me If You Can: A Large-Scale Study of Tracker-Blocking Tools (

2017

)

INPROCEEDINGS

true

2nd IEEE European Symposium on Security and Privacy (Euro S&P)

@INPROCEEDINGS{Merzdovnik2017,
author = {Georg Merzdovnik and Markus Huber and Damjan Buhov and Nick Nikiforakis and Sebastian Neuner and Martin Schmiedecker and {Edgar R.} Weippl},
authorhotlist = {true},
sbahotlist = {true},
title = {Block Me If You Can: A Large-Scale Study of Tracker-Blocking Tools},
booktitle = {2nd IEEE European Symposium on Security and Privacy (Euro S&P)},
year = {2017},
pdf = {https://www.sba-research.org/wp-content/uploads/publications/block_me_if_you_can.pdf},
}

Quantifying Windows File Slack in Size and Stability (

2013

)

INPROCEEDINGS

-

Ninth Annual IFIP WG 11.9 International Conference on Digital Forensics

@INPROCEEDINGS{Mulazzani_Slackspace_Quantifiation_2013,
author = {Martin Schmiedecker and Sebastian Neuner and Peter Kieseberg and Markus Huber and Sebastian Schrittwieser and {Edgar R.} Weippl},
title = {Quantifying Windows File Slack in Size and Stability},
booktitle = {Ninth Annual IFIP WG 11.9 International Conference on Digital Forensics},
year = {2013},
month = {1},
pdf = {https://www.sba-research.org/wp-content/uploads/publications/ifipSlack_2013_preprint.pdf},
link_data = {http://128.130.204.91/slackspaceDataset.7z},
link_slides = {http://www.slideshare.net/SBAResearch/quantifying-windows-file-slack-in-size-and-stability},
}

Enter Sandbox: Android Sandbox Comparison (

2014

)

INPROCEEDINGS

-

Proceedings of the IEEE Mobile Security Technologies Workshop (MoST)

@INPROCEEDINGS{Neuner2014Enter,
author = {Sebastian Neuner and Victor {Van der Veen} and Martina Lindorfer and Markus Huber and Georg Merzdovnik and Martin Schmiedecker and {Edgar R.} Weippl},
authorhotlist = {true},
title = {Enter Sandbox: Android Sandbox Comparison},
booktitle = {Proceedings of the IEEE Mobile Security Technologies Workshop (MoST)},
year = {2014},
month = {5},
pdf = {https://www.sba-research.org/wp-content/uploads/publications/mostAndroid.pdf},
publisher = {IEEE},
link_slides = {http://www.slideshare.net/SBAResearch/enter-sandbox-android-sandbox-comparison},
}

Gradually Improving the Forensic Process (

2015

)

INPROCEEDINGS

-

International Workshop on Cyber Crime (IWCC)

@INPROCEEDINGS{Neuner2015Gradually,
author = {Sebastian Neuner and Martin Schmiedecker and Sebastian Schrittwieser and {Edgar R.} Weippl},
title = {Gradually Improving the Forensic Process},
booktitle = {International Workshop on Cyber Crime (IWCC)},
year = {2015},
month = {8},
pdf = {https://www.sba-research.org/wp-content/uploads/publications/Neuner_IWCC2015.pdf},
}

Effectiveness of File‐based Deduplication in Digital Forensics (

2016

)

ARTICLE

-

Security and Communication Networks

@ARTICLE{Neuner2016Effectiveness,
author = {Sebastian Neuner and Martin Schmiedecker and {Edgar R.} Weippl},
authorhotlist = {true},
title = {Effectiveness of File‐based Deduplication in Digital Forensics},
journal = {Security and Communication Networks},
year = {2016},
pdf = {https://www.sba-research.org/wp-content/uploads/publications/Neuner2016Effectiveness_preprint.pdf},
publisher = {Wiley},
}

PeekaTorrent: Leveraging P2P Hash Values for Digital Forensics (

2016

)

INPROCEEDINGS

true

16th Annual DFRWS Conference

@INPROCEEDINGS{Neuner2016PeekaTorrent,
author = {Sebastian Neuner and Martin Schmiedecker and {Edgar R.} Weippl},
authorhotlist = {true},
sbahotlist = {true},
title = {PeekaTorrent: Leveraging P2P Hash Values for Digital Forensics},
booktitle = {16th Annual DFRWS Conference},
year = {2016},
pdf = {https://www.sba-research.org/wp-content/uploads/publications/peekatorrent_preprint.pdf},
link_source = {https://github.com/schmiedecker/peekatorrent},
link_data = {https://www.peekatorrent.org},
link_slides = {http://www.slideshare.net/SBAResearch/peekatorrent-leveraging-p2p-hash-values-for-digital-forensics},
}

Time is on my side: Steganography in filesystem metadata (

2016

)

INPROCEEDINGS

-

16th Annual DFRWS Conference

@INPROCEEDINGS{Neuner2016Time,
author = {Sebastian Neuner and {Artemios G.} Voyiatzis and Martin Schmiedecker and Stefan Brunthaler and Stefan Katzenbeisser and {Edgar R.} Weippl},
authorhotlist = {true},
title = {Time is on my side: Steganography in filesystem metadata},
booktitle = {16th Annual DFRWS Conference},
year = {2016},
pdf = {https://www.sba-research.org/wp-content/uploads/publications/timestampStego_preprint.pdf},
link_data = {https://www.sba-research.org/dfrws2016/},
link_slides = {http://www.slideshare.net/SBAResearch/time-is-on-my-side-steganography-in-filesystem-metadata},
}

Timestamp hiccups: Detecting manipulated filesystem timestamps on NTFS (

2017

)

ARTICLE

-

International Conference on Availability, Reliability and Security (ARES)

@ARTICLE{Neuner2017,
author = {Sebastian Neuner and {Artemios G.} Voyiatzis and Martin Schmiedecker and {Edgar R.} Weippl},
authorhotlist = {true},
title = {Timestamp hiccups: Detecting manipulated filesystem timestamps on NTFS},
journal = {International Conference on Availability,
Reliability and Security (ARES)},
year = {2017},
pdf = {https://www.sba-research.org/wp-content/uploads/publications/hiccups.pdf},
}

Usblock: Blocking USB - based keypress injections attacks. (

2018

)

INPROCEEDINGS

-

32nd IFIP WG 11.3 Conference on Data and Applications Security and Privacy (DBSec), Springer LNCS

@INPROCEEDINGS{Neuner2018Usblock,
author = {Sebastian Neuner and {Artemios G.} Voyiatzis and Spiros Fotopoulos and Collin Mulliner and {Edgar R.} Weippl},
title = {Usblock: Blocking USB - based keypress injections attacks.},
booktitle = {32nd IFIP WG 11.3 Conference on Data and Applications Security and Privacy (DBSec),
Springer LNCS},
year = {2018},
month = {6},
pdf = {https://www.sba-research.org/wp-content/uploads/publications/201806-Zamyatin-USBlock.pdf},
}

On Reducing Bottlenecks in Digital Forensics (

2016

)

@ARTICLE{Schmiedecker2016Reducing,
author = {Martin Schmiedecker and Sebastian Neuner},
title = {On Reducing Bottlenecks in Digital Forensics},
journal = {ERCIM News},
year = {2016},
pdf = {https://www.sba-research.org/wp-content/uploads/publications/EN106-peekaTorrent.pdf},
}