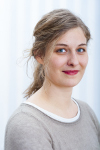 was researcher at SBA Research.
Research Interest
The main focus of her research is modeling and simulating complex structures to be used as basis for implementation of security concepts as well as the foundation for abstract testing of security threats.
Bio
She received a master's degree in Technical Mathematics in Natural Sciences from the TU Wien.
Top Publications:
Friend-in-the-middle Attacks (

2010

)

@TECHREPORT{Huber2010Friendin-the-middle,
author = {Markus Huber and Martin Schmiedecker and Gerhard Kitzler and Sigrun Goluch and {Edgar R.} Weippl},
title = {Friend-in-the-middle Attacks},
booktitle = {Technical Report},
year = {2010},
month = {1},
pdf = {https://www.sba-research.org/wp-content/uploads/publications/FITM_TR-SBA-Research-0710-01.pdf},
}

Friend-in-the-middle Attacks: Exploiting Social Networking Sites for Spam (

2011

)

ARTICLE

-

IEEE Internet Computing: Special Issue on Security and Privacy in Social Networks

@ARTICLE{Huber_Friend_in_the_middle_Attacks_E_2011,
author = {Markus Huber and Martin Schmiedecker and Gerhard Kitzler and Sigrun Goluch and {Edgar R.} Weippl},
title = {Friend-in-the-middle Attacks: Exploiting Social Networking Sites for Spam},
journal = {IEEE Internet Computing: Special Issue on Security and Privacy in Social Networks},
year = {2011},
month = {5},
pdf = {https://www.sba-research.org/wp-content/uploads/publications/FITM_InternetComputing_preprint.pdf},
note = {Pre Print},
}

Risk-Aware Business Process Management: Establishing the Link Between Business and Security (

2010

)

INPROCEEDINGS

-

Complex Intelligent Systems and Their Applications

@INPROCEEDINGS{Jakoubi_CISTA_2010,
author = {Stefan Jakoubi and Simon Tjoa and Sigrun Goluch and Gerhard Kitzler},
authorhotlist = {true},
title = {Risk-Aware Business Process Management: Establishing the Link Between Business and Security},
booktitle = {Complex Intelligent Systems and Their Applications},
year = {2010},
month = {1},
pdf = {https://www.sba-research.org/wp-content/uploads/publications/Jakoubi_CISTA_2010.pdf},
volume = {41},
pages = {109-135},
publisher = {Springer New York},
}

Risk-Aware Business Process Management :Establishing the Link Between Business and Security (

2010

)

INBOOK

-

Springer New York

@INBOOK{Jakoubi_Risk_Aware_Business_Process_Ma_2010,
author = {Stefan Jakoubi and Simon Tjoa and Sigrun Goluch and Gerhard Kitzler},
title = {Risk-Aware Business Process Management :Establishing the Link Between Business and Security},
booktitle = {Complex Intelligent Systems and Their Applications},
year = {2010},
month = {8},
volume = {41},
pages = {109-135},
publisher = {Springer New York},
note = {Book},
}

A Formal Approach Enabling Risk-aware Business Process Modeling and Simulation (

2010

)

ARTICLE

-

IEEE Transactions on Services Computing

@ARTICLE{Tjoa2010a,
author = {Simon Tjoa and Stefan Jakoubi and Gernot Goluch and Gerhard Kitzler and Sigrun Goluch and Gerald Quirchmayr},
authorhotlist = {true},
title = {A Formal Approach Enabling Risk-aware Business Process Modeling and Simulation},
journal = {IEEE Transactions on Services Computing},
year = {2010},
month = {4},
pdf = {https://www.sba-research.org/wp-content/uploads/publications/Tjoa_TSC2010.pdf},
}

A Formal Approach Towards Risk-Aware Service Level Analysis and Planning (

2010

)

INPROCEEDINGS

-

2010 International Conference on Availability, Reliability and Security

@INPROCEEDINGS{Tjoa_A_Formal_Approach_Towards_Risk_2010,
author = {Stefan Jakoubi and Simon Tjoa and Sigrun Goluch and Gerhard Kitzler},
title = {A Formal Approach Towards Risk-Aware Service Level Analysis and Planning},
booktitle = {2010 International Conference on Availability,
Reliability and Security},
year = {2010},
month = {2},
pages = {180-187},
}

Planning Dynamic Activity and Resource Allocations Using a Risk-Aware Business Process Management Approach (

2010

)

INPROCEEDINGS

-

2010 International Conference on Availability, Reliability and Security

@INPROCEEDINGS{Tjoa_Planning_Dynamic_Activity_and__2010,
author = {Simon Tjoa and Stefan Jakoubi and Sigrun Goluch and Gerhard Kitzler},
title = {Planning Dynamic Activity and Resource Allocations Using a Risk-Aware Business Process Management Approach},
booktitle = {2010 International Conference on Availability,
Reliability and Security},
year = {2010},
month = {2},
pdf = {https://www.sba-research.org/wp-content/uploads/publications/Tjoa_ARES2010_dynamic.pdf},
pages = {268-274},
}