was researcher at SBA Research.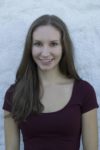 Research Interests
Her research interests range from Information Security Management to Social Engineering and fields of Mobile Application Security. Stefanie's current research activities focuses on Information Security including work in Risk and Compliance Management especially in the field of increasing inventory efficiency. A further research ativity focuses on Electronic Voting Systems.
Bio
She is currently pursuing a bachelor's degree in Secure Information Systems at the University of Applied Sciences in Hagenberg.
E-voting authentication with QR-codes (

2014

)

INPROCEEDINGS

-

2nd International Conference on Human Aspects of Information Security, Privacy, and Trust

@INPROCEEDINGS{Falkner2014Evoting,
author = {Stefanie Falkner and Peter Kieseberg and Dimitris Simos and Christina Traxler and {Edgar R.} Weippl},
title = {E-voting authentication with QR-codes},
booktitle = {2nd International Conference on Human Aspects of Information Security,
Privacy,
and Trust},
year = {2014},
pdf = {https://www.sba-research.org/wp-content/uploads/publications/evoting_final_HCI_2014.pdf},
}