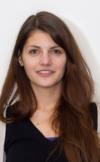 is researcher at SBA Research.
Phone: +43 (1) 505 36 88
Fax: +43 (1) 505 88 88
Research Interests
Her interests include mobile application and web security, social engineering and information security. Her current research focuses on Wi-Fi security.
Bio
She received a bachelor's degree in Business Informatics from the TU Wien and is currently working on her master thesis in Software Engineering. Stefanie has worked as a software developer and security awareness trainer for several years.
Mapping Information Security Standard ISO 27002 to an Ontological Structure (

2016

)

ARTICLE

-

Information and Computer Security

@ARTICLE{Fenz2016Mapping,
author = {Stefan Fenz and S. Plieschnegger and Heidelinde Hobel},
title = {Mapping Information Security Standard ISO 27002 to an Ontological Structure},
journal = {Information and Computer Security},
year = {2016},
pdf = {http://www.emeraldinsight.com/doi/abs/10.1108/ICS-07-2015-0030?journalCode=ics},
}