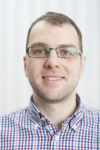 was senior researcher at SBA Research.
Phone: +43 1 505 36 88 1801
Research Interests
His main research focuses on business process management. Topics of interest include software quality management, planning and decision support, requirements engineering and digital preservation.
Bio
He finished his master's degrees in Computer Science and Business Informatics at the TU Wien. He has been involved in numerous national and international research projects, including TIMBUS, 4C Project, APARSEN, PLANETS, Digital Preservation Europe (DPE), Digital Memory Engineering (DME) and DELOS.
Digital Preservation Challenges on Software Life Cycle (

2012

)

INPROCEEDINGS

-

16th European Conf. on Software Maintenance and Reengineering (CSMR2012)

@INPROCEEDINGS{Barateiro_Digital_Preservation_Challenge_2012,
author = {J. Barateiro and D. Draws and M. Neumann and Stephan Strodl},
title = {Digital Preservation Challenges on Software Life Cycle},
booktitle = {16th European Conf. on Software Maintenance and Reengineering (CSMR2012)},
year = {2012},
month = {3},
}

Process Migration Framework - Virtualising and Documenting Business Processes (

2014

)

INPROCEEDINGS

-

18th IEEE International Enterprise Distributed Object Computing Conference Workshops and Demonstrations, (EDOCW 2014)

@INPROCEEDINGS{Binder2014Process,
author = {Johannes Binder and Stephan Strodl and Andreas Rauber},
title = {Process Migration Framework - Virtualising and Documenting Business Processes},
booktitle = {18th IEEE International Enterprise Distributed Object Computing Conference Workshops and Demonstrations,
(EDOCW 2014)},
year = {2014},
month = {9},
pdf = {http://ieeexplore.ieee.org/xpl/articleDetails.jsp?arnumber=6975390},
}

Software Escrow Agreements (

2012

)

INPROCEEDINGS

-

International Legal Informatics Symposium (IRIS)

@INPROCEEDINGS{Hobel_Software_Escrow_Agreements_2012,
author = {Konstantin Hobel and Stephan Strodl},
title = {Software Escrow Agreements},
booktitle = {International Legal Informatics Symposium (IRIS)},
year = {2012},
month = {2},
}

Automatic discovery of preservation alternatives supported by community maintained knowledge bases (

2014

)

INPROCEEDINGS

-

11th International Conference on Digital Preservation (iPres 2014)

@INPROCEEDINGS{Mayer2014Automatic,
author = {Rudolf Mayer and Johannes Binder and Stephan Strodl and Andreas Rauber},
title = {Automatic discovery of preservation alternatives supported by community maintained knowledge bases},
booktitle = {11th International Conference on Digital Preservation (iPres 2014)},
year = {2014},
month = {10},
pdf = {http://www.ifs.tuwien.ac.at/%7Emayer/publications/pdf/may_ipres14-preservationAlternatives.pdf},
}

Framework for verification of preserved and redeployed processes (

2013

)

INPROCEEDINGS

-

10th International Conference on Preservation of Digital Objects (IPRES2013)

@INPROCEEDINGS{Miksa2013Framework,
author = {Tomasz Miksa and Stefan Proell and Rudolf Mayer and Stephan Strodl and Ricardo Vieira and Jose Barateiro and Andreas Rauber},
title = {Framework for verification of preserved and redeployed processes},
booktitle = {10th International Conference on Preservation of Digital Objects (IPRES2013)},
year = {2013},
month = {9},
}

Process Management Plans (

2014

)

ARTICLE

true

International Journal of Digital Curation

@ARTICLE{Miksa2014Process,
author = {Tomasz Miksa and Stephan Strodl and Andreas Rauber},
sbahotlist = {true},
title = {Process Management Plans},
journal = {International Journal of Digital Curation},
year = {2014},
month = {8},
pdf = {https://www.sba-research.org/wp-content/uploads/publications/process management plans_paper.pdf},
volume = {9},
pages = {83-97},
}

Risk driven selection of preservation activities for increasing sustainability of open source systems and workflows (

2014

)

INPROCEEDINGS

-

The 11th International Conference on Digital Preservation (iPres 2014)

@INPROCEEDINGS{Miksa2014Risk,
author = {Tomasz Miksa and Rudolf Mayer and Stephan Strodl and Andreas Rauber and Ricardo Vieira and Goncalo Antunes},
title = {Risk driven selection of preservation activities for increasing sustainability of open source systems and workflows},
booktitle = {The 11th International Conference on Digital Preservation (iPres 2014)},
year = {2014},
month = {10},
pdf = {http://www.ifs.tuwien.ac.at/~mayer/publications/pdf/mik_ipres14-riskDriven.pdf},
}

A cost model for small scale automated digital preservation archives (

2011

)

INPROCEEDINGS

-

8th International Conference on Preservation of Digital Objects (iPRES 2011)

@INPROCEEDINGS{Strodl2011b,
author = {Stephan Strodl and Andreas Rauber},
title = {A cost model for small scale automated digital preservation archives},
booktitle = {8th International Conference on Preservation of Digital Objects (iPRES 2011)},
year = {2011},
month = {11},
pdf = {https://www.sba-research.org/wp-content/uploads/publications/PubDat_202967.pdf},
pages = {97},
}

Digital Preservation of a Process and its Application to e-Science Experiments (

2013

)

INPROCEEDINGS

-

Proceedings of the 10th International Conference on Preservation of Digital Objects (IPRES 2013)

@INPROCEEDINGS{Strodl_Digital_Preservation_of_a_Proc_2013,
author = {Stephan Strodl and Rudolf Mayer and D. Draws and Andreas Rauber and Gonccalo Antunes},
title = {Digital Preservation of a Process and its Application to e-Science Experiments },
booktitle = {Proceedings of the 10th International Conference on Preservation of Digital Objects (IPRES 2013)},
year = {2013},
month = {9},
}

Framework for Verification of Preserved and Redeployed Processes (

2013

)

INPROCEEDINGS

-

Proceedings of the 10th International Conference on Digital Preservation (iPRES2013).

@INPROCEEDINGS{verification2013,
author = {Tomasz Miksa and Ricardo Vieira and Andreas Rauber and Stefan Proell and Stephan Strodl and Rose Barateiro},
title = {Framework for Verification of Preserved and Redeployed Processes},
booktitle = {Proceedings of the 10th International Conference on Digital Preservation (iPRES2013). },
year = {2013},
month = {9},
}

A Framework for Automated Verification in Software Escrow (

2013

)

INPROCEEDINGS

-

Proceedings of the 10th International Conference on Preservation of Digital Objects (IPRES 2013)

@INPROCEEDINGS{Weigl_A_Framework_for_Automated_Veri_2013,
author = {Elisabeth Weigl and Johannes Binder and Stephan Strodl and D. Draws and Andreas Rauber},
title = {A Framework for Automated Verification in Software Escrow },
booktitle = {Proceedings of the 10th International Conference on Preservation of Digital Objects (IPRES 2013)},
year = {2013},
month = {9},
}

Business Process Preservation How to capture, document and evaluate (

2012

)

INPROCEEDINGS

-

Proceedings of the 9th International Conference on Preservation of Digital Objects IPRES2012

@INPROCEEDINGS{_Business_Process_Preservation__2012,
author = {Stephan Strodl and D. Draws and Gonccalo Antunes and Andreas Rauber},
title = {Business Process Preservation How to capture,
document and evaluate},
booktitle = {Proceedings of the 9th International Conference on Preservation of Digital Objects IPRES2012},
year = {2012},
month = {10},
pdf = {https://www.sba-research.org/wp-content/uploads/publications/IPRES 2012_strodl_paper_10.pdf},
}

Digital Preservation of Business Processes with TIMBUS Architecture (

2012

)

INPROCEEDINGS

-

Proceedings of the 9th International Conference on Preservation of Digital Objects IPRES2012

@INPROCEEDINGS{_Digital_Preservation_of_Busine_2012,
author = {Mykola Galushka and Philip Taylor and Wasif Gilani and John Thomson and Stephan Strodl and M. Neumann},
title = {Digital Preservation of Business Processes with TIMBUS Architecture},
booktitle = {Proceedings of the 9th International Conference on Preservation of Digital Objects IPRES2012},
year = {2012},
month = {10},
pdf = {https://www.sba-research.org/wp-content/uploads/publications/iPres2012_Digital_Preservation_Of_Business_Processes_with_TIMBUS_Architecture.pdf},
pages = {117-125},
}

On the Complexity of Process Preservation: A Case Study on an E-Science Experiment (

2012

)

INPROCEEDINGS

-

Proceedings of the 9th International Conference on Digital Preservation (iPres 2012)

@INPROCEEDINGS{_On_the_Complexity_of_Process_P_2012,
author = {Rudolf Mayer and Stephan Strodl and Andreas Rauber},
title = {On the Complexity of Process Preservation: A Case Study on an E-Science Experiment},
booktitle = {Proceedings of the 9th International Conference on Digital Preservation (iPres 2012)},
year = {2012},
month = {9},
pdf = {https://www.sba-research.org/wp-content/uploads/publications/ipres2012-Poster_CaseStudy-EscienceExperiment.pdf},
}