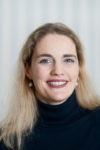 is key researcher at SBA Research and Professor at the University of Vienna.
Phone: +43 (1) 4277 39517
Fax: +43 (1) 4277 9395
Research Interests
At present, Stefanie researches on the next generation of workflow systems that are the foundation of modern business process management.
Bio
Since January 2010 Stefanie is Professor at the Department of Informatics at the University of Vienna. She received a doctoral's degree from University of Ulm in 2004 and was honored with an award of the "Ulmer Universitätsgesellschaft" for an outstanding thesis. In 2005, she had a research stay at the University of Twente (The Netherlands) and worked at the School of Management at the University of Ottawa (Canada). In March 2006, she was a researcher at the Technical University of Eindhoven (The Netherlands). In 2006, Stefanie participated in an industry project for DaimlerChrysler Research. She received her habilitation's degree for the work "On the Controlled Evolution of Information Systems" at the University of Ulm in 2009.
Publications
Please see: http://wst.cs.univie.ac.at/team/person/39437/