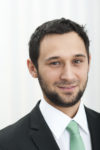 is security analyst at SBA Research.
Phone: +43 (1) 505 36 88
Fax: +43 (1) 505 88 88
Research Interest
During his studies his research focused on techniques for runtime packing and program obfuscation. Currently his main activities concentrate on penetration testing and security analysis of diverse applications' implementations and designs.
Bio
He received a master's degree in Software Engineering & Internet Computing from the TU Wien in cooperation with SBA Research.
Retaining consistency for knowledge-based security testing (

2014

)

INPROCEEDINGS

-

27th International Conference on Industrial, Engineering & Other Applications of Applied Intelligent Systems

@INPROCEEDINGS{Bernauer2014Retaining,
author = {Andreas Bernauer and Josip Bozic and Dimitris Simos and Severin Winkler and Franz Wotawa},
title = {Retaining consistency for knowledge-based security testing},
booktitle = {27th International Conference on Industrial,
Engineering & Other Applications of Applied Intelligent Systems},
year = {2014},
month = {6},
pdf = {https://www.sba-research.org/wp-content/uploads/publications/ieaaie2014_kb.pdf},
}