is security analyst and researcher at SBA-Research.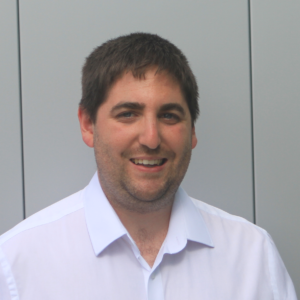 Phone: +43 (1) 505 36 88
Fax: +43 (1) 505 88 88
PGP:0xBEB97B1319E08F6F
PGP Fingerprint: 4DD3 1976 9F11 C0B9 A837 A5E0 BEB9 7B13 19E0 8F6F
Research Interest
His research focus is on security relevant topics in the field of Internet of Things (e.g., Physical Attacks, Hardware Security, Firmware Extraction, Reverse Engineering, Emulation/Virtualization, Honeypots), Smart Metering and Home Automation.
Bio
Christian Kudera received an M.Sc. in Hardware and Software Security from TU Wien. Currently he is working towards his Ph.D. degree with the focus on Internet of Things and embedded systems security. He has more than six years of experience as Security Analyst in the areas of hardware and software security. He teaches multiple courses at TU Wien (Internet Security, Advanced Internet Security), and at Universities of Applied Sciences (Rosenheim University of Applied Sciences, University of Applied Sciences Campus Vienna, St. Pölten University of Applied Sciences).
Top Publications:
Efficient High-Speed WPA2 Brute Force Attacks using Scalable Low-Cost FPGA Clustering (

2016

)

INPROCEEDINGS

-

Conference on Cryptographic Hardware and Embedded Systems 2016 (CHES 2016)

@INPROCEEDINGS{Kammerstetter2016Efficient,
author = {Markus Kammerstetter and Markus Muellner and Christian Kudera and Daniel Burian and Wolfgang Kastner},
title = {Efficient High-Speed WPA2 Brute Force Attacks using Scalable Low-Cost FPGA Clustering},
booktitle = {Conference on Cryptographic Hardware and Embedded Systems 2016 (CHES 2016)},
year = {2016},
month = {5},
}

Open and Secure: Amending the Security of the BSI Smart Metering Infrastructure to Smart Home Applications via the Smart Meter Gateway (

2017

)

INBOOK

-

Springer International Publishing

@INBOOK{Kammerstetter2017Open,
author = {Dominik Henneke and Christian Kudera and Markus Kammerstetter and Lukasz Wisniewski and Christoph Raquet and Wolfgang Kastner and Juergen Jasperneite},
title = {Open and Secure: Amending the Security of the BSI Smart Metering Infrastructure to Smart Home Applications via the Smart Meter Gateway},
booktitle = {Smart Energy Research at the crossroads of Engineering,
Economics and Computer Science 2017},
year = {2017},
month = {2},
abstract = {This paper describes an implementation to enable interaction between smart home solutions and Smart Meter Gateways (SMGWs). This is conducted in the example of the approach of the AnyPLACE project to interconnect openHAB with the HAN interface of the SMGW. Furthermore,
security issues in the combination of those two realms are addressed,
answered and tested so that in addition to the open character of the solution,
it is still secure.},
publisher = {Springer International Publishing},
}

This paper describes an implementation to enable interaction between smart home solutions and Smart Meter Gateways (SMGWs). This is conducted in the example of the approach of the AnyPLACE project to interconnect openHAB with the HAN interface of the SMGW. Furthermore, security issues in the combination of those two realms are addressed, answered and tested so that in addition to the open character of the solution, it is still secure.

Computer Aided IC Reverse Engineering Methodology on the Basis of the TI DST80 Cryptographic Immobilizer Tag (

2018

)

INPROCEEDINGS

-

IEEE International Workshop on Physical Attacks and Inspection on Electronics (PAINE)

@INPROCEEDINGS{Kammerstetter2018Computer,
author = {Markus Kammerstetter and Markus Muellner and Daniel Burian and Christian Kudera and Wolfgang Kastner},
title = {Computer Aided IC Reverse Engineering Methodology on the Basis of the TI DST80 Cryptographic Immobilizer Tag},
booktitle = {IEEE International Workshop on Physical Attacks and Inspection on Electronics (PAINE)},
year = {2018},
month = {6},
}

Smart Grid Security Guidance - (SG)2: Sicherheitsmaßnahmen für Stromnetzbetreiber in Österreich (

2016

)

@BOOK{Kudera2016Smart,
author = {J. Goellner (Editor) and L. Langer (Editor) and M. Tischlinger (Editor) and Christian Kudera and Markus Kammerstetter and F. Skopik and B. Haberler},
title = {Smart Grid Security Guidance - (SG)2: Sicherheitsmaßnahmen für Stromnetzbetreiber in Österreich},
booktitle = {Schriftenreihe der Landesverteidigungsakademie 2016},
year = {2016},
}

Design and Implementation of a Negative Voltage Fault Injection Attack Prototype (

2018

)

INPROCEEDINGS

-

IEEE International Workshop on Physical Attacks and Inspection on Electronics (PAINE)

@INPROCEEDINGS{Kudera2018Design,
author = {Christian Kudera and Markus Kammerstetter and Markus Muellner and Daniel Burian and Wolfgang Kastner},
authorhotlist = {true},
title = {Design and Implementation of a Negative Voltage Fault Injection Attack Prototype},
booktitle = {IEEE International Workshop on Physical Attacks and Inspection on Electronics (PAINE)},
year = {2018},
month = {6},
pdf = {https://www.sba-research.org/wp-content/uploads/publications/201806-Kudera-DesignandImplementation.pdf},
}

Security and Privacy Implementations within the AnyPLACE Energy Management Solution (

2018

)

INPROCEEDINGS

-

IEEE 23rd International Conference on Emerging Technologies and Factory Automation

@INPROCEEDINGS{Kudera2018Security,
author = {Christian Kudera and Viktor Ullmann and Markus Kammerstetter and Wolfgang Kastner},
authorhotlist = {true},
title = {Security and Privacy Implementations within the AnyPLACE Energy Management Solution},
booktitle = {IEEE 23rd International Conference on Emerging Technologies and Factory Automation},
year = {2018},
month = {10},
pdf = {https://www.sba-research.org/wp-content/uploads/publications/Kudera2018Security.pdf},
}

Autohoney(I)IoT - Automated device Independent honeypot Generation of IoT and Industrial IoT devices (

2019

)

@ARTICLE{Kudera2019AutohoneyIoT,
author = {Christian Kudera and Georg Merzdovnik and {Edgar R.} Weippl},
title = {Autohoney(I)IoT - Automated device Independent honeypot Generation of IoT and Industrial IoT devices},
journal = {ERCIM News},
year = {2019},
month = {10},
pdf = {https://ercim-news.ercim.eu/images/stories/EN119/EN119-web.pdf},
volume = {119},
}