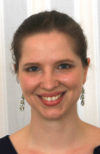 is coordinator for national research proposals at SBA Research.
Phone: +43 (1) 505 36 88
Fax: +43 (1) 505 88 88
Bio
She studied comparative literature, German and Romance philology at the University of Vienna and the Università degli Studi Roma Tre; since 2008 she is employed at SBA Research. Beside the organisational aspects of proposals, she is supporting her colleagues as an editor, translator and copy writer in regards to project proposals and reports, academic publications as well as commercial texts like course portfolios and offers.