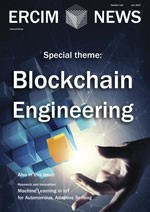 The ERCIM News No. 110 has just been published with a special theme on "Blockchain Engineering".
SBA Research contributes two articles in this issue. The first article is by Aljosha Judmayer, Alexei Zamyatin, Nicholas Stifter and Edgar Weippl on "Bitcoin – Cryptocurrencies and Alternative Applications". The second article is by Nicholas Stifter, Aljosha Judmayer, and Edgar Weippl on "A Holistic Approach to Smart Contract Security".
The full issue is available in PDF format here.