Brochure: Top-Level Research from Vienna
VRVis and SBA Research share 35 years of experience, knowledge and success
Top-level science from Austria: Joint brochure of VRVis and SBA Research provides insights into Viennese research centers.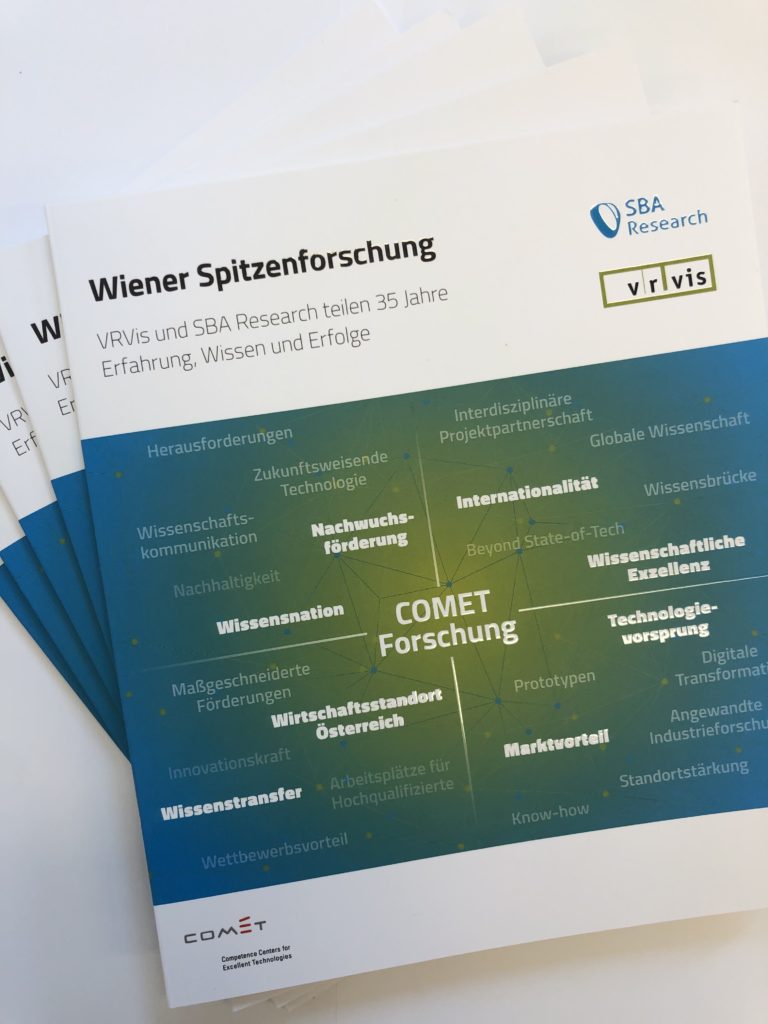 "Our goal is to swiftly transfer the latest scientific findings into solutions and applications, thus making future technologies available to domestic companies and markets in a timely manner."

Markus Klemen, CEO of SBA Research
"We are motivating companies to embed research in their business even beyond joint projects. This is important in order to position Austria as a hub of international research and development."

Gerd Hesina, CEO of VRVis
The COMET research centers VRVis Zentrum für Virtual Reality und Visualisierung and SBA Research have a lot in common. As the longest-standing COMET Centers in Vienna, together we represent 35 years of innovative research from Austria. Since our founding years 2000 (VRVis) and 2006 (SBA), we are building a bridge from science to industry.
We support the domestic economy through know-how transfer: By translating the latest scientific findings into innovative solutions and visionary applications, we help companies to gain a technological edge. In this way, industry gets to know state-of-the-art technology, which it can independently develop further and incorporate into its products – we thus motivate our partners to anchor research in their company, even beyond joint projects. At the same time, it is important to us to position Austria as a hub of international research and development; we therefore cooperate with many renowned institutions as well as national and international scientific partners.
In addition, we are constantly advancing our in-house basic research – around 20 patents, 40 awards and over 1,000 publications are just a few of the markers of our scientific excellence.
As an employer in Vienna, it is very important to us to set an example and act proactively in areas such as gender, diversity and corporate culture – together we employ over 170 highly specialized experts who contribute to the well-being of our society and to Austria's progress. Last but not least, we see ourselves as having a special social responsibility and therefore invest in the promotion of young talent and science communication in order to anchor top-level research in Austria and make it known internationally.
Based on this claim, the brochure at hand was created through which we want to provide an insight into our diverse fields of research, as well as to convey the associated challenges and our accumulated know-how as competence centers. In this regard, the following pages also highlight how essential the support of the FFG COMET Program Management team is for the implementation of successful research projects.