---
SBA Research will be among the exhibitors at this year´s Digital Days taking place from November 4-5 2019 at Erste Campus Wien.

This year´s focus lies on eco, health, ethics, security and mobility.
The Erste Campus Atrium will be turned into a 50 station digi street introducing numerous companies and institutions of DigitalCity.Wien. Participants are invited to try and experience innovative technologies first hand.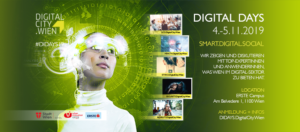 ---