SBA Research auf der IT-SecX 2014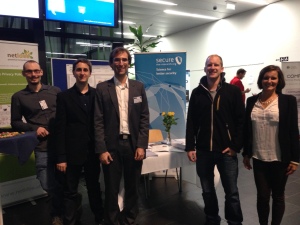 SBA Research ist auch dieses Jahr wieder auf der IT-SecX 2014 Konferenz vertreten, die dieses Jahr von 16 – 24 Uhr ihre Türen unter dem Motto "In the aftermath of the Snowden disclosures" öffnet.
Aljosha Judmayer wird einen Talk zu dem Thema "Bitcoin/Namecoin/*coin: On Bitcoin like protocols and their relation to other IT-Security issues" halten. Der Talk findet in Hörsaal 1 statt und beginnt um 18:15 Uhr.
Peter Frühwirt wird gemeinsam mit Sebastian Schrittwieser, FH St. Pölten, einen Vortrag zu "Security Through Obscurity – powered by TLS" halten. Der Vortrag findet um 21.00 Uhr in Hörsaal 1 statt.