ArGe ÖFG Digitale Transformation – Virtual Roundtable on Resilience and Digital Transformation
Digital transformation is a major societal challenge and opportunity. The working group ArGe Digitale Transformation is an academic platform that addresses and discusses exactly these issues with the ultimate goal of contributing to the discourse in Austria.
The first virtual roundtable discussed resilience in relation to digital transformation. Different propositions by participants highlighted various key factors that are of relevance regarding the relationship between resilience and digital transformation and that potentially determine how digitalization affects society in the long term. This roundtable was the first in a series of workshops to be held over the upcoming two years.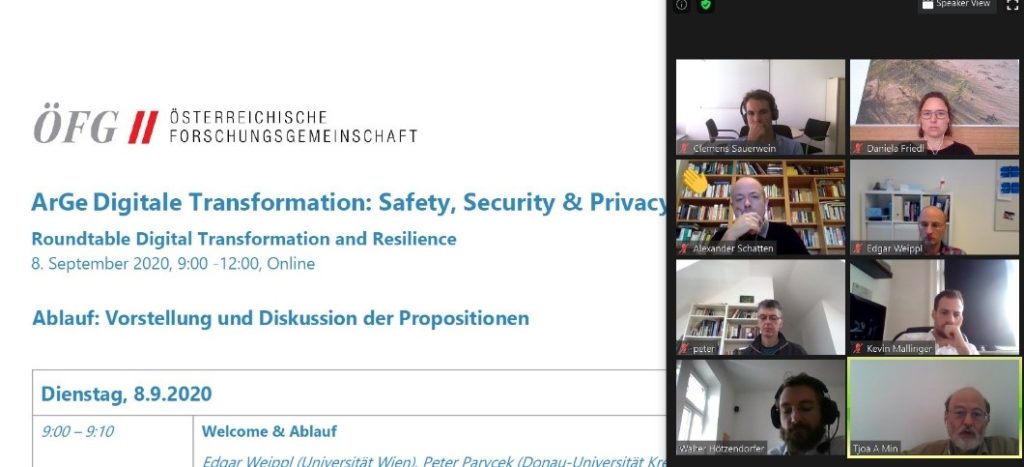 Background
The ÖFG Working Group on Digital Transformation: Safety, Safety, Security & Privacy was founded in 2019 by Edgar Weippl and Peter Parycek. At the moment, the Working Group has about 20 members, mainly from academia. The mission of the Working Group is to discuss challenges associated with digital transformation for both, the individual autonomy of people and society in general, from an inter-disciplinary point of view.
Get in Contact
Only members of the ÖFG Working Group can attend meetings and participate at roundtables. If you are interested in becoming a member or if you want to find out more about the Working Group, please check out the website or contact Edgar Weippl.