EDOC 2020 – Walid Fdhila presents Work on Compliance Checking in Distributed Processes
Walid Fdhila presents a joint work with Stefanie Rinderle-Ma (University of Vienna, Austria), David Knuplesch and Manfred Reichert (Ulm University, Germany) at the IEEE EDOC 2020 conference.
IEEE EDOC 2020 is the twenty-fourth conference in a series that provides the key forum for researchers and practitioners in the field of enterprise computing. EDOC conferences address the full range of models, methodologies, and engineering technologies contributing to intra- and inter-enterprise application systems. EDOC 2020 is taking place online. The host institution for EDOC 2020 is Eindhoven University of Technology.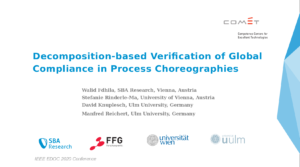 The joint work positions itself at the interface between process collaborations and process compliance and proposes a decomposition approach that enables distributed run-time verification of global compliance in process choreographies.