Happy Birthday to us! SBA Research celebrates 15 Years.
A Retrospect.
One and a half decades of company history offer a lot of official milestones and not-so-official anecdotes to be picked from. Not an easy, but very fun task which we gladly fulfilled, presenting you in the following with some selected highlights and snippets from the past 15 years. Enjoy!
2006 | The K-Ind (Industrielles Kompentenzzentrum) proposal for "Secure Business Austria – Verein zur Förderung der IT-Sicherheit in Österreich" gets granted in a time when IT security was generally not considered an important issue. The main topics of the overall research program are IT-security-oriented process management, intrusion detection and prevention, security in pervasive computing (RFID chips), and eLearning and security. From this very beginning, SBA not only delivered excellent scientific work, but also offered commercial services, thus not only building, but being a bridge between academia and industry. In the next four years, SBA's staff will grow from 8 to 27 people, while internal structures and external networks are steadily taking shape, moving the center's profile from Start-up to Small Enterprise.
Legend has it that, in April 2006, a handful of people at TU Wien grabbed their computers, walked across the street to Favoritenstraße 16 and moved into a space vacated by a recently bankrupted investment firm. Luckily, the previous tenants had left behind some much-needed office furniture and equipment which was purchased for an affordable sum; in fact, some of those items are still serving us well.
2010 | The K-Ind funding scheme has been replaced by the COMET Competence Centers for Excellent Technologies program. For the funding application, SBA's core team designs the flagship research program "SBA2" which will span 8 years and encompasses 4 areas: Governance, Risk and Compliance, Data Security and Privacy, Secure Coding and Code Analysis, and Hardware and Network Security. The overall scope of the center is expanding to an integral approach which covers all important layers of security in information technology: organization (including the human factor), business processes, logic, and network and infrastructure. SBA Research gGmbH is founded and takes over all operational activities. By the end of SBA2, the center's staff counts on average 90 people.
Never missing an opportunity for social gatherings, SBA Research takes the occasion of winning the funding for SBA2 to create its first regular, big in-house event and names it through a company-wide contest: the IMPACT. Once a year (usually in May), we invite all our staff and scientific as well as industry partners to celebrate with us. Starting in the afternoon, the event's program features talks from our researchers and practitioners as well as selected guests. This is followed by good food, drinks, and time to chat with our partners, clients, and collaborators.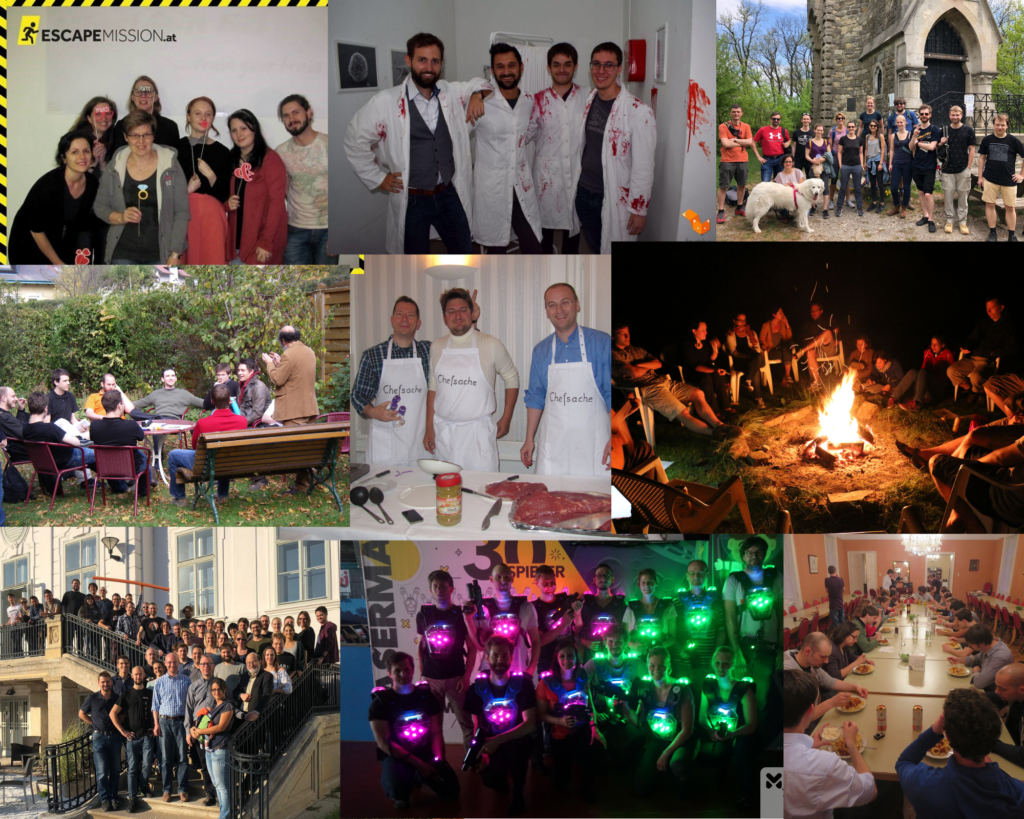 2016 | SBA maintains a small, but selected event and conference program, including the annual academic ARES conference, attracting about 200 international participants each year, and our commercial sec4dev Conference & Bootcamp which celebrated its third edition in 2021. However, one of the biggest challenges in conference organization was the ACM CCS 2016, hosted by SBA Research at the Vienna Imperial Palace (Wiener Hofburg). 1,200 people from all over the world attended; the keynotes were held by Martin Hellman and Ross Anderson. Jointly with this flagship conference we organized an industrial event, once again fulfilling our role as bridge between academia and industry.
Venue, quality of the talks and the overall smooth execution notwithstanding, it must be said that how any conference or event is remembered depends on the food. And the availability of WLAN and coffee – colleagues returning from highly regarded conferences may only talk about the caffeine shortages they had to suffer through. Since our event team has a keen ability to pick excellent catering, non-attending SBA staff is in the habit of sneaking into conference venues and events to score some lunch or a snack. If asked, of course nobody saw anything.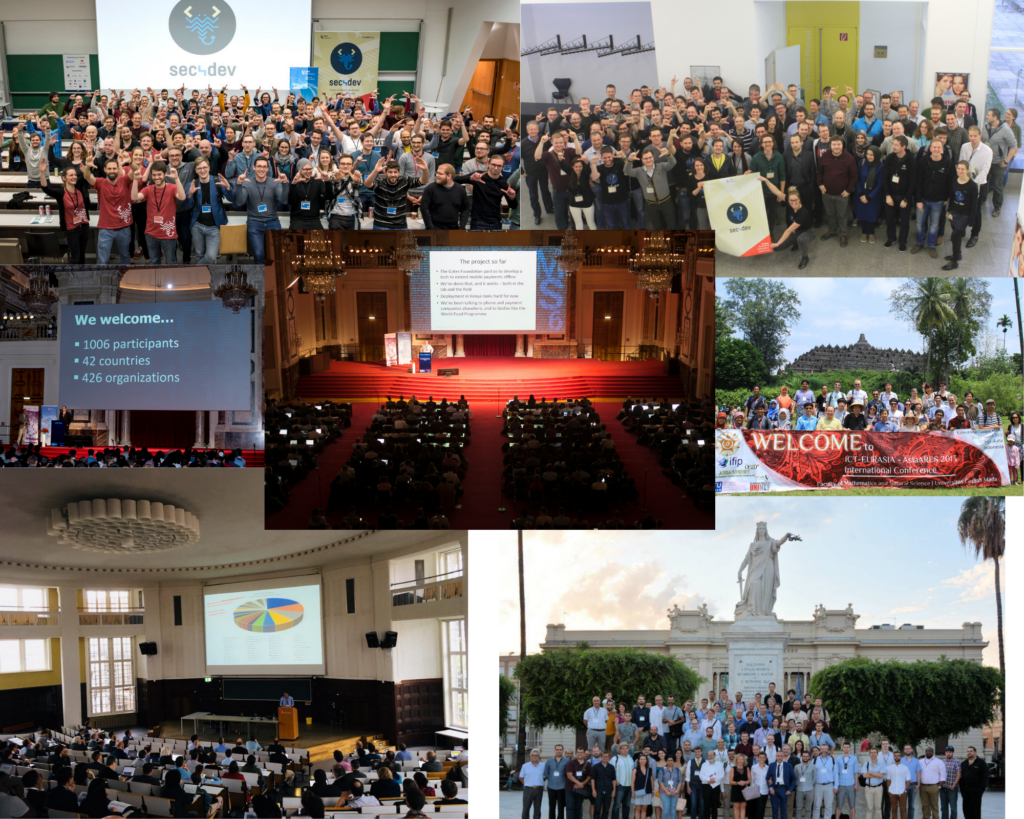 2017 | SBA Research applies again for COMET funding, creating the new flagship program "SBA-K1". The four main research areas are now Networked Systems Security, Software Security, Privacy and Secure Societies, and Applied Discrete Mathematics for Information Security. Our vision is to pioneer research that tackles future challenges of both industry partners and the scientific community, thus strengthening the resilience of information and IT infrastructures. The center is by now a fully grown Small Enterprise with on average 140 employees and tried-and-tested internal structures, including a Works Council. Both the scientific and commercial departments enjoy excellent reputations in their fields, best reflected in long-standing partnerships and customer relations.
In the biography of our center, the major milestones usually involve COMET applications and interim evaluations since both directly translate into research funding and jobs. However, in 2019 we achieved a new kind of milestone: we moved offices. Taking over an entire floor at Floragasse 7, we had the opportunity to design the space according to our needs. This not only resulted in a lot of offices, but most importantly in a huge common room with a fully functional kitchen. Furthermore, a clever system of three meeting rooms which can be joined to one big 100m2 conference- and event space is now available to us. Also, the huge terrace running the whole length of the building is definitely a bonus. (Barbecues! Need we say more?)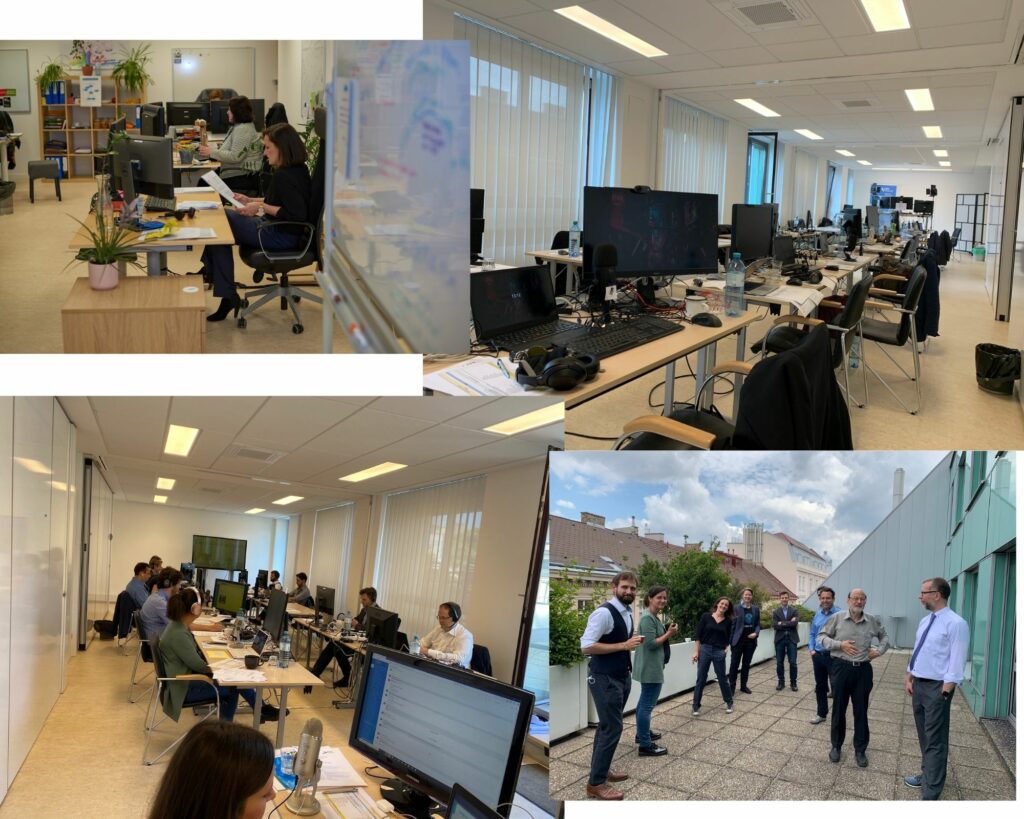 2021 | Thanks to a very successful interim evaluation in June 2020 (held, of course, remotely), SBA Research gets granted four more years to realize its framework research program. The second funding period of SBA-K1 started with April 1st, 2021 and will last until March 2025.
While fully settling in into our new space has been somewhat interrupted over the past year, we still manage to maintain the social structure of our center through a lot of online meetings and the occasional in-person coffee on the terrace. The work environment at SBA Research has always been a point of pride and is facilitated by motivated staff and their dedicated team leads, legal frameworks such as a very flexible time agreement and everyday benefits like free coffee, fruit, and Club Mate. The current situation of mostly working remotely goes very smoothly thanks to our amazing System Engineering team. However, we are very much looking forward to the next in-person meetings and festivities!
We want to take this opportunity to thank all our staff, partners, clients, and collaborators over the past 15 years for their excellent work, interesting challenges, and inspiring projects!