is researcher at SBA Research.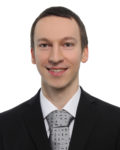 Phone: +43 (1) 505 36 88
Fax:

+43 (1) 505 88 88

PGP Fingerprint: B95F 92B6 2837 9211 7665 C26D ED3F 7AD3 EAC2 91CC
Research Interest
His research interests include protocol security and applied cryptography.
BIO
BSc in Medical Informatics from the Vienna University of Technology, MSc from DTU, Copenhagen in Computer Security. In his MSc thesis for Networked Energy Services Corp., he did a comprehensive security analysis of the ETSI OSGP v2 draft and is official contributor to the standard (ETSI TS 104 001 V2.1.1 (2016-12), Open Smart Grid Protocol).
Top Publications:
Security Related Technical Debt in Cyber Physical Production Systems (

2019

)

INPROCEEDINGS

-

45th Annual Conference of the IEEE Industrial Electronics Society (IECON)

@INPROCEEDINGS{Brenner2019Security,
author = {Bernhard Brenner and Andreas Ekelhart and {Edgar R.} Weippl},
authorhotlist = {true},
title = {Security Related Technical Debt in Cyber Physical Production Systems},
booktitle = { 45th Annual Conference of the IEEE Industrial Electronics Society (IECON)},
year = {2019},
month = {10},
}

A Versatile Security Layer for AutomationML (

2019

)

INPROCEEDINGS

-

IEEE 17th International Conference on Industrial Informatics (INDIN 2019)

@INPROCEEDINGS{Brenner2019Versatile,
author = {Bernhard Brenner and Andreas Ekelhart and {Edgar R.} Weippl},
authorhotlist = {true},
title = {A Versatile Security Layer for AutomationML},
booktitle = {IEEE 17th International Conference on Industrial Informatics (INDIN 2019)},
year = {2019},
month = {7},
}

Quantitative Security Risk Assessment for Industrial Control Systems: Research Opportunities and Challenges (

2019

)

ARTICLE

-

Journal of Internet Services and Information Security

@ARTICLE{Eckhart2019Quantitative,
author = {Matthias Eckhart and Bernhard Brenner and Andreas Ekelhart and {Edgar R.} Weippl},
title = {Quantitative Security Risk Assessment for Industrial Control Systems: Research Opportunities and Challenges},
journal = {Journal of Internet Services and Information Security},
year = {2019},
month = {8},
pdf = {http://isyou.info/jisis/vol9/no3/jisis-2019-vol9-no3-04.pdf},
volume = {9},
}