is junior researcher at SBA.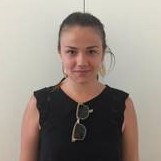 Phone: +43 (1) 505 36 88
Fax: +43 (1) 505 88 88
Research Interests
Her research interests include privacy-preserving data analysis, including techniques such as data anonymisation, as well data leakage detection by mechanism such as watermarking and fingerprinting, focusing on the robustness and effects on data utility for fingerprinting schemes.

BIO
She received a bachelor´s degree in Computer Science from the University of Zagreb and is currently finishing her master´s degree in Logic and Computation at the TU Wien.