---
The 14th International Conference on Availability, Reliability and Security (ARES 2019) will be held at the University of Kent, Canterbury from August 26– August 29, 2019. The 3rd International IFIP Cross Domain Conference for Machine Learning & Knowledge Extraction (CD-MAKE 2019) as well as several workshops and the ARES EU Projects Symposium will be held in conjunction with the conference.
ARES will highlight the various aspects of security –  with special  focus on the crucial linkage between availability, reliability and security.
ARES  aims at a full and detailed discussion of the research issues of security as an  integrative concept that covers amongst others availability, safety, confidentiality, integrity, maintainability and security in the different fields of applications.
ARES will emphasize the interplay between foundations and practical issues of security in emerging areas such as e-government, m-government, location-based applications, ubiquitous computing, autonomous computing, chances of grid computing etc. ARES is devoted to the critical examination and research challenges of the various aspects of Secure and Dependable Computing and the definition of a future road map.
The ARES Conference is organized by SBA Research in cooperation with the University of Kent.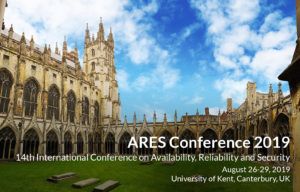 ---