November 27, 2019 - November 28, 2019 9:00 am - 5:00 pm
Europahaus Wien
Linzer Straße 429
1040 Vienna
Austria
As partner of the Concorida project SBA Research is hosting the Concordia General Assembly from November 27-28 2019 at Europahaus Wien.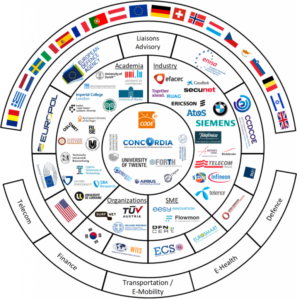 CONCORDIA is a four-year multi-disciplinary research and innovation project (H2020), and will play a leadership role in boosting the effectiveness of EU's security union. The project, started in January 2019, is coordinated by the Research Institute CODE from the Bundeswehr University Munich and involves 50+ partners including prominent industry, academia, SMEs and especially national cyber security centers.
CONCORDIA will pilot an EU Cybersecurity Competence Network to provide technological, societal and policy leadership for Europe. CONCORDIA aims to implement a common Cybersecurity Research & Innovation Roadmap for Europe.