is working in the event- and congress management department of SBA Research,where she is organizing conferences and events. Bettina is also responsible for the organization of trainings.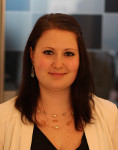 Phone: +43 (1) 505 36 88
Fax: +43 (1) 505 88 88
Bio
Bettina received her bachelor´s degree in Tourism and Leisure Management from the IMC University of Applied Sciences Krems in July 2014.