---
After three years of research, the Austria Flagship Project IoT4CPS presents its research findings for establishing trust in complex cyber-physical environments like autonomous vehicles and connected factories.
Under the motto "Security in times of pandemics and major global events", the IDSF 2020 is organized as a virtual conference from 02 – 03 December 2020 by the AIT Austrian Institute for Technology and the Austrian Chamber of Commerce (Wirtschaftskammer Österreich – WKO).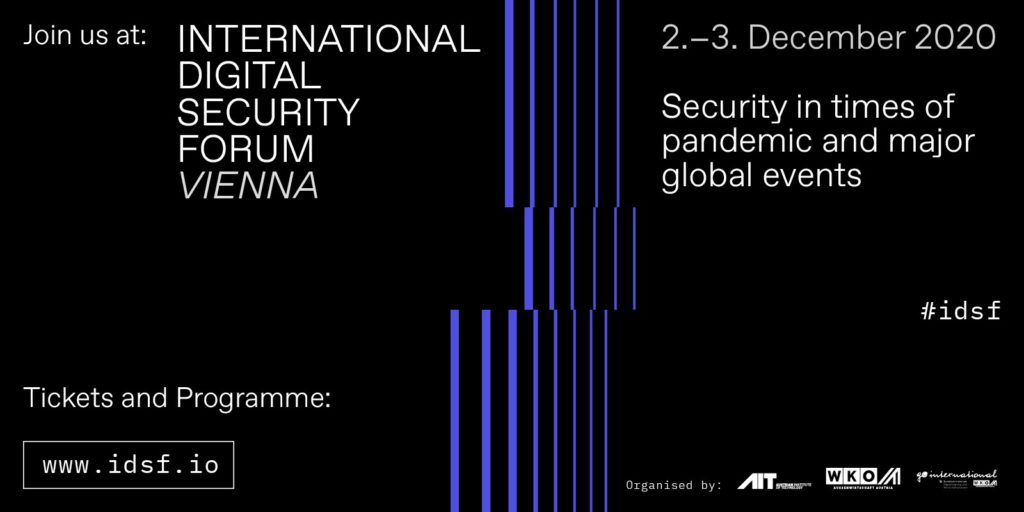 Webinar Sessions
"Do you really think security is necessary?" – Stefan Mangard, Graz University of Technology
"How to secure your autonomous vehicle and why to protect your supply chain?" – Mario Drobics, AIT Austrian Institute of Technology
Speakers
Stefan Mangard (TU Graz) Stefan Mangard is professor and head of the Institute of Applied Information Processing and Communications at Graz University of Technology. His research interests include hardware security, side channels, cryptographic implementations, security verification, and secure system architectures for application domains ranging from small embedded and IoT devices to cloud solutions. He holds an ERC consolidator grant for research on the side-channel security of processors, and he is author of a textbook on power analysis attacks and more than 90 scientific publications. Before joining Graz University of Technology as a professor, he was working as leading security architect at the Chip Card and Security division of Infineon Technologies in Munich. He received his PhD and MSc degree in computer engineering from Graz University of Technology in 2004 and 2002, respectively.
Mario Drobics (AIT) Mario Drobics is Senior Research Engineer at AIT Austrian Institute of Technology GmbH. He received his PhD in applied mathematics in 2005 at the Johannes Kepler University Linz in Austria. Since 2007 he is working in the Center for Digital Safety & Security at AIT. His research focused on IoT security in different application areas, including industry, autonomous driving and health. Currently he is coordinating the national Austrian IoT flagship project IoT4CPS and work-package leader in the H2020 project symbIoTe.
Moderators:
Julia Pammer, event, congress and training management, SBA Research
Philipe Reinisch, IDSF Support Manager at AIT – Austrian Institute of Technology
Registration
Register for free on the IDSF website.
More Information
Check out the full program an all details of IDSF 2020.
The final event of the IoT4CPS project will be held on Dec., 10th during the 5. Industry Summit of the Plattform Industrie 4.0. Program.
---