SBA Live Academy – boost your InfoSec Knowledge!
#bleibdaheim #remotelearning
9 weeks, 20 speakers, 25 talks, 800 minutes of security content, 900 participants and many fruitful discussions.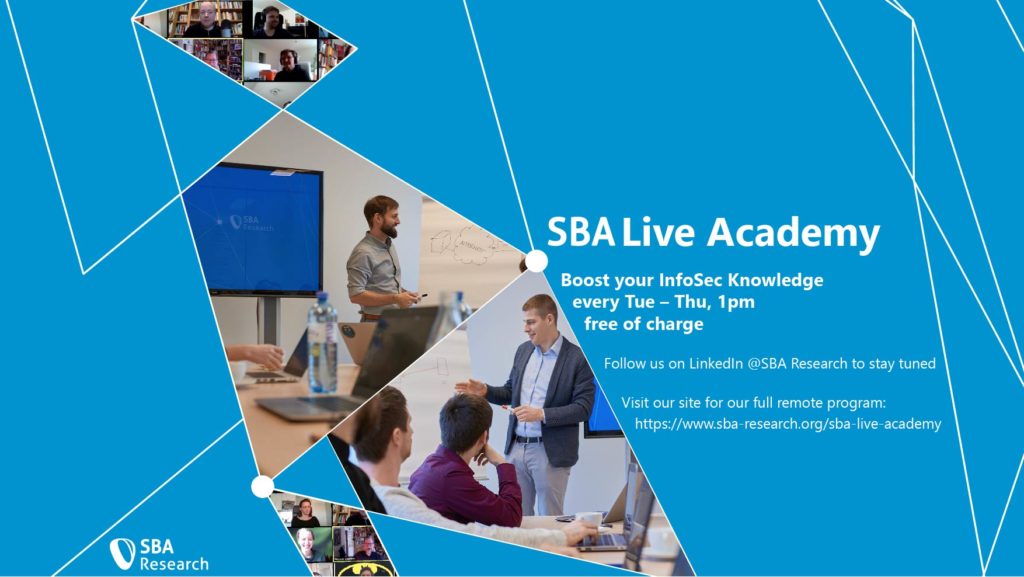 SBA Live Academy (March-May 2020)
The idea to launch the SBA Live Academy and start hosting free virtual webinars originated when the world was put on lockdown overnight. Together with invited national & international speakers, our IT & Information Security experts strived to target current topics and provide answers to burning questions in short live sessions. Discussed topics ranged from deeply technical challenges to legal and organizational guidelines.
Be sure to rewatch all talks as well as "BIG BANG! SBA Live Academy Highlights", which gives an excellent overview of all contents covered, on our YouTube Channel!
Security MeetUps by SBA Research (ongoing)
To foster the community of people interested in IT & Information Security and related areas we are continuously hosting Security Meetups. For the time being, we will conduct all events on a remote basis. Join our MeetUp Group and stay tuned for upcoming events.
SBA Live Academy Program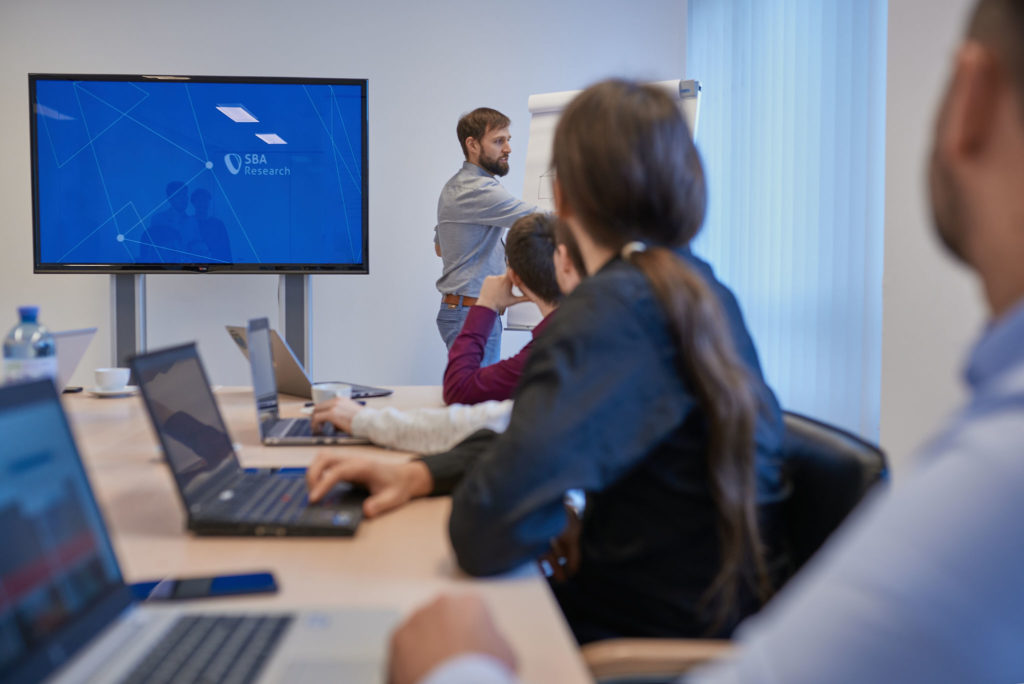 Highlights and Takeaways
IT Security
Software Security
A Primer in Single Page Application Security (Angular, React, Vue.js)
by Thomas Konrad
YouTube
SlideShare
CRLite – Revocation for X.509 certificates in the browser – this time for real?
by Mathias Tausig
YouTube
SlideShare
OWASP SAMM 2.0: Your Dynamic Software Security Journey
by Sebastien Deleersnyder (OWASP SAMM co leader, CEO Toreon)
YouTube
SlideShare
Passwords: Policy and Storage with NIST SP800-63b
by Jim Manico (Founder of Manicode Security & former board member for the OWASP foundation)
YouTube
SlideShare
The Future of Software Security – Towards a Mature Lifecycle and DevSecOps
by Thomas Konrad
YouTube
SlideShare
Threat Modeling 101 – eine kurze aber praxisnahe Einführung
by Daniel Schwarz (Senior Security Analyst bei der condignum GmbH)
YouTube
SlideShare
Tools & Techniques from building a DevSecOps culture at Mozilla
by Julien Vehent
YouTube
SlideShare
Using HTTPS by Default: How Web Servers Can Make the Web More Secure
by Matthew Holt (Full-time open source developer, project lead of the Caddy web server)
YouTube
SlideShare
IT & Law
Organizational Security
OT & IoT Security
Cryptography
Simulation
Forensics
I know what they did last Summer…
by Andreas Tomek, KMPG
Talk was not recorded
No slides available