SBA Live Academy – boost your InfoSec Knowledge!
#bleibdaheim #remotelearning
The SBA Live Academy was held from March – May 2020
free of charge
3x / week (Tuesday, Wednesday & Thursday)
13.00 – 13.30
20-minute live talk with one of our IT & Information Security Experts
Including Q&A on technical and organizational issues
most of the talks are hold in German, some in English
Virtual Zoom Webinars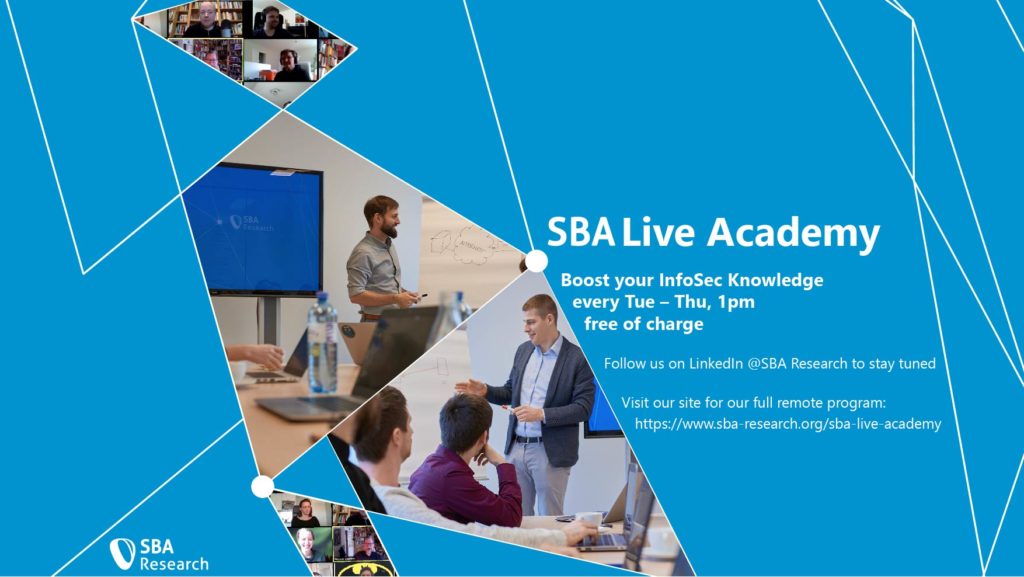 Join our Meetup Group or follow us on LinkedIn or Twitter to stay up to date and receive the announcement including the link to the live session just before the talk starts!
The topic you are interested in is not included in the program yet? Let us know which other security topics you would like us to include in our program on Slido. Did you miss a talk? No problem, all previous talks are available on our YouTube channel and on Slideshare.
Program at a glance
SBA Live Academy Program 2020
Remote Access – Top Security Challenges – Teil 1
by Günther Roat, Philipp Reisinger
Remote Access – Top Security Challenges – Teil 2
by Günther Roat and Philipp Reisinger
Angriffe auf Windows Domains und Delegation
by Reinhard Kugler
Und, wie geht's Ihrer Supply-Chain heute so?
– Supply Chain & Cyber Security in einem Atemzug
by Stefan Jakoubi
CRLite – Revocation for X.509 certificates in the browser – this time for real?
by Mathias Tausig
Cloud Security Zertifizierungen und Gütesiegel
by Günther Roat
The Future of Software Security – Towards a Mature Lifecycle and DevSecOps
by Thomas Konrad
I know what they did last Summer…
Guest Talk by Andreas Tomek, KMPG
International Guest Talk
Passwords: Policy and Storage with NIST SP800-63b
by Jim Manico, Founder of Manicode Security & former board member for the OWASP foundation
A Primer in Single Page Application Security (Angular, React, Vue.js)
by Thomas Konrad
Datenschutz Teil 1: Wozu Datenschutzgesetze?
By Gerald Sendera
Cyber Resilience – Failure is not an option
by Simon Tjoa (FH St. Pölten)
Using HTTPS by Default: How Web Servers Can Make the Web More Secure
by Matthew Holt (Full-time open source developer, project lead of the Caddy web server)
Rechtliche Risiken mit externen Mitarbeitern
by Stefan Eder (Benn-Ibler Rechtsanwälte GmbH)
Physical Attacks against (I)IoT-Devices, Embedded Devices, Microcontrollers and System on Chips (SoC)
by Christian Kudera
Threat Modeling 101 – eine kurze aber praxisnahe Einführung
by Daniel Schwarz (Senior Security Analyst bei der condignum GmbH)
Angriffe gegen das Stromnetz – Wenn der Strom nicht mehr aus der Steckdose kommt
by Johanna Ullrich
After the overflow: self-defense techniques of the Linux Kernel
by Reinhard Kugler
Die COVID-19 Krise und Simulationsmodelle. Was kann man sagen? Und was nicht?
by Niki Popper (CSO und Mitgründer der dwh GmbH)
OWASP SAMM 2.0: Your Dynamic Software Security Journey
by Sebastien Deleersnyder (OWASP SAMM co leader, CEO Toreon)
Kryptographie auf rechtlichem Prüfstand
by Lukas Feiler (Partner at Baker & McKenzie)
Linux Containers
by Mathias Tausig
Tools & Techniques from building a DevSecOps culture at Mozilla
by Julien Vehent
What the heck is secure computing?
by Matthias Gusenbauer
BIG BANG!" Highlights & key takeaways of 24 security talks!
by Stefan Jakoubi & Thomas Konrad