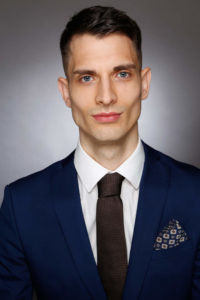 is researcher at SBA Research.
Phone: +43 (1) 505 36 88
Fax: +43 (1) 505 88 88
Research Interest
His research interests focus on information security risk assessment for industrial control systems, with an emphasis on quantitative methods.
Bio
Matthias Eckhart received a bachelor's degree in Internet Technology, a master's degree in IT & Mobile Security, and a master's degree in IT Law & Management from the University of Applied Sciences JOANNEUM. Since 2017, he has been working as a junior researcher at SBA Research in the field of cyber-physical systems security. In 2018, he joined the Christian Doppler Laboratory for Security and Quality Improvement in the Production System Lifecycle (CDL-SQI). He is currently a PhD candidate at TU Wien.
Industrie 4.0 - aber sicher (

2017

)

@ARTICLE{Eckhart2017Industrie,
author = {Matthias Eckhart},
authorhotlist = {true},
title = {Industrie 4.0 - aber sicher},
journal = {OCG Journal},
year = {2017},
month = {11},
pdf = {https://www.sba-research.org/wp-content/uploads/publications/201711 - MECKHART_OCG-Journal1702.PDF},
}

Securing Cyber-Physical Systems through Digital Twins (

2018

)

@ARTICLE{Eckhart2018Securing,
author = {Matthias Eckhart and Andreas Ekelhart},
title = {Securing Cyber-Physical Systems through Digital Twins},
journal = {ERCIM News},
year = {2018},
pdf = {https://www.sba-research.org/wp-content/uploads/publications/2018 - AEkelhart - ERCIM.pdf},
}

A Specification-based State Replication Approach for Digital Twins (

2018

)

INPROCEEDINGS

-

2018 Workshop on Cyber-Physical Systems Security and Privacy

@INPROCEEDINGS{Eckhart2018Specificationbased,
author = {Matthias Eckhart and Andreas Ekelhart},
title = {A Specification-based State Replication Approach for Digital Twins},
booktitle = {2018 Workshop on Cyber-Physical Systems Security and Privacy},
year = {2018},
month = {10},
pdf = {https://www.sba-research.org/wp-content/uploads/publications/201810-AEkelhart-A_Specification-based_State_Replication_Approach_for_Digital_Twins.pdf},
}

Towards Security Aware Virtual Environments for Digital Twins (

2018

)

INPROCEEDINGS

-

Proceedings of the 4th ACM Workshop on Cyber-Physical System Security

@INPROCEEDINGS{Eckhart2018Towards,
author = {Matthias Eckhart and Andreas Ekelhart},
title = {Towards Security Aware Virtual Environments for Digital Twins},
booktitle = {Proceedings of the 4th ACM Workshop on Cyber-Physical System Security },
year = {2018},
month = {6},
pdf = {https://www.sba-research.org/wp-content/uploads/publications/201806-AEkelhart-Environmentfordigitaltwins.pdf},
}

Enhancing Cyber Situational Awareness for Cyber-Physical Systems through Digital Twins (

2019

)

INPROCEEDINGS

-

24th IEEE International Conference on Emerging Technologies and Factory Automation (ETFA 2019)

@INPROCEEDINGS{Eckhart2019Enhancing,
author = {Matthias Eckhart and Andreas Ekelhart and {Edgar R.} Weippl},
title = {Enhancing Cyber Situational Awareness for Cyber-Physical Systems through Digital Twins},
booktitle = {24th IEEE International Conference on Emerging Technologies and Factory Automation (ETFA 2019)},
year = {2019},
month = {9},
pdf = {https://ieeexplore.ieee.org/document/8869197},
}

Quantitative Security Risk Assessment for Industrial Control Systems: Research Opportunities and Challenges (

2019

)

ARTICLE

-

Journal of Internet Services and Information Security

@ARTICLE{Eckhart2019Quantitative,
author = {Matthias Eckhart and Bernhard Brenner and Andreas Ekelhart and {Edgar R.} Weippl},
title = {Quantitative Security Risk Assessment for Industrial Control Systems: Research Opportunities and Challenges},
journal = {Journal of Internet Services and Information Security},
year = {2019},
month = {8},
pdf = {http://isyou.info/jisis/vol9/no3/jisis-2019-vol9-no3-04.pdf},
volume = {9},
}

Securing the testing process for industrial automation software (

2019

)

ARTICLE

-

Computers & Security

@ARTICLE{Eckhart2019Securing,
author = {Matthias Eckhart and Kristof Meixner and Dietmar Winkler and Andreas Ekelhart},
title = {Securing the testing process for industrial automation software},
journal = {Computers & Security},
year = {2019},
month = {8},
pdf = {https://www.sciencedirect.com/science/article/pii/S0167404818314482?via%3Dihub},
volume = {85},
pages = {156--180},
}