was researcher at SBA Research.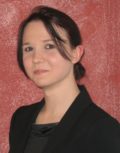 Research Interest
Her research focuses mainly on Location-based services, information retrieval, data mining, machine learning, and risk/compliance management.
Bio
She is researcher at SBA Research, software developer at Xylem Technologies, and PhD student at the TU Wien. She completed her master's degree in Business Informatics with distinction. Since 2013, she holds a research scholarship from the Doctoral College of Environmental Informatics (TU Wien), aimed at utilizing synergies from the fields of informatics, geoinformation, simulation, statistics, visualization, energy research, and architecture. She has gained industry experience as a software developer in risk management projects.
Poster NDSS 2014: Hardware Trojans--Detect and React? (

2014

)

ARTICLE

-

Network and Distributed System Security (NDSS) Symposium 2014

@ARTICLE{Dabrowski2014Poster,
author = {Adrian Dabrowski and Peter Fejes and Johanna Ullrich and Katharina Krombholz and Heidelinde Hobel and {Edgar R.} Weippl},
title = {Poster NDSS 2014: Hardware Trojans--Detect and React?},
journal = {Network and Distributed System Security (NDSS) Symposium 2014},
year = {2014},
month = {2},
}

Towards a Hardware Trojan Detection Cycle (

2014

)

INPROCEEDINGS

true

Second International Workshop on Emerging Cyberthreats and Countermeasures, ARES ECTCM 2014

@INPROCEEDINGS{Dabrowski2014Towards,
author = {Adrian Dabrowski and Heidelinde Hobel and Johanna Ullrich and Katharina Krombholz and {Edgar R.} Weippl},
sbahotlist = {true},
title = {Towards a Hardware Trojan Detection Cycle},
booktitle = {Second International Workshop on Emerging Cyberthreats and Countermeasures,
ARES ECTCM 2014},
year = {2014},
month = {9},
pdf = {https://www.sba-research.org/wp-content/uploads/publications/towards a hardware trojan _paper.pdf},
}

Mapping Information Security Standard ISO 27002 to an Ontological Structure (

2016

)

ARTICLE

-

Information and Computer Security

@ARTICLE{Fenz2016Mapping,
author = {Stefan Fenz and S. Plieschnegger and Heidelinde Hobel},
title = {Mapping Information Security Standard ISO 27002 to an Ontological Structure},
journal = {Information and Computer Security},
year = {2016},
pdf = {http://www.emeraldinsight.com/doi/abs/10.1108/ICS-07-2015-0030?journalCode=ics},
}

Implementing Naive Geography via Qualitative Spatial Relation Queries (

2015

)

INPROCEEDINGS

-

Geographic Information Science as an Enabler of Smarter Cities and Communities (AGILE 2015)

@INPROCEEDINGS{Fogliaroni2015Implementing,
author = {Paolo Fogliaroni and Heidelinde Hobel},
title = {Implementing Naive Geography via Qualitative Spatial Relation Queries},
booktitle = {Geographic Information Science as an Enabler of Smarter Cities and Communities (AGILE 2015)},
year = {2015},
month = {6},
pdf = {http://www.agile-online.org/Conference_Paper/cds/agile_2015/shortpapers/91/91_Paper_in_PDF.pdf},
}

Towards Security-Enhanced and Privacy-Preserving Mashup Compositions. (

2013

)

@INPROCEEDINGS{hobel2013a,
author = {Heidelinde Hobel and Johannes Heurix and Amin Anjomshoaa and {Edgar R.} Weippl},
title = {Towards Security-Enhanced and Privacy-Preserving Mashup Compositions.},
booktitle = {SEC},
year = {2013},
volume = {405},
pages = {286-299},
publisher = {Springer},
note = {The original publication is available at www.springerlink.com},
}

Towards Security-Enhanced and Privacy-Preserving Mashup Compositions (

2013

)

INPROCEEDINGS

-

Security and Privacy Protection in Information Processing Systems

@INPROCEEDINGS{hobel2013towards,
author = {Heidelinde Hobel and Johannes Heurix and Amin Anjomshoaa and {Edgar R.} Weippl},
title = {Towards Security-Enhanced and Privacy-Preserving Mashup Compositions},
booktitle = {Security and Privacy Protection in Information Processing Systems},
year = {2013},
month = {7},
pages = {286--299},
publisher = {Springer},
}

Exploiting Linked Spatial Data and Granularity Transformations (

2014

)

INPROCEEDINGS

-

Workshop on Geographic Information Observatories 2014

@INPROCEEDINGS{Hobel2014Exploiting,
author = {Heidelinde Hobel and {Andrew U.} Frank},
title = {Exploiting Linked Spatial Data and Granularity Transformations},
booktitle = {Workshop on Geographic Information Observatories 2014},
year = {2014},
month = {10},
pdf = {http://ceur-ws.org/Vol-1273/paper2.pdf},
}

A Semantic Region Growing Algorithm: Extraction of Urban Settings (

2015

)

INPROCEEDINGS

-

Geographic Information Science as an Enabler of Smarter Cities and Communities (AGILE) 2015

@INPROCEEDINGS{Hobel2015Semantic,
author = {Heidelinde Hobel and Amin Abdalla and Paolo Fogliaroni and {Andrew U.} Frank},
title = {A Semantic Region Growing Algorithm: Extraction of Urban Settings},
booktitle = {Geographic Information Science as an Enabler of Smarter Cities and Communities (AGILE) 2015},
year = {2015},
month = {6},
pdf = {https://www.sba-research.org/wp-content/uploads/publications/Heidelinde Hobel - A Semantic Region Growing Algorithm.pdf},
}

Visualisation of User-Generated Event Information: Towards Geospatial Situation Awareness Using Hierarchical Granularity Levels (

2015

)

INPROCEEDINGS

-

Workshop on Social Media and Linked Data for Emergency Response at ESWC2014 (SMILE)

@INPROCEEDINGS{Hobel2015Visualisation,
author = {Heidelinde Hobel and Lisa Madlberger and Andreas Thoeni and Stefan Fenz},
title = { Visualisation of User-Generated Event Information: Towards Geospatial Situation Awareness Using Hierarchical Granularity Levels},
booktitle = {Workshop on Social Media and Linked Data for Emergency Response at ESWC2014 (SMILE)},
year = {2015},
month = {2},
pdf = {http://linkedscience.org/wp-content/uploads/2014/05/smile2014_submission_2.pdf},
}

Protecting Anonymity in Data-Driven Biomedical Science (

2014

)

@INBOOK{Kieseberg2014Protecting,
author = {Peter Kieseberg and Heidelinde Hobel and Sebastian Schrittwieser and {Edgar R.} Weippl and Andreas Holzinger},
title = {Protecting Anonymity in Data-Driven Biomedical Science},
booktitle = {Interactive Knowledge Discovery and Data Mining in Biomedical Informatics - State-of-the-Art and Future Challenges},
year = {2014},
pdf = {https://www.sba-research.org/wp-content/uploads/publications/1v0_KIESEBERG_bookchapter.pdf},
pages = {301--316},
}

ARTICLE

-

Synthesis Lectures on Information Security, Privacy, and Trust

@ARTICLE{Krieg2013Hardware,
author = {Christian Krieg and Adrian Dabrowski and Heidelinde Hobel and Katharina Krombholz and {Edgar R.} Weippl},
title = {Hardware Malware},
journal = {Synthesis Lectures on Information Security,
Privacy,
and Trust},
year = {2013},
month = {11},
volume = {4},
pages = {1-115},
}

Social engineering attacks on the knowledge worker (

2013

)

INPROCEEDINGS

-

Proceedings of the 6th International Conference on Security of Information and Networks

@INPROCEEDINGS{Krombholz2013Social,
author = {Katharina Krombholz and Heidelinde Hobel and Markus Huber and {Edgar R.} Weippl},
title = {Social engineering attacks on the knowledge worker},
booktitle = {Proceedings of the 6th International Conference on Security of Information and Networks},
year = {2013},
month = {11},
pdf = {https://www.sba-research.org/wp-content/uploads/publications/sig-alternate.pdf},
pages = {28--35},
publisher = {ACM},
}

Advanced social engineering attacks (

2014

)

ARTICLE

-

Journal of Information Security and Applications

@ARTICLE{Krombholz2014Advanced,
author = {Katharina Krombholz and Heidelinde Hobel and Markus Huber and {Edgar R.} Weippl},
title = {Advanced social engineering attacks},
journal = {Journal of Information Security and Applications},
year = {2014},
pdf = {https://www.sba-research.org/wp-content/uploads/publications/jisa_revised.pdf},
}

Analysing supplier locations using social and semantic data: a case study based on indonesian factories (

2014

)

INPROCEEDINGS

-

14th International Conference on Knowledge Management and Data-driven Business

@INPROCEEDINGS{Madlberger2014Analysing,
author = {Lisa Madlberger and Heidelinde Hobel and Andreas Thoeni and {A Min} Tjoa},
title = {Analysing supplier locations using social and semantic data: a case study based on indonesian factories},
booktitle = {14th International Conference on Knowledge Management and Data-driven Business},
year = {2014},
month = {9},
pdf = {http://dl.acm.org/citation.cfm?id=2638418},
}

IPv6 Security: Attacks and Countermeasures in a Nutshell (

2014

)

INPROCEEDINGS

-

8th USENIX Workshop on Offensive Technologies (WOOT)

@INPROCEEDINGS{Ullrich2014IPv6,
author = {Johanna Ullrich and Katharina Krombholz and Heidelinde Hobel and Adrian Dabrowski and {Edgar R.} Weippl},
title = {IPv6 Security: Attacks and Countermeasures in a Nutshell},
booktitle = {8th USENIX Workshop on Offensive Technologies (WOOT)},
year = {2014},
month = {8},
pdf = {https://www.sba-research.org/wp-content/uploads/publications/Johanna IPv6.pdf},
link_slides = {http://de.slideshare.net/SBAResearch/ipv6-security-attacks-and-countermeasures-in-a-nutshell},
}

IPv6 Security: Attacks and Countermeasures in a Nutshell (

2015

)

ARTICLE

-

Magdeburger Journal zur Sicherheitsforschung

@ARTICLE{Ullrich2015IPv6,
author = {Johanna Ullrich and Katharina Krombholz and Heidelinde Hobel and Adrian Dabrowski and {Edgar R.} Weippl},
title = {IPv6 Security: Attacks and Countermeasures in a Nutshell},
journal = {Magdeburger Journal zur Sicherheitsforschung},
year = {2015},
month = {3},
pdf = {http://www.sicherheitsforschung-magdeburg.de/uploads/journal/MJS_035_Ullrich_IPv6.pdf},
volume = {1},
}

Privacy, Anonymity, Pseudonymity and Data Disclosure in Data-Driven Science (

2013

)

@INBOOK{_Privacy_Anonymity_Pseudonymity_2013,
author = {Heidelinde Hobel and Sebastian Schrittwieser and Peter Kieseberg and {Edgar R.} Weippl},
title = {Privacy,
Anonymity,
Pseudonymity and Data Disclosure in Data-Driven Science},
booktitle = {Encyclopedia of Business Analytics and Optimization},
year = {2013},
}