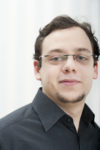 is researcher at SBA Research.
Phone: +43 (1) 505 36 88
Fax: +43 (1) 505 88 88
Research Interest
Manuel has done research in the areas of mobile security, cloud computing and compile-time obfuscation. Further interests include privacy enhancing technologies, resilient distributed systems, censorship circumvention, anti-forensics, hardened operating systems and language-theoretic security.
Bio
Manuel was introduced to information security while graduating from a technical college. He likes to collect bugs, other people's credentials and wireless handshakes.
Top Publications:
Cloud Speicherdienste als Angriffsvektoren (

2011

)

INPROCEEDINGS

-

9th Information Security Konferenz in Krems

@INPROCEEDINGS{DropboxKrems2011,
author = {Martin Schmiedecker and Sebastian Schrittwieser and Manuel Leithner and Markus Huber and {Edgar R.} Weippl},
title = {Cloud Speicherdienste als Angriffsvektoren},
booktitle = {9th Information Security Konferenz in Krems},
year = {2011},
month = {10},
pdf = {https://www.sba-research.org/wp-content/uploads/publications/DunkleWolken.pdf},
}

A Fault-Driven Combinatorial Process for Model Evolution in XSS Vulnerability Detection (

2019

)

INPROCEEDINGS

true

International Conference on Industrial, Engineering and Other Applications of Applied Intelligent Systems (IEA AIE)

@INPROCEEDINGS{Garn2019FaultDriven,
author = {Bernhard Garn and Marco Radavelli and Angelo Gargantini and Manuel Leithner and Dimitris Simos},
sbahotlist = {true},
title = {A Fault-Driven Combinatorial Process for Model Evolution in XSS Vulnerability Detection},
booktitle = {International Conference on Industrial,
Engineering and Other Applications of Applied Intelligent Systems (IEA AIE)},
year = {2019},
month = {6},
pdf = {https://link.springer.com/chapter/10.1007%2F978-3-030-22999-3_19},
}

Dark Clouds on the Horizon: Using Cloud Storage as Attack Vector and Online Slack Space (

2011

)

INPROCEEDINGS

-

USENIX Security

@INPROCEEDINGS{Mulazzani_Dark_Clouds_on_the_Horizon_Usi_2011,
author = {Martin Schmiedecker and Sebastian Schrittwieser and Manuel Leithner and Markus Huber and {Edgar R.} Weippl},
authorhotlist = {true},
title = {Dark Clouds on the Horizon: Using Cloud Storage as Attack Vector and Online Slack Space},
booktitle = {USENIX Security},
year = {2011},
month = {8},
pdf = {https://www.sba-research.org/wp-content/uploads/publications/dropboxUSENIX2011.pdf},
}

Covert Computation - Hiding Code in Code for Obfuscation Purposes (

2013

)

INPROCEEDINGS

-

Proceedings of the 8th International Symposium on ACM Symposium on Information , Computer and Communications Security (ASIACCS 2013)

@INPROCEEDINGS{schrittwieser-covertcomputation-2013,
author = {Sebastian Schrittwieser and Stefan Katzenbeisser and Peter Kieseberg and Markus Huber and Manuel Leithner and Martin Schmiedecker and {Edgar R.} Weippl},
title = {Covert Computation - Hiding Code in Code for Obfuscation Purposes},
booktitle = {Proceedings of the 8th International Symposium on ACM Symposium on Information ,
Computer and Communications Security (ASIACCS 2013)},
year = {2013},
month = {5},
pdf = {https://www.sba-research.org/wp-content/uploads/publications/p529-schrittwieser.pdf},
}

Covert Computation - Hiding Code in Code Through Compile-Time Obfuscation (

2014

)

ARTICLE

true

Computers & Security

@ARTICLE{Schrittwieser2014Covert,
author = {Sebastian Schrittwieser and Stefan Katzenbeisser and Peter Kieseberg and Markus Huber and Manuel Leithner and Martin Schmiedecker and {Edgar R.} Weippl},
authorhotlist = {true},
sbahotlist = {true},
title = {Covert Computation - Hiding Code in Code Through Compile-Time Obfuscation},
journal = {Computers & Security},
year = {2014},
month = {5},
pdf = {http://www.sciencedirect.com/science/article/pii/S0167404814000030},
publisher = {Elsevier Advanced Technology},
}

Guess Who Is Texting You? Evaluating the Security of Smartphone Messaging Applications (

2012

)

INPROCEEDINGS

-

Network and Distributed System Security Symposium (NDSS 2012)

@INPROCEEDINGS{Schrittwieser_Guess_Who_s_Texting_You_Evalua_2012,
author = {Sebastian Schrittwieser and Peter Fruehwirt and Peter Kieseberg and Manuel Leithner and Martin Schmiedecker and Markus Huber and {Edgar R.} Weippl},
authorhotlist = {true},
title = {Guess Who Is Texting You? Evaluating the Security of Smartphone Messaging Applications},
booktitle = {Network and Distributed System Security Symposium (NDSS 2012)},
year = {2012},
month = {2},
pdf = {https://www.sba-research.org/wp-content/uploads/publications/ndss2012_final.pdf},
}

Secure Software in der Cloud (

2012

)

INPROCEEDINGS

-

Tagungsband Cloud und Klein: IT im Spannungsfeld zwischen Servercluster und Sensornetz

@INPROCEEDINGS{Schrittwieser_Secure_Software_in_der_Cloud_2012,
author = {Sebastian Schrittwieser and Peter Fruehwirt and Peter Kieseberg and Manuel Leithner and Martin Schmiedecker and Markus Huber and Gilbert Wondracek and Sylvi Rennert and {Edgar R.} Weippl},
title = {Secure Software in der Cloud},
booktitle = {Tagungsband Cloud und Klein: IT im Spannungsfeld zwischen Servercluster und Sensornetz},
year = {2012},
month = {4},
}

Automated combinatorial testing for detecting SQL vulnerabilities in web applications (

2019

)

INPROCEEDINGS

-

14th International Workshop on Automation of Software Test (AST)

@INPROCEEDINGS{Simos2019Automated,
author = {Dimitris Simos and Jovan Zivanovic and Manuel Leithner},
title = {Automated combinatorial testing for detecting SQL vulnerabilities in web applications},
booktitle = { 14th International Workshop on Automation of Software Test (AST)},
year = {2019},
month = {5},
pdf = {https://dl.acm.org/citation.cfm?id=3338670},
}

Practical Combinatorial Testing for XSS Detection using Locally Optimized Attack Models (

2019

)

INPROCEEDINGS

true

IEEE International Conference on Software Testing, Verification and Validation Workshops (ICSTW)

@INPROCEEDINGS{Simos2019Practical,
author = {Dimitris Simos and Bernhard Garn and Jovan Zivanovic and Manuel Leithner},
sbahotlist = {true},
title = {Practical Combinatorial Testing for XSS Detection using Locally Optimized Attack Models},
booktitle = {IEEE International Conference on Software Testing,
Verification and Validation Workshops (ICSTW)},
year = {2019},
month = {4},
pdf = {https://ieeexplore.ieee.org/document/8728914},
}

Testing TLS using planning-based combinatorial methods and execution framework (

2019

)

ARTICLE

-

Software Quality Journal

@ARTICLE{Simos2019Testing,
author = {Dimitris Simos and Josip Bozic and Bernhard Garn and Manuel Leithner and Feng Duan and K. Kleine and Yu Lei and Franz Wotawa},
title = {Testing TLS using planning-based combinatorial methods and execution framework},
journal = {Software Quality Journal},
year = {2019},
month = {6},
pdf = {https://link.springer.com/article/10.1007%2Fs11219-018-9412-z},
}

Applying Combinatorial Testing to Large-Scale Data Processing at Adobe (

2019

)

INPROCEEDINGS

true

IEEE International Conference on Software Testing, Verification and Validation Workshops (ICSTW)

@INPROCEEDINGS{Smith2019Applying,
author = {Riley Smith and {Darryl C.} Jarman and R. Kacker and R. Kuhn and Dimitris Simos and Ludwig Kampel and Manuel Leithner and Gabe Gosney},
sbahotlist = {true},
title = {Applying Combinatorial Testing to Large-Scale Data Processing at Adobe},
booktitle = {IEEE International Conference on Software Testing,
Verification and Validation Workshops (ICSTW)},
year = {2019},
month = {4},
pdf = {https://ieeexplore.ieee.org/document/8728962},
}

INPROCEEDINGS

-

Fourth International Workshop on Trustworthy Ubiquitous Computing (TwUC 2010)

@INPROCEEDINGS{twuc_2010,
author = {Peter Kieseberg and Manuel Leithner and Martin Schmiedecker and Lindsay Munroe and Sebastian Schrittwieser and Mayank Sinha and {Edgar R.} Weippl},
authorhotlist = {true},
title = {QR Code Security},
booktitle = {Fourth International Workshop on Trustworthy Ubiquitous Computing (TwUC 2010)},
year = {2010},
month = {11},
pdf = {https://www.sba-research.org/wp-content/uploads/publications/QR_Code_Security.pdf},
}

Book Review: Thors Microsoft Security Bible by Timothy Thor Mullen (

2012

)

@TECHREPORT{_Book_Review_Thor_s_Microsoft_S_2012,
author = {Manuel Leithner and {Edgar R.} Weippl},
title = {Book Review: Thors Microsoft Security Bible by Timothy Thor Mullen},
booktitle = {Computers & Security},
year = {2012},
month = {5},
}

Book Review: Xbox360 Forensics by Steven Bolt (

2012

)

@TECHREPORT{_Book_Review_Xbox360_Forensics__2012,
author = {Manuel Leithner and {Edgar R.} Weippl},
title = {Book Review: Xbox360 Forensics by Steven Bolt},
booktitle = {Computers & Security},
year = {2012},
month = {5},
note = {Not Peer Reviewed},
}

Fast and Efficient Browser Identification with JavaScript Engine Fingerprinting (

2012

)

@TECHREPORT{_Fast_and_Efficient_Browser_Ide_2012,
author = {Martin Schmiedecker and Philipp Reschl and Markus Huber and Manuel Leithner and {Edgar R.} Weippl},
title = {Fast and Efficient Browser Identification with JavaScript Engine Fingerprinting},
booktitle = {Technical Report TR-SBA-Research-0512-01},
year = {2012},
month = {5},
pdf = {https://www.sba-research.org/wp-content/uploads/publications/jsfingerprinting_Tech_Report.pdf},
}

Fast and Reliable Browser Identification with JavaScript Engine Fingerprinting (

2013

)

INPROCEEDINGS

-

Web 2.0 Workshop on Security and Privacy (W2SP)

@INPROCEEDINGS{_Fast_and_Reliable_Browser_Iden_2013,
author = {Martin Schmiedecker and Philipp Reschl and Markus Huber and Manuel Leithner and Sebastian Schrittwieser and {Edgar R.} Weippl},
title = {Fast and Reliable Browser Identification with JavaScript Engine Fingerprinting},
booktitle = {Web 2.0 Workshop on Security and Privacy (W2SP)},
year = {2013},
month = {5},
pdf = {https://www.sba-research.org/wp-content/uploads/publications/jsfingerprinting.pdf},
link_slides = {http://www.slideshare.net/SBAResearch/fast-and-efficient-browser-identification-with-javascript-engine-fingerprinting},
}

Malicious Pixels Using QR Codes as Attack Vector (

2012

)

INPROCEEDINGS

-

Trustworthy Ubiquitous Computing

@INPROCEEDINGS{_Malicious_Pixels_Using_QR_Code_2012,
author = {Peter Kieseberg and Sebastian Schrittwieser and Manuel Leithner and Martin Schmiedecker and {Edgar R.} Weippl and Lindsay Munroe and Mayank Sinha},
title = {Malicious Pixels Using QR Codes as Attack Vector},
booktitle = {Trustworthy Ubiquitous Computing},
year = {2012},
month = {9},
pages = {21-38},
}

Social Snapshots: Digital Forensics for Online Social Networks (

2011

)

INPROCEEDINGS

-

Annual Computer Security Applications Conference (ACSAC)

@INPROCEEDINGS{_Social_Snapshots_Digital_Foren_2011,
author = {Markus Huber and Martin Schmiedecker and Manuel Leithner and Sebastian Schrittwieser and Gilbert Wondracek and {Edgar R.} Weippl},
authorhotlist = {true},
title = {Social Snapshots: Digital Forensics for Online Social Networks},
booktitle = {Annual Computer Security Applications Conference (ACSAC)},
year = {2011},
month = {12},
pdf = {https://www.sba-research.org/wp-content/uploads/publications/social_snapshots_preprint.pdf},
}