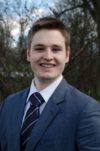 is a researcher at SBA Research.
Phone: +43 (1) 505 36 88
Fax: +43 (1) 505 88 88
PGP ID: A3F85BD7
PGP Fingerprint: 7131 B65C DF07 AEEF FB6E  DA28 3CA6 F065 A3F8 5BD7
Research Interest
His current research focuses on the area of blockchain technologies and their underlying principles. He has a particular interest on the topics of scalability, privacy and consensus algorithms.
Bio
Philipp Schindler received his master's degree in Software Engineering & Internet Computing from the Vienna University of Technology with distinction. Along side his studies he gathered 2 years of experience working as informatics teacher and IT system administrator. In 2015/2016 he was accepted for the university's high potential program TUtheTOP. In his studies and during the work on his master thesis he focuses on the areas of software engineering, IT security and blockchain technologies.