is senior researcher at SBA Research.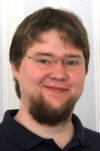 Phone: +43 (1) 505 36 88
Fax: +43 (1) 505 88 88
PGP: 0x2788B752
PGP Fingerprint: 96C2 15D2 2E42 4135 B492 3BF3 63BD 06FD 2788 B752
Research Interest
His research interests include applied systems and software security, IoT security (ranging from device to network level) as well as online privacy in general. In particular this includes methods for analysis of software on the binary level, as well as methods to protect systems and
information from malicious actors.
Bio
He received a BSc in computer engineering, an MSc in software and information engineering, and a PhD in computer science with distinction at TU Wien. His thesis focused on security and privacy in mobile environments. He is currently teaching graduate and undergraduate courses on Internet and Software Security at TU Wien as well as organizing the CTF Team We_0wn_Y0u.
Top Publications:
Plugin in the Middle - Minimising Security Risks in Mobile Middleware Implementations (

2014

)

INPROCEEDINGS

true

SINCONF 2014 (Conference on Security of Information and Networks)

@INPROCEEDINGS{Aufner2014Plugin,
author = {Peter Aufner and Georg Merzdovnik and Markus Huber and {Edgar R.} Weippl},
sbahotlist = {true},
title = {Plugin in the Middle - Minimising Security Risks in Mobile Middleware Implementations},
booktitle = {SINCONF 2014 (Conference on Security of Information and Networks)},
year = {2014},
month = {9},
pdf = {https://www.sba-research.org/wp-content/uploads/publications/secperv.pdf},
}

Network Security Challenges in Android Applications (

2015

)

INPROCEEDINGS

-

10th International Conference on Availability, Reliability and Security (ARES 2015)

@INPROCEEDINGS{Buhov2015Network,
author = {Damjan Buhov and Markus Huber and Georg Merzdovnik and {Edgar R.} Weippl and Vesna Dimitrova},
title = {Network Security Challenges in Android Applications},
booktitle = {10th International Conference on Availability,
Reliability and Security (ARES 2015)},
year = {2015},
month = {8},
pdf = {https://www.sba-research.org/wp-content/uploads/publications/Network_Security_Preprint.pdf},
}

Pin It! Improving Android Network Security At Runtime (

2016

)

INPROCEEDINGS

true

IFIP Networking 2016

@INPROCEEDINGS{Buhov2016Improving,
author = {Damjan Buhov and Markus Huber and Georg Merzdovnik and {Edgar R.} Weippl},
authorhotlist = {true},
sbahotlist = {true},
title = {Pin It! Improving Android Network Security At Runtime},
booktitle = {IFIP Networking 2016},
year = {2016},
month = {5},
pdf = {https://www.sba-research.org/wp-content/uploads/publications/Pin It! Improving Android Network Security at Runtime.pdf},
}

Browser History Stealing with Captive Wi-Fi Portals (

2016

)

INPROCEEDINGS

-

Proceedings of Workshops at IEEE Security & Privacy 2016, Mobile Security Technologies (MoST)

@INPROCEEDINGS{Dabrowski2016Browser,
author = {Adrian Dabrowski and Georg Merzdovnik and Nikolaus Kommenda and {Edgar R.} Weippl},
title = {Browser History Stealing with Captive Wi-Fi Portals},
booktitle = {Proceedings of Workshops at IEEE Security & Privacy 2016,
Mobile Security Technologies (MoST)},
year = {2016},
month = {5},
pdf = {https://www.sba-research.org/wp-content/uploads/publications/Dabrowski2016Browser.pdf},
}

Measuring Cookies and Web Privacy in a Post-GDPR World (

2019

)

INPROCEEDINGS

-

Passive and Active Measurement Conference 2019

@INPROCEEDINGS{Dabrowski2019Measuring,
author = {Adrian Dabrowski and Georg Merzdovnik and Johanna Ullrich and Gerald Sendera and {Edgar R.} Weippl},
title = {Measuring Cookies and Web Privacy in a Post-GDPR World},
booktitle = {Passive and Active Measurement Conference 2019},
year = {2019},
month = {3},
pdf = {https://www.sba-research.org/wp-content/uploads/publications/201903 - ADabrowski - Measuring Cookies.pdf},
}

Towards Practical Methods to Protect the Privacy of Location Information with Mobile Devices (

2014

)

INPROCEEDINGS

-

SINCONF 2014 (Conference on Security of Information and Networks)

@INPROCEEDINGS{Hochreiner2014Towards,
author = {Christoph Hochreiner and Markus Huber and Georg Merzdovnik and {Edgar R.} Weippl},
title = {Towards Practical Methods to Protect the Privacy of Location Information with Mobile Devices },
booktitle = {SINCONF 2014 (Conference on Security of Information and Networks)},
year = {2014},
month = {9},
pdf = {https://www.sba-research.org/wp-content/uploads/publications/sinconf_preprint.pdf},
}

Lightweight Address Hopping for Defending the IPv6 IoT (

2017

)

INPROCEEDINGS

-

12th International Conference on Availability, Reliability and Security (ARES)

@INPROCEEDINGS{Judmayer2017Lightweight,
author = {Aljosha Judmayer and Johanna Ullrich and Georg Merzdovnik and {Artemios G.} Voyiatzis and {Edgar R.} Weippl},
title = {Lightweight Address Hopping for Defending the IPv6 IoT},
booktitle = {12th International Conference on Availability,
Reliability and Security (ARES)},
year = {2017},
month = {9},
pdf = {https://www.sba-research.org/wp-content/uploads/publications/201707 - JUDMAYER - LightweightAddressHopping.pdf},
}

Autohoney(I)IoT - Automated device Independent honeypot Generation of IoT and Industrial IoT devices (

2019

)

@ARTICLE{Kudera2019AutohoneyIoT,
author = {Christian Kudera and Georg Merzdovnik and {Edgar R.} Weippl},
title = {Autohoney(I)IoT - Automated device Independent honeypot Generation of IoT and Industrial IoT devices},
journal = {ERCIM News},
year = {2019},
month = {10},
pdf = {https://ercim-news.ercim.eu/images/stories/EN119/EN119-web.pdf},
volume = {119},
}

Notary-assisted Certificate Pinning for Improved Security of (Android) Apps (

2016

)

INPROCEEDINGS

-

11th International Conference on Availability, Reliability and Security (ARES 2016)

@INPROCEEDINGS{Merzdovnik2016Notaryassisted,
author = {Georg Merzdovnik and Damjan Buhov and {Artemios G.} Voyiatzis and {Edgar R.} Weippl},
authorhotlist = {true},
title = {Notary-assisted Certificate Pinning for Improved Security of (Android) Apps},
booktitle = {11th International Conference on Availability,
Reliability and Security (ARES 2016)},
year = {2016},
month = {9},
pdf = {https://www.sba-research.org/wp-content/uploads/publications/notarypin.pdf},
}

Whom You Gonna Trust? A Longitudinal Study on TLS Notary Services (

2016

)

INPROCEEDINGS

-

30th Annual IFIP WG 11.3 Working Conference on Data and Applications Security and Privacy (DBSec 2016)

@INPROCEEDINGS{Merzdovnik2016Whom,
author = {Georg Merzdovnik and Klaus Falb and Martin Schmiedecker and {Artemios G.} Voyiatzis and {Edgar R.} Weippl},
authorhotlist = {true},
title = {Whom You Gonna Trust? A Longitudinal Study on TLS Notary Services},
booktitle = {30th Annual IFIP WG 11.3 Working Conference on Data and Applications Security and Privacy (DBSec 2016)},
year = {2016},
pdf = {https://www.sba-research.org/wp-content/uploads/publications/TLSnotaries_preprint.pdf},
}

Block Me If You Can: A Large-Scale Study of Tracker-Blocking Tools (

2017

)

INPROCEEDINGS

true

2nd IEEE European Symposium on Security and Privacy (Euro S&P)

@INPROCEEDINGS{Merzdovnik2017,
author = {Georg Merzdovnik and Markus Huber and Damjan Buhov and Nick Nikiforakis and Sebastian Neuner and Martin Schmiedecker and {Edgar R.} Weippl},
authorhotlist = {true},
sbahotlist = {true},
title = {Block Me If You Can: A Large-Scale Study of Tracker-Blocking Tools},
booktitle = {2nd IEEE European Symposium on Security and Privacy (Euro S&P)},
year = {2017},
pdf = {https://www.sba-research.org/wp-content/uploads/publications/block_me_if_you_can.pdf},
}

A performance assessment of network address shuffling in IoT systems (

2017

)

INPROCEEDINGS

-

16th International Conference on Computer Aided Systems Theory (EUROCAST 2017)

@INPROCEEDINGS{Merzdovnik2017performance,
author = {Georg Merzdovnik and Aljosha Judmayer and {Artemios G.} Voyiatzis and {Edgar R.} Weippl},
title = {A performance assessment of network address shuffling in IoT systems},
booktitle = {16th International Conference on Computer Aided Systems Theory (EUROCAST 2017)},
year = {2017},
month = {2},
pdf = {http://eurocast2017.fulp.ulpgc.es/sites/default/files/Eurocast_2017_Extended_Abstract_Book.pdf},
}

u'smile - Secure Mobile Environments (

2017

)

@ARTICLE{Merzdovnik2017usmile,
author = {Georg Merzdovnik and Damjan Buhov and {Artemios G.} Voyiatzis and {Edgar R.} Weippl},
title = {u'smile - Secure Mobile Environments},
journal = {ERCIM News},
year = {2017},
month = {4},
pdf = {https://ercim-news.ercim.eu/images/stories/EN109/EN109-web.pdf},
volume = {109},
pages = {53--54},
}

Enter Sandbox: Android Sandbox Comparison (

2014

)

INPROCEEDINGS

-

Proceedings of the IEEE Mobile Security Technologies Workshop (MoST)

@INPROCEEDINGS{Neuner2014Enter,
author = {Sebastian Neuner and Victor {Van der Veen} and Martina Lindorfer and Markus Huber and Georg Merzdovnik and Martin Schmiedecker and {Edgar R.} Weippl},
title = {Enter Sandbox: Android Sandbox Comparison},
booktitle = {Proceedings of the IEEE Mobile Security Technologies Workshop (MoST)},
year = {2014},
month = {5},
pdf = {https://www.sba-research.org/wp-content/uploads/publications/mostAndroid.pdf},
publisher = {IEEE},
link_slides = {http://www.slideshare.net/SBAResearch/enter-sandbox-android-sandbox-comparison},
}

AES-SEC: Improving software obfuscation through hardware-assistance (

2014

)

@INPROCEEDINGS{Schrittwieser2014AESSEC,
author = {Sebastian Schrittwieser and Stefan Katzenbeisser and Georg Merzdovnik and Peter Kieseberg and {Edgar R.} Weippl},
title = {AES-SEC: Improving software obfuscation through hardware-assistance },
booktitle = {ARES 2014},
year = {2014},
month = {9},
pdf = {http://ieeexplore.ieee.org/document/6980281/},
}

Protecting Software through Obfuscation: Can It Keep Pace with Progress in Code Analysis? (

2016

)

ARTICLE

true

ACM Computing Survey (CSUR)

@ARTICLE{Schrittwieser2016Protecting,
author = {Sebastian Schrittwieser and Stefan Katzenbeisser and Johannes Kinder and Georg Merzdovnik and {Edgar R.} Weippl},
sbahotlist = {true},
title = {Protecting Software through Obfuscation: Can It Keep Pace with Progress in Code Analysis?},
journal = {ACM Computing Survey (CSUR)},
year = {2016},
pdf = {http://dl.acm.org/citation.cfm?id=2886012},
volume = {49},
publisher = {ACM},
}

From hack to elaborate technique - A survey on binary rewriting (

2019

)

ARTICLE

true

ACM Computing Surveys

@ARTICLE{Wenzl2019From,
author = {Matthias Wenzl and Georg Merzdovnik and Johanna Ullrich and {Edgar R.} Weippl},
authorhotlist = {true},
sbahotlist = {true},
title = {From hack to elaborate technique - A survey on binary rewriting},
journal = {ACM Computing Surveys},
year = {2019},
month = {6},
pdf = {https://www.sba-research.org/wp-content/uploads/publications/201906 - GMerzdovnik - From hack to elaborate technique.pdf},
}

ISaFe - Injecting Security Features into Constrained Embedded Firmware (

2019

)

@ARTICLE{Wenzl2019ISaFe,
author = {Matthias Wenzl and Georg Merzdovnik and {Edgar R.} Weippl},
title = {ISaFe - Injecting Security Features into Constrained Embedded Firmware},
journal = {ERCIM News},
year = {2019},
month = {10},
pdf = {https://ercim-news.ercim.eu/images/stories/EN119/EN119-web.pdf},
volume = {119},
}