is researcher at SBA Research.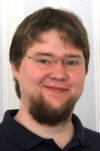 Phone: +43 (1) 505 36 88
Fax: +43 (1) 505 88 88
PGP: 0x2788B752
PGP Fingerprint: 96C2 15D2 2E42 4135 B492 3BF3 63BD 06FD 2788 B752
Research Interest
His research interests focus on software protection techniques as well as hardware and mobile security.
Bio
He received a bachelor's degree in Computer Engineering and a master's degree in Software Engineering and Internet Computing from the TU Wien with a special emphasis on IT security. He is currently teaching graduate and undergraduate courses on computer security at the TU Wien and the University of Applied Sciences St. Pölten.
Top Publications:
Plugin in the Middle - Minimising Security Risks in Mobile Middleware Implementations (

2014

)

INPROCEEDINGS

true

SINCONF 2014 (Conference on Security of Information and Networks)

@INPROCEEDINGS{Aufner2014Plugin,
author = {Peter Aufner and Georg Merzdovnik and Markus Huber and {Edgar R.} Weippl},
sbahotlist = {true},
title = {Plugin in the Middle - Minimising Security Risks in Mobile Middleware Implementations},
booktitle = {SINCONF 2014 (Conference on Security of Information and Networks)},
year = {2014},
month = {9},
pdf = {https://www.sba-research.org/wp-content/uploads/publications/secperv.pdf},
}

Network Security Challenges in Android Applications (

2015

)

INPROCEEDINGS

-

10th International Conference on Availability, Reliability and Security (ARES 2015)

@INPROCEEDINGS{Buhov2015Network,
author = {Damjan Buhov and Markus Huber and Georg Merzdovnik and {Edgar R.} Weippl and Vesna Dimitrova},
title = {Network Security Challenges in Android Applications},
booktitle = {10th International Conference on Availability,
Reliability and Security (ARES 2015)},
year = {2015},
month = {8},
pdf = {https://www.sba-research.org/wp-content/uploads/publications/Network_Security_Preprint.pdf},
}

Pin It! Improving Android Network Security At Runtime (

2016

)

INPROCEEDINGS

true

IFIP Networking 2016

@INPROCEEDINGS{Buhov2016Improving,
author = {Damjan Buhov and Markus Huber and Georg Merzdovnik and {Edgar R.} Weippl},
authorhotlist = {true},
sbahotlist = {true},
title = {Pin It! Improving Android Network Security At Runtime},
booktitle = {IFIP Networking 2016},
year = {2016},
month = {5},
pdf = {https://www.sba-research.org/wp-content/uploads/publications/Pin It! Improving Android Network Security at Runtime.pdf},
}

Browser History Stealing with Captive Wi-Fi Portals (

2016

)

INPROCEEDINGS

-

Proceedings of Workshops at IEEE Security & Privacy 2016, Mobile Security Technologies (MoST)

@INPROCEEDINGS{Dabrowski2016Browser,
author = {Adrian Dabrowski and Georg Merzdovnik and Nikolaus Kommenda and {Edgar R.} Weippl},
title = {Browser History Stealing with Captive Wi-Fi Portals},
booktitle = {Proceedings of Workshops at IEEE Security & Privacy 2016,
Mobile Security Technologies (MoST)},
year = {2016},
month = {5},
pdf = {https://www.sba-research.org/wp-content/uploads/publications/Dabrowski2016Browser.pdf},
}

Towards Practical Methods to Protect the Privacy of Location Information with Mobile Devices (

2014

)

INPROCEEDINGS

-

SINCONF 2014 (Conference on Security of Information and Networks)

@INPROCEEDINGS{Hochreiner2014Towards,
author = {Christoph Hochreiner and Markus Huber and Georg Merzdovnik and {Edgar R.} Weippl},
title = {Towards Practical Methods to Protect the Privacy of Location Information with Mobile Devices },
booktitle = {SINCONF 2014 (Conference on Security of Information and Networks)},
year = {2014},
month = {9},
pdf = {https://www.sba-research.org/wp-content/uploads/publications/sinconf_preprint.pdf},
}

Lightweight Address Hopping for Defending the IPv6 IoT (

2017

)

INPROCEEDINGS

-

12th International Conference on Availability, Reliability and Security (ARES)

@INPROCEEDINGS{Judmayer2017Lightweight,
author = {Aljosha Judmayer and Johanna Ullrich and Georg Merzdovnik and {Artemios G.} Voyiatzis and {Edgar R.} Weippl},
title = {Lightweight Address Hopping for Defending the IPv6 IoT},
booktitle = {12th International Conference on Availability,
Reliability and Security (ARES)},
year = {2017},
month = {9},
pdf = {https://www.sba-research.org/wp-content/uploads/publications/201707 - JUDMAYER - LightweightAddressHopping.pdf},
}

Notary-assisted Certificate Pinning for Improved Security of (Android) Apps (

2016

)

INPROCEEDINGS

-

11th International Conference on Availability, Reliability and Security (ARES 2016)

@INPROCEEDINGS{Merzdovnik2016Notaryassisted,
author = {Georg Merzdovnik and Damjan Buhov and {Artemios G.} Voyiatzis and {Edgar R.} Weippl},
authorhotlist = {true},
title = {Notary-assisted Certificate Pinning for Improved Security of (Android) Apps},
booktitle = {11th International Conference on Availability,
Reliability and Security (ARES 2016)},
year = {2016},
month = {9},
pdf = {https://www.sba-research.org/wp-content/uploads/publications/notarypin.pdf},
}

Whom You Gonna Trust? A Longitudinal Study on TLS Notary Services (

2016

)

INPROCEEDINGS

-

30th Annual IFIP WG 11.3 Working Conference on Data and Applications Security and Privacy (DBSec 2016)

@INPROCEEDINGS{Merzdovnik2016Whom,
author = {Georg Merzdovnik and Klaus Falb and Martin Schmiedecker and {Artemios G.} Voyiatzis and {Edgar R.} Weippl},
authorhotlist = {true},
title = {Whom You Gonna Trust? A Longitudinal Study on TLS Notary Services},
booktitle = {30th Annual IFIP WG 11.3 Working Conference on Data and Applications Security and Privacy (DBSec 2016)},
year = {2016},
pdf = {https://www.sba-research.org/wp-content/uploads/publications/TLSnotaries_preprint.pdf},
}

Block Me If You Can: A Large-Scale Study of Tracker-Blocking Tools (

2017

)

INPROCEEDINGS

true

2nd IEEE European Symposium on Security and Privacy (Euro S&P)

@INPROCEEDINGS{Merzdovnik2017,
author = {Georg Merzdovnik and Markus Huber and Damjan Buhov and Nick Nikiforakis and Sebastian Neuner and Martin Schmiedecker and {Edgar R.} Weippl},
authorhotlist = {true},
sbahotlist = {true},
title = {Block Me If You Can: A Large-Scale Study of Tracker-Blocking Tools},
booktitle = {2nd IEEE European Symposium on Security and Privacy (Euro S&P)},
year = {2017},
pdf = {https://www.sba-research.org/wp-content/uploads/publications/block_me_if_you_can.pdf},
}

A performance assessment of network address shuffling in IoT systems (

2017

)

INPROCEEDINGS

-

16th International Conference on Computer Aided Systems Theory (EUROCAST 2017)

@INPROCEEDINGS{Merzdovnik2017performance,
author = {Georg Merzdovnik and Aljosha Judmayer and {Artemios G.} Voyiatzis and {Edgar R.} Weippl},
title = {A performance assessment of network address shuffling in IoT systems},
booktitle = {16th International Conference on Computer Aided Systems Theory (EUROCAST 2017)},
year = {2017},
month = {2},
pdf = {http://eurocast2017.fulp.ulpgc.es/sites/default/files/Eurocast_2017_Extended_Abstract_Book.pdf},
}

u'smile - Secure Mobile Environments (

2017

)

@ARTICLE{Merzdovnik2017usmile,
author = {Georg Merzdovnik and Damjan Buhov and {Artemios G.} Voyiatzis and {Edgar R.} Weippl},
title = {u'smile - Secure Mobile Environments},
journal = {ERCIM News},
year = {2017},
month = {4},
pdf = {https://ercim-news.ercim.eu/images/stories/EN109/EN109-web.pdf},
volume = {109},
pages = {53--54},
}

Enter Sandbox: Android Sandbox Comparison (

2014

)

INPROCEEDINGS

-

Proceedings of the IEEE Mobile Security Technologies Workshop (MoST)

@INPROCEEDINGS{Neuner2014Enter,
author = {Sebastian Neuner and Victor {Van der Veen} and Martina Lindorfer and Markus Huber and Georg Merzdovnik and Martin Schmiedecker and {Edgar R.} Weippl},
title = {Enter Sandbox: Android Sandbox Comparison},
booktitle = {Proceedings of the IEEE Mobile Security Technologies Workshop (MoST)},
year = {2014},
month = {5},
pdf = {https://www.sba-research.org/wp-content/uploads/publications/mostAndroid.pdf},
publisher = {IEEE},
link_slides = {http://www.slideshare.net/SBAResearch/enter-sandbox-android-sandbox-comparison},
}

AES-SEC: Improving software obfuscation through hardware-assistance (

2014

)

@INPROCEEDINGS{Schrittwieser2014AESSEC,
author = {Sebastian Schrittwieser and Stefan Katzenbeisser and Georg Merzdovnik and Peter Kieseberg and {Edgar R.} Weippl},
title = {AES-SEC: Improving software obfuscation through hardware-assistance },
booktitle = {ARES 2014},
year = {2014},
month = {9},
pdf = {http://ieeexplore.ieee.org/document/6980281/},
}

Protecting Software through Obfuscation: Can It Keep Pace with Progress in Code Analysis? (

2016

)

ARTICLE

true

ACM Computing Survey (CSUR)

@ARTICLE{Schrittwieser2016Protecting,
author = {Sebastian Schrittwieser and Stefan Katzenbeisser and Johannes Kinder and Georg Merzdovnik and {Edgar R.} Weippl},
sbahotlist = {true},
title = {Protecting Software through Obfuscation: Can It Keep Pace with Progress in Code Analysis?},
journal = {ACM Computing Survey (CSUR)},
year = {2016},
pdf = {http://dl.acm.org/citation.cfm?id=2886012},
volume = {49},
publisher = {ACM},
}