is senior researcher at SBA Research.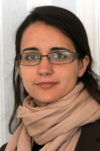 Phone: +43 (1) 505 36 88
Fax: +43 (1) 505 88 88
PGP: 0x

62FFB9709FF3E0BB

PGP Fingerprint: 5C3B BF0B EB83 F0B4 EFBE CF35 62FF B970 9FF3 E0BB
Research Interest
Her research interests include network security and cloud security, and raising awareness for security and privacy in traditional engineering.
Bio
She received a bachelor's degree in Electrical Engineering and Information Technology and a master's degree in Automation Engineering, both with distinction from the TU Wien. For her master thesis on Header Compression of IPsec in Powerline Networks, she received the diploma prize of the city of Vienna. During her studies, she spent a semester at the Czech Technical University in Prague. In 2016, she obtained a PhD degree  with a thesis focusing on side channels and their practical exploitation in attacks; therefore, she is entitled for a promotio sub auspiciis praesidentis (with highest distinctions and awarded by the Austrian president). Besides, she studies law at the University of Vienna. Johanna teaches graduate courses on network and cloud security at University of Applied Sciences FH Technikum as well as FH Campus Wien.
Top Publications:
The Role and Security of Firewall in IaaS Cloud Computing (

2015

)

INPROCEEDINGS

-

Tenth International Conference on Availability, Reliability and Security (ARES)

@INPROCEEDINGS{Cropper2015Role,
author = {Jordan Cropper and Johanna Ullrich and Peter Fruehwirt and {Edgar R.} Weippl},
title = {The Role and Security of Firewall in IaaS Cloud Computing},
booktitle = {Tenth International Conference on Availability,
Reliability and Security (ARES)},
year = {2015},
month = {8},
pdf = {https://www.sba-research.org/wp-content/uploads/publications/PID3762737.pdf},
}

Cloudoscopy: Services Discovery and Topology Mapping (

2013

)

INPROCEEDINGS

true

Proceedings of the ACM Cloud Computing Security Workshop (CCSW) at ACM CCS 2013

@INPROCEEDINGS{cv_workshop_229_2013_Cloudoscopy_weippl,
author = {Amir Herzberg and Haya Shulman and Johanna Ullrich and {Edgar R.} Weippl},
authorhotlist = {true},
sbahotlist = {true},
title = {Cloudoscopy: Services Discovery and Topology Mapping },
booktitle = {Proceedings of the ACM Cloud Computing Security Workshop (CCSW) at ACM CCS 2013},
year = {2013},
month = {11},
pdf = {https://www.sba-research.org/wp-content/uploads/publications/cloud_final.pdf},
}

QR - Inception: Barcode in Barcode Attacks (

2014

)

INPROCEEDINGS

-

4th Annual ACM CCS Workshop on Security and Privacy in Smartphones and Mobile Devices (SPSM)

@INPROCEEDINGS{Dabrowski2014Inception,
author = {Adrian Dabrowski and Katharina Krombholz and Johanna Ullrich and {Edgar R.} Weippl},
title = {QR - Inception: Barcode in Barcode Attacks},
booktitle = {4th Annual ACM CCS Workshop on Security and Privacy in Smartphones and Mobile Devices (SPSM)},
year = {2014},
month = {11},
pdf = {https://www.sba-research.org/wp-content/uploads/publications/qrinception.pdf},
link_slides = {http://www.slideshare.net/SBAResearch/qrinception-barcode-in-barcode-attacks},
}

Poster NDSS 2014: Hardware Trojans--Detect and React? (

2014

)

ARTICLE

-

Network and Distributed System Security (NDSS) Symposium 2014

@ARTICLE{Dabrowski2014Poster,
author = {Adrian Dabrowski and Peter Fejes and Johanna Ullrich and Katharina Krombholz and Heidelinde Hobel and {Edgar R.} Weippl},
title = {Poster NDSS 2014: Hardware Trojans--Detect and React?},
journal = {Network and Distributed System Security (NDSS) Symposium 2014},
year = {2014},
month = {2},
}

Towards a Hardware Trojan Detection Cycle (

2014

)

INPROCEEDINGS

true

Second International Workshop on Emerging Cyberthreats and Countermeasures, ARES ECTCM 2014

@INPROCEEDINGS{Dabrowski2014Towards,
author = {Adrian Dabrowski and Heidelinde Hobel and Johanna Ullrich and Katharina Krombholz and {Edgar R.} Weippl},
sbahotlist = {true},
title = {Towards a Hardware Trojan Detection Cycle},
booktitle = {Second International Workshop on Emerging Cyberthreats and Countermeasures,
ARES ECTCM 2014},
year = {2014},
month = {9},
pdf = {https://www.sba-research.org/wp-content/uploads/publications/towards a hardware trojan _paper.pdf},
}

Grid Shock: Coordinated Load-Changing Attacks on Power Grids (

2017

)

INPROCEEDINGS

true

Annual Computer Security Applications Conference (ACSAC) 2017

@INPROCEEDINGS{Dabrowski2017Grid,
author = {Adrian Dabrowski and Johanna Ullrich and {Edgar R.} Weippl},
authorhotlist = {true},
sbahotlist = {true},
title = {Grid Shock: Coordinated Load-Changing Attacks on Power Grids},
booktitle = {Annual Computer Security Applications Conference (ACSAC) 2017},
year = {2017},
month = {12},
pdf = {https://www.sba-research.org/wp-content/uploads/publications/201712 - ADabrowski - Grid Shock.pdf},
link_data = {https://www.sba-research.org/wp-content/uploads/publications/Simulink.zip},
}

Botnets causing blackouts: how coordinated load attacks can destabilize the power grid (

2018

)

ARTICLE

-

e & i Elektrotechnik und Informationstechnik

@ARTICLE{Dabrowski2018Botnets,
author = {Adrian Dabrowski and Johanna Ullrich and {Edgar R.} Weippl},
title = {Botnets causing blackouts: how coordinated load attacks can destabilize the power grid},
journal = {e & i Elektrotechnik und Informationstechnik},
year = {2018},
month = {6},
pdf = {https://www.sba-research.org/wp-content/uploads/publications/201806-Dabrowski-BotnetsCausingBlackoutsHowCoor.pdf},
}

Measuring Cookies and Web Privacy in a Post-GDPR World (

2019

)

INPROCEEDINGS

-

Passive and Active Measurement Conference 2019

@INPROCEEDINGS{Dabrowski2019Measuring,
author = {Adrian Dabrowski and Georg Merzdovnik and Johanna Ullrich and Gerald Sendera and {Edgar R.} Weippl},
title = {Measuring Cookies and Web Privacy in a Post-GDPR World},
booktitle = {Passive and Active Measurement Conference 2019},
year = {2019},
month = {3},
pdf = {https://www.sba-research.org/wp-content/uploads/publications/201903 - ADabrowski - Measuring Cookies.pdf},
}

Lightweight Address Hopping for Defending the IPv6 IoT (

2017

)

INPROCEEDINGS

-

12th International Conference on Availability, Reliability and Security (ARES)

@INPROCEEDINGS{Judmayer2017Lightweight,
author = {Aljosha Judmayer and Johanna Ullrich and Georg Merzdovnik and {Artemios G.} Voyiatzis and {Edgar R.} Weippl},
title = {Lightweight Address Hopping for Defending the IPv6 IoT},
booktitle = {12th International Conference on Availability,
Reliability and Security (ARES)},
year = {2017},
month = {9},
pdf = {https://www.sba-research.org/wp-content/uploads/publications/201707 - JUDMAYER - LightweightAddressHopping.pdf},
}

A Trust-based Resilient Routing Mechanism for the Internet of Things (

2017

)

INPROCEEDINGS

-

Int. Conference on Availability, Reliability and Security (ARES)

@INPROCEEDINGS{Khan2017Trustbased,
author = {Z. A. Khan and Johanna Ullrich and {Artemios G.} Voyiatzis and P. Hermann},
title = {A Trust-based Resilient Routing Mechanism for the Internet of Things},
booktitle = {Int. Conference on Availability,
Reliability and Security (ARES)},
year = {2017},
month = {8},
pdf = {https://www.sba-research.org/wp-content/uploads/publications/zeeshan.pdf},
}

QR Code Security - How Secure and Usable Apps Can Protect Users Against Malicious QR Codes (

2015

)

INPROCEEDINGS

-

2015 International Conference on Availability, Reliability and Security (ARES)

@INPROCEEDINGS{Krombholz2015Code,
author = {Katharina Krombholz and Peter Fruehwirt and Thomas Rieder and Ioannis Kapsalis and Johanna Ullrich and {Edgar R.} Weippl},
title = {QR Code Security - How Secure and Usable Apps Can Protect Users Against Malicious QR Codes},
booktitle = {2015 International Conference on Availability,
Reliability and Security (ARES)},
year = {2015},
month = {8},
pdf = {http://ieeexplore.ieee.org/document/7299920/},
}

IPv6 Security: Attacks and Countermeasures in a Nutshell (

2014

)

INPROCEEDINGS

-

8th USENIX Workshop on Offensive Technologies (WOOT)

@INPROCEEDINGS{Ullrich2014IPv6,
author = {Johanna Ullrich and Katharina Krombholz and Heidelinde Hobel and Adrian Dabrowski and {Edgar R.} Weippl},
title = {IPv6 Security: Attacks and Countermeasures in a Nutshell},
booktitle = {8th USENIX Workshop on Offensive Technologies (WOOT)},
year = {2014},
month = {8},
pdf = {https://www.sba-research.org/wp-content/uploads/publications/Johanna IPv6.pdf},
link_slides = {http://de.slideshare.net/SBAResearch/ipv6-security-attacks-and-countermeasures-in-a-nutshell},
}

CyPhySec: Defending Cyber-Physical Systems  (

2015

)

@ARTICLE{Ullrich2015CyPhySec,
author = {Johanna Ullrich and {Edgar R.} Weippl},
title = {CyPhySec: Defending Cyber-Physical Systems },
journal = {ERCIM News 102},
year = {2015},
month = {7},
pdf = {https://ercim-news.ercim.eu/en102/special/cyphysec-defending-cyber-physical-systems},
}

IPv6 Security: Attacks and Countermeasures in a Nutshell (

2015

)

ARTICLE

-

Magdeburger Journal zur Sicherheitsforschung

@ARTICLE{Ullrich2015IPv6,
author = {Johanna Ullrich and Katharina Krombholz and Heidelinde Hobel and Adrian Dabrowski and {Edgar R.} Weippl},
title = {IPv6 Security: Attacks and Countermeasures in a Nutshell},
journal = {Magdeburger Journal zur Sicherheitsforschung},
year = {2015},
month = {3},
pdf = {http://www.sicherheitsforschung-magdeburg.de/uploads/journal/MJS_035_Ullrich_IPv6.pdf},
volume = {1},
}

Privacy is Not an Option: Attacking the IPv6 Privacy Extension (

2015

)

INPROCEEDINGS

true

International Symposium on Recent Advances in Intrusion Detection (RAID)

@INPROCEEDINGS{Ullrich2015Privacy,
author = {Johanna Ullrich and {Edgar R.} Weippl},
authorhotlist = {true},
sbahotlist = {true},
title = {Privacy is Not an Option: Attacking the IPv6 Privacy Extension},
booktitle = {International Symposium on Recent Advances in Intrusion Detection (RAID)},
year = {2015},
pdf = {https://www.sba-research.org/wp-content/uploads/publications/Ullrich2015Privacy.pdf},
link_slides = {http://www.slideshare.net/SBAResearch/privacy-is-not-an-option-attacking-the-ipv6-privacy-extension},
}

Protection through Isolation: Virtues and Pitfalls (

2015

)

@INBOOK{Ullrich2015Protection,
author = {Johanna Ullrich and {Edgar R.} Weippl},
title = {Protection through Isolation: Virtues and Pitfalls},
booktitle = {The Cloud Security Ecosystem},
year = {2015},
month = {5},
pdf = {https://www.safaribooksonline.com/library/view/the-cloud-security/9780128017807/B9780128015957000069.xhtml},
}

On Reconnaissance with IPv6: A Pattern-Based Scanning Approach (

2015

)

INPROCEEDINGS

-

International Conference on Availability, Reliability and Security (ARES)

@INPROCEEDINGS{Ullrich2015Reconnaissance,
author = {Johanna Ullrich and Peter Kieseberg and Katharina Krombholz and {Edgar R.} Weippl},
title = {On Reconnaissance with IPv6: A Pattern-Based Scanning Approach},
booktitle = {International Conference on Availability,
Reliability and Security (ARES)},
year = {2015},
month = {8},
pdf = {https://www.sba-research.org/wp-content/uploads/publications/PID3762727.pdf},
}

The Beauty or The Beast? Attacking Rate Limits of the Xen Hypervisor (

2016

)

INPROCEEDINGS

true

European Symposium on Research in Computer Security (ESORICS)

@INPROCEEDINGS{Ullrich2016Beauty,
author = {Johanna Ullrich and {Edgar R.} Weippl},
authorhotlist = {true},
sbahotlist = {true},
title = {The Beauty or The Beast? Attacking Rate Limits of the Xen Hypervisor},
booktitle = {European Symposium on Research in Computer Security (ESORICS)},
year = {2016},
pdf = {https://www.sba-research.org/wp-content/uploads/publications/botb paper.pdf},
}

The Quest for Privacy in Consumer IoT (

2016

)

INPROCEEDINGS

-

1st International Workshop on Consumers and the Internet of Things (ConsIoT 2016)

@INPROCEEDINGS{Ullrich2016Quest,
author = {Johanna Ullrich and {Artemios G.} Voyiatzis and {Edgar R.} Weippl},
title = {The Quest for Privacy in Consumer IoT},
booktitle = {1st International Workshop on Consumers and the Internet of Things (ConsIoT 2016)},
year = {2016},
month = {4},
pdf = {https://www.sba-research.org/wp-content/uploads/publications/consiot.pdf},
}

The role and security of firewalls in cyber-physical cloud computing (

2016

)

ARTICLE

-

EURASIP Journal on Information Security

@ARTICLE{Ullrich2016role,
author = {Johanna Ullrich and Jordan Cropper and Peter Fruehwirt and {Edgar R.} Weippl},
title = {The role and security of firewalls in cyber-physical cloud computing},
journal = {EURASIP Journal on Information Security},
year = {2016},
month = {8},
pdf = {http://jis.eurasipjournals.springeropen.com/articles/10.1186/s13635-016-0042-3},
}

Secure Cyber-Physical Production Systems: Solid Steps towards Realization (

2016

)

INPROCEEDINGS

-

1st International Workshop on Cyber-Physical Production Systems (CPPS 2016)

@INPROCEEDINGS{Ullrich2016Secure,
author = {Johanna Ullrich and {Artemios G.} Voyiatzis and {Edgar R.} Weippl},
title = {Secure Cyber-Physical Production Systems: Solid Steps towards Realization},
booktitle = {1st International Workshop on Cyber-Physical Production Systems (CPPS 2016)},
year = {2016},
month = {4},
pdf = {https://www.sba-research.org/wp-content/uploads/publications/cpps.pdf},
}

Network-Based Secret Communication in Clouds: A Survey (

2017

)

ARTICLE

true

IEEE Communications Surveys & Tutorials

@ARTICLE{Ullrich2017NetworkBased,
author = {Johanna Ullrich and Tanja Szeby and Joachim Fabini and {Edgar R.} Weippl},
authorhotlist = {true},
sbahotlist = {true},
title = {Network-Based Secret Communication in Clouds: A Survey},
journal = {IEEE Communications Surveys & Tutorials},
year = {2017},
pdf = {https://www.sba-research.org/wp-content/uploads/publications/secretCloud_2017.pdf},
}

Proof-of-Blackouts? How Proof-of-Work Cryptocurrencies Could Affect Power Grids (

2018

)

INPROCEEDINGS

true

International Symposium on Research in Attacks, Intrusions and Defenses (RAID)

@INPROCEEDINGS{Ullrich2018ProofofBlackouts,
author = {Johanna Ullrich and Nicholas Stifter and Aljosha Judmayer and Adrian Dabrowski and {Edgar R.} Weippl},
authorhotlist = {true},
sbahotlist = {true},
title = {Proof-of-Blackouts? How Proof-of-Work Cryptocurrencies Could Affect Power Grids},
booktitle = {International Symposium on Research in Attacks,
Intrusions and Defenses (RAID)},
year = {2018},
month = {9},
pdf = {https://www.sqi.at/resources/RAID2018.pdf},
}

From hack to elaborate technique - A survey on binary rewriting (

2019

)

ARTICLE

true

ACM Computing Surveys

@ARTICLE{Wenzl2019From,
author = {Matthias Wenzl and Georg Merzdovnik and Johanna Ullrich and {Edgar R.} Weippl},
authorhotlist = {true},
sbahotlist = {true},
title = {From hack to elaborate technique - A survey on binary rewriting},
journal = {ACM Computing Surveys},
year = {2019},
month = {6},
pdf = {https://www.sba-research.org/wp-content/uploads/publications/201906 - GMerzdovnik - From hack to elaborate technique.pdf},
}