is a key researcher at SBA Research.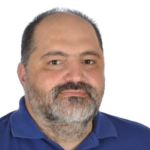 Phone: +43 (1) 505 36 88
Fax: +43 (1) 505 88 88
Research Interests
His research focuses on networked systems security with emphasis on IoT security and privacy.
Bio
He holds a Ph.D. in Electrical and Computer Engineering from the University of Patras, a M.Sc. and a B.Sc. in Computer Science, and a B.Sc. in Mathematics from the University of Crete. He has also worked in IT, ERP, and NOC environments designing and securing ICT services at a scale of thousands of users.
He is affiliated with the Industrial Systems Institute of the "Athena" Research and Innovation Center in ICT and Knowledge Technologies, Greece, where he holds a tenured position as a Principal Researcher. He is a Senior Member of IEEE and ACM.
Top Publications:
High Performance Pipelined FPGA Implementation of the SHA-3 Hash Algorithm (

2015

)

INPROCEEDINGS

-

4th Mediterranean Conference on Embedded Computing

@INPROCEEDINGS{Ioannou2015High,
author = {Lenos Ioannou and {Harris E.} Michail and {Artemios G.} Voyiatzis},
title = {High Performance Pipelined FPGA Implementation of the SHA-3 Hash Algorithm},
booktitle = {4th Mediterranean Conference on Embedded Computing},
year = {2015},
month = {6},
pdf = {https://dl.dropboxusercontent.com/u/56966369/meco2015.pdf},
}

Lightweight Address Hopping for Defending the IPv6 IoT (

2017

)

INPROCEEDINGS

-

12th International Conference on Availability, Reliability and Security (ARES)

@INPROCEEDINGS{Judmayer2017Lightweight,
author = {Aljosha Judmayer and Johanna Ullrich and Georg Merzdovnik and {Artemios G.} Voyiatzis and {Edgar R.} Weippl},
title = {Lightweight Address Hopping for Defending the IPv6 IoT},
booktitle = {12th International Conference on Availability,
Reliability and Security (ARES)},
year = {2017},
month = {9},
pdf = {https://www.sba-research.org/wp-content/uploads/publications/201707 - JUDMAYER - LightweightAddressHopping.pdf},
}

Merged Mining: Curse or Cure? (

2017

)

INPROCEEDINGS

-

International Workshop on Cryptocurrencies and Blockchain Technology (CBT 17)

@INPROCEEDINGS{Judmayer2017Merged,
author = {Aljosha Judmayer and Alexei Zamyatin and Nicholas Stifter and {Artemios G.} Voyiatzis and {Edgar R.} Weippl},
title = {Merged Mining: Curse or Cure?},
booktitle = {International Workshop on Cryptocurrencies and Blockchain Technology (CBT 17)},
year = {2017},
month = {9},
pdf = {https://www.sba-research.org/wp-content/uploads/publications/201709 - AJudmayer - CBT_Merged_Mining_camera_ready_final.pdf},
}

A Trust-based Resilient Routing Mechanism for the Internet of Things (

2017

)

INPROCEEDINGS

-

Int. Conference on Availability, Reliability and Security (ARES)

@INPROCEEDINGS{Khan2017Trustbased,
author = {Z. A. Khan and Johanna Ullrich and {Artemios G.} Voyiatzis and P. Hermann},
title = {A Trust-based Resilient Routing Mechanism for the Internet of Things},
booktitle = {Int. Conference on Availability,
Reliability and Security (ARES)},
year = {2017},
month = {8},
pdf = {https://www.sba-research.org/wp-content/uploads/publications/zeeshan.pdf},
}

Exciting FPGA Cryptographic Trojans using Combinatorial Testing (

2015

)

INPROCEEDINGS

true

26th IEEE International Symposium on Software Reliability Engineering (ISSRE 2015)

@INPROCEEDINGS{Kitsos2015Exciting,
author = {Paris Kitsos and Dimitris Simos and Jose Torres-Jimenez and {Artemios G.} Voyiatzis},
authorhotlist = {true},
sbahotlist = {true},
title = {Exciting FPGA Cryptographic Trojans using Combinatorial Testing},
booktitle = {26th IEEE International Symposium on Software Reliability Engineering (ISSRE 2015)},
year = {2015},
month = {11},
pdf = {http://ieeexplore.ieee.org/abstract/document/7381800/?section=abstract},
}

Malicious hardware logic detection based on combinatorial testing (

2016

)

INPROCEEDINGS

true

DATE 2016 TRUDEVICE Workshop

@INPROCEEDINGS{Kitsos2016Malicious,
author = {Paris Kitsos and Dimitris Simos and {Kyriakos G.} Stefanidis and {Artemios G.} Voyiatzis},
sbahotlist = {true},
title = {Malicious hardware logic detection based on combinatorial testing},
booktitle = {DATE 2016 TRUDEVICE Workshop},
year = {2016},
month = {3},
link_slides = {http://www.artemiosv.info/hosted/TRUDEVICE2016.pdf},
}

TERO-based Detection of Hardware Trojans on FPGA Implementation of the AES Algorithm (

2016

)

INPROCEEDINGS

-

19th EUROMICRO Conference on Digital System Design (DSD 2016)

@INPROCEEDINGS{Kitsos2016TERObased,
author = {Paris Kitsos and {Kyriakos G.} Stefanidis and {Artemios G.} Voyiatzis},
title = {TERO-based Detection of Hardware Trojans on FPGA Implementation of the AES Algorithm},
booktitle = {19th EUROMICRO Conference on Digital System Design (DSD 2016)},
year = {2016},
month = {8},
pdf = {https://www.sba-research.org/wp-content/uploads/publications/Kitsos_C48.pdf},
}

On the effects of ring oscillator length and hardware Trojan size on an FPGA-based implementation of AES (

2017

)

ARTICLE

true

Microprocessors and Microsystems

@ARTICLE{Kitsos2017effects,
author = {Paris Kitsos and Nicolas Sklavos and {Artemios G.} Voyiatzis},
sbahotlist = {true},
title = {On the effects of ring oscillator length and hardware Trojan size on an FPGA-based implementation of AES},
journal = {Microprocessors and Microsystems},
year = {2017},
month = {10},
pdf = {https://dl.acm.org/citation.cfm?id=3181543},
}

Ring Oscillators and Hardware Trojan Detection (

2017

)

INBOOK

-

Springer International Publishing

@INBOOK{Kitsos2017Ring,
author = {Paris Kitsos and Nicolas Sklavos and {Artemios G.} Voyiatzis},
authorhotlist = {true},
title = {Ring Oscillators and Hardware Trojan Detection},
booktitle = {Hardware Security and Trust: Design and Deployment of Integrated Circuits in a Threatened Environment},
year = {2017},
pdf = {http://dx.doi.org/10.1007/978-3-319-44318-8_9},
pages = {169--187},
publisher = {Springer International Publishing},
}

Notary-assisted Certificate Pinning for Improved Security of (Android) Apps (

2016

)

INPROCEEDINGS

-

11th International Conference on Availability, Reliability and Security (ARES 2016)

@INPROCEEDINGS{Merzdovnik2016Notaryassisted,
author = {Georg Merzdovnik and Damjan Buhov and {Artemios G.} Voyiatzis and {Edgar R.} Weippl},
authorhotlist = {true},
title = {Notary-assisted Certificate Pinning for Improved Security of (Android) Apps},
booktitle = {11th International Conference on Availability,
Reliability and Security (ARES 2016)},
year = {2016},
month = {9},
pdf = {https://www.sba-research.org/wp-content/uploads/publications/notarypin.pdf},
}

Whom You Gonna Trust? A Longitudinal Study on TLS Notary Services (

2016

)

INPROCEEDINGS

-

30th Annual IFIP WG 11.3 Working Conference on Data and Applications Security and Privacy (DBSec 2016)

@INPROCEEDINGS{Merzdovnik2016Whom,
author = {Georg Merzdovnik and Klaus Falb and Martin Schmiedecker and {Artemios G.} Voyiatzis and {Edgar R.} Weippl},
title = {Whom You Gonna Trust? A Longitudinal Study on TLS Notary Services},
booktitle = {30th Annual IFIP WG 11.3 Working Conference on Data and Applications Security and Privacy (DBSec 2016)},
year = {2016},
pdf = {https://www.sba-research.org/wp-content/uploads/publications/TLSnotaries_preprint.pdf},
}

A performance assessment of network address shuffling in IoT systems (

2017

)

INPROCEEDINGS

-

16th International Conference on Computer Aided Systems Theory (EUROCAST 2017)

@INPROCEEDINGS{Merzdovnik2017performance,
author = {Georg Merzdovnik and Aljosha Judmayer and {Artemios G.} Voyiatzis and {Edgar R.} Weippl},
title = {A performance assessment of network address shuffling in IoT systems},
booktitle = {16th International Conference on Computer Aided Systems Theory (EUROCAST 2017)},
year = {2017},
month = {2},
pdf = {http://eurocast2017.fulp.ulpgc.es/sites/default/files/Eurocast_2017_Extended_Abstract_Book.pdf},
}

u'smile - Secure Mobile Environments (

2017

)

@ARTICLE{Merzdovnik2017usmile,
author = {Georg Merzdovnik and Damjan Buhov and {Artemios G.} Voyiatzis and {Edgar R.} Weippl},
title = {u'smile - Secure Mobile Environments},
journal = {ERCIM News},
year = {2017},
month = {4},
pdf = {https://ercim-news.ercim.eu/images/stories/EN109/EN109-web.pdf},
volume = {109},
pages = {53--54},
}

Time is on my side: Steganography in filesystem metadata (

2016

)

INPROCEEDINGS

-

16th Annual DFRWS Conference

@INPROCEEDINGS{Neuner2016Time,
author = {Sebastian Neuner and {Artemios G.} Voyiatzis and Martin Schmiedecker and Stefan Brunthaler and Stefan Katzenbeisser and {Edgar R.} Weippl},
authorhotlist = {true},
title = {Time is on my side: Steganography in filesystem metadata},
booktitle = {16th Annual DFRWS Conference},
year = {2016},
pdf = {https://www.sba-research.org/wp-content/uploads/publications/timestampStego_preprint.pdf},
link_data = {https://www.sba-research.org/dfrws2016/},
link_slides = {http://www.slideshare.net/SBAResearch/time-is-on-my-side-steganography-in-filesystem-metadata},
}

Timestamp hiccups: Detecting manipulated filesystem timestamps on NTFS (

2017

)

ARTICLE

-

International Conference on Availability, Reliability and Security (ARES)

@ARTICLE{Neuner2017,
author = {Sebastian Neuner and {Artemios G.} Voyiatzis and Martin Schmiedecker and {Edgar R.} Weippl},
title = {Timestamp hiccups: Detecting manipulated filesystem timestamps on NTFS},
journal = {International Conference on Availability,
Reliability and Security (ARES)},
year = {2017},
pdf = {https://www.sba-research.org/wp-content/uploads/publications/hiccups.pdf},
}

Usblock: Blocking USB - based keypress injections attacks. (

2018

)

INPROCEEDINGS

-

32nd IFIP WG 11.3 Conference on Data and Applications Security and Privacy (DBSec), Springer LNCS

@INPROCEEDINGS{Neuner2018Usblock,
author = {Sebastian Neuner and {Artemios G.} Voyiatzis and Spiros Fotopoulos and Collin Mulliner and {Edgar R.} Weippl},
title = {Usblock: Blocking USB - based keypress injections attacks.},
booktitle = {32nd IFIP WG 11.3 Conference on Data and Applications Security and Privacy (DBSec),
Springer LNCS},
year = {2018},
month = {6},
pdf = {https://www.sba-research.org/wp-content/uploads/publications/201806-Zamyatin-USBlock.pdf},
}

Privacy-preserving Routing in Delay Tolerant Networks based on Bloom Filters (

2015

)

INPROCEEDINGS

-

16th IEEE International Symposium on a World of Wireless, Mobile and Multimedia Networks (IEEE WoWMoM 2015)

@INPROCEEDINGS{Papapetrou2015Privacypreserving,
author = {Evangelos Papapetrou and Vasileios Bourgos and {Artemios G.} Voyiatzis},
title = {Privacy-preserving Routing in Delay Tolerant Networks based on Bloom Filters},
booktitle = {16th IEEE International Symposium on a World of Wireless,
Mobile and Multimedia Networks (IEEE WoWMoM 2015)},
year = {2015},
month = {6},
pdf = {http://www.researchgate.net/profile/Evangelos_Papapetrou/publication/275330512_Privacy-preserving_Routing_in_Delay_Tolerant_Networks_based_on_Bloom_Filters/links/55377c0d0cf2058efdeabfdd.pdf},
}

An Efficient Reconfigurable Ring Oscillator for Hardware Trojan Detection (

2016

)

INPROCEEDINGS

-

20th Panhellenic Conference on Informatics (PCI 2016)

@INPROCEEDINGS{Pirpilidis2016Efficient,
author = {Filippos Pirpilidis and {Artemios G.} Voyiatzis and Lambros Pyrgas and Paris Kitsos},
title = {An Efficient Reconfigurable Ring Oscillator for Hardware Trojan Detection},
booktitle = {20th Panhellenic Conference on Informatics (PCI 2016)},
year = {2016},
month = {11},
pdf = {https://www.sba-research.org/wp-content/uploads/publications/pci2016-115.pdf},
}

TLS Cipher Suites Recommendations: A Combinatorial Coverage Measurement Approach (

2016

)

INPROCEEDINGS

-

2016 IEEE International Conference on Software Quality, Reliability and Security (QRS 2016)

@INPROCEEDINGS{Simos2016Cipher,
author = {Dimitris Simos and K. Kleine and {Artemios G.} Voyiatzis and R. Kuhn and R. Kacker},
title = {TLS Cipher Suites Recommendations: A Combinatorial Coverage Measurement Approach},
booktitle = {2016 IEEE International Conference on Software Quality,
Reliability and Security (QRS 2016)},
year = {2016},
month = {8},
pdf = {https://www.sba-research.org/wp-content/uploads/publications/TLS-CCM-QRS2016.pdf},
}

An HMM-based Anomaly Detection Approach for SCADA Systems (

2016

)

INPROCEEDINGS

-

the 10th WISTP International Conference on Information Security Theory and Practice (WISTP 2016)

@INPROCEEDINGS{Stefanidis2016HMMbased,
author = {{Kyriakos G.} Stefanidis and {Artemios G.} Voyiatzis},
title = {An HMM-based Anomaly Detection Approach for SCADA Systems},
booktitle = {the 10th WISTP International Conference on Information Security Theory and Practice (WISTP 2016)},
year = {2016},
month = {9},
pdf = {http://link.springer.com/chapter/10.1007/978-3-319-45931-8_6},
}

A Survey on Network Resiliency Methodologies against Weather-based Disruptions (

2016

)

INPROCEEDINGS

-

8th International Workshop on Resilient Networks Design and Modeling (RNDM 2016)

@INPROCEEDINGS{Tornatore2016Survey,
author = {M. Tornatore and J. André and Peter Babarczi and T. Braun and E. Forstad and P. Heegaard and A. Hmaity and M. Furdek and L. Jorge and W. Kmiecik and C. {Mas Machuca} and L. Martins and C. Medeiros and F. Musumeci and A. Pasic and J. Rak and S. Simpson and R. Travanca and {Artemios G.} Voyiatzis},
title = {A Survey on Network Resiliency Methodologies against Weather-based Disruptions},
booktitle = {8th International Workshop on Resilient Networks Design and Modeling (RNDM 2016)},
year = {2016},
month = {9},
pdf = {https://www.sba-research.org/wp-content/uploads/publications/RNDM2016.pdf},
}

The Quest for Privacy in Consumer IoT (

2016

)

INPROCEEDINGS

-

1st International Workshop on Consumers and the Internet of Things (ConsIoT 2016)

@INPROCEEDINGS{Ullrich2016Quest,
author = {Johanna Ullrich and {Artemios G.} Voyiatzis and {Edgar R.} Weippl},
title = {The Quest for Privacy in Consumer IoT},
booktitle = {1st International Workshop on Consumers and the Internet of Things (ConsIoT 2016)},
year = {2016},
month = {4},
pdf = {https://www.sba-research.org/wp-content/uploads/publications/consiot.pdf},
}

Secure Cyber-Physical Production Systems: Solid Steps towards Realization (

2016

)

INPROCEEDINGS

-

1st International Workshop on Cyber-Physical Production Systems (CPPS 2016)

@INPROCEEDINGS{Ullrich2016Secure,
author = {Johanna Ullrich and {Artemios G.} Voyiatzis and {Edgar R.} Weippl},
title = {Secure Cyber-Physical Production Systems: Solid Steps towards Realization},
booktitle = {1st International Workshop on Cyber-Physical Production Systems (CPPS 2016)},
year = {2016},
month = {4},
pdf = {https://www.sba-research.org/wp-content/uploads/publications/cpps.pdf},
}

A Modbus TCP Fuzzer for Testing Internetworked Industrial Systems (

2015

)

INPROCEEDINGS

-

20th IEEE International Conference on Emerging Technologies and Factory Automation (ETFA 2015)

@INPROCEEDINGS{Voyiatzis2015ModbusTCP,
author = {{Artemios G.} Voyiatzis and Konstantinos Katsigiannis and Stavros Koubias},
title = {A Modbus TCP Fuzzer for Testing Internetworked Industrial Systems},
booktitle = {20th IEEE International Conference on Emerging Technologies and Factory Automation (ETFA 2015)},
year = {2015},
month = {9},
}

Efficient Triggering of Trojan Hardware Logic (

2016

)

INPROCEEDINGS

-

19th IEEE International Symposium on Design and Diagnostics of Electronic Circuits and Systems (DDECS 2016)

@INPROCEEDINGS{Voyiatzis2016Efficient,
author = {{Artemios G.} Voyiatzis and {Kyriakos G.} Stefanidis and Paris Kitsos},
authorhotlist = {true},
title = {Efficient Triggering of Trojan Hardware Logic},
booktitle = {19th IEEE International Symposium on Design and Diagnostics of Electronic Circuits and Systems (DDECS 2016)},
year = {2016},
month = {4},
pdf = {https://www.sba-research.org/wp-content/uploads/publications/Kitsos_c47.pdf},
pages = {200--205},
publisher = {IEE},
}