is researcher at SBA Research.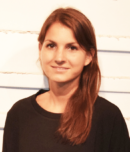 Phone: +43 (1) 505 36 88
Fax: +43 (1) 505 88 88
Research Interest
Her research interests include network security, mobile security and security within the IoT (Internet of Things).
Bio
Katharina received a bachelor's degree in Computer Science from the University of Vienna and a master's degree in Communication Systems from the KTH Royal Institute of Technology, Sweden, with emphasis on IT security. Prior joining SBA, she worked for Ericsson Research, Sweden, in the area of security analytics where she also served as a standardization delegate for 3GPP in the security working group. In 2016 she co-founded the IT company The Code Yard, which focuses on web and mobile application development. Currently, she is a PhD candidate.
Top Publications:
Formal Verification of the Security for Dual Connectivity in LTE (

2015

)

INPROCEEDINGS

-

IEEE_ACM 3rd FME Workshop on Formal Methods in Software Engineering

@INPROCEEDINGS{Henda2015Formal,
author = {Noomene Ben Henda and Karl Norrman and Katharina Pfeffer},
title = {Formal Verification of the Security for Dual Connectivity in LTE},
booktitle = {IEEE_ACM 3rd FME Workshop on Formal Methods in Software Engineering},
year = {2015},
month = {5},
pdf = {https://www.sba-research.org/wp-content/uploads/publications/2015-Pfeffer-Formal_Verification.pdf},
}

"If HTTPS Were Secure, I wouldn´t need 2FA"-End User and Administrator Mental Models of HTTPS (

2019

)

INPROCEEDINGS

true

IEEE Security & Privacy

@INPROCEEDINGS{Krombholz2019HTTPS,
author = {Katharina Krombholz and Karoline Busse and Katharina Pfeffer and Matthew Smith and Emanuel von Zezschwitz},
authorhotlist = {true},
sbahotlist = {true},
title = {"If HTTPS Were Secure,
I wouldn´t need 2FA"-End User and Administrator Mental Models of HTTPS},
booktitle = {IEEE Security & Privacy},
year = {2019},
month = {1},
pdf = {https://www.sba-research.org/wp-content/uploads/publications/2019-Pfeffer-HTTPS_Mental_Models.pdf},
}